Dr. Michael Korn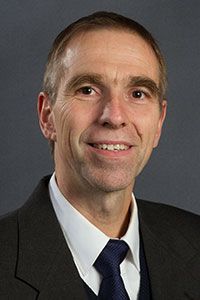 Professor of Chemistry
(434) 592-5456
mrkorn@liberty.edu
Center for Natural Sciences, Room 303
Education
Dr. rer. nat. in Chemistry with an emphasis in macromolecular chemistry, University of Freiburg, Germany
Diploma in Chemistry, University of Freiburg, Germany
Postgraduate
Bayer Corporation, Pittsburgh, PA
University of North Carolina (Chapel Hill)
Biography
Growing up in Western Europe and having received all his degrees from there, the United States is Dr. Korn's second home. He moved to the U.S. many years ago, however, and all of his children have grown up in the States. The Korns spent one year living in Uganda, Africa; a memorable time enjoying the outdoors, classical music, painting, and photography.
Research
One of the fascinations with creation are its intricate, beautiful, and functional designs. Chemistry allows us to grasp a glimpse of that, and the more we understand and investigate this world from a molecular point of view, the more we stand in awe about the Creator, the Lord Jesus Christ, and humbly realize our profound ignorance and limitations when attempting to understand, let alone mimic, some of these fascinating inventions. Nevertheless, it is a wonderful field to explore, and it stretches one's imagination and intellect to the glory of the Creator. Early on, my research interests revolved around synthetic polymers with improved mechanical stability. Later, my research interest shifted more towards small organic molecules at the interface to biology, including low molecular weight liquid crystals, organic dyes, dendrimers, and functionalized bioconjugates.
I also enjoy designing new lab curricula that focus on inquiry-based approaches. More recently, I took several basic courses in biology and biochemistry to learn more about this field. I also employed computational chemistry software to evaluate various organic molecules about their potential as organic semiconductors. The picture below on the left is a liquid crystalline phase of one my compounds under crossed polarizers; the picture on the right depicts the highest occupied molecular orbital of an organic molecule investigated for its potential use as an organic semiconductor.
Courses Taught
CHEM 107 General Chemistry
CHEM 122 General Chemistry lab
CHEM 302 Organic Chemistry lab
Memberships
American Chemical Society
Materials Research Society
The International Liquid Crystal Society
Virginia Academy of Science
Selected Publications
Satyala, N. T., Wondmagegn, Pieper, R. J. and Korn, M. R. Simulation of Copper Phthalocyanine/Fullerene Heterojunction Photovoltaic Cell With and Without Electron Transport Layer (ETL), Mater. Res. Soc. Symp. Proc. 1212, 1212-S08-18, 2010.
Brunelle, D. and Korn, M. (eds) Advances in Polycarbonates, ACS Symposium Series 898, Oxford University Press 2005; and chapters therein: Korn, M. End-functionalized Poly(bisphenolA)carbonate Oligomers Part I: Synthesis and Examples; chapter 4, p.39-57; Korn, M. End-functionalized Poly(bisphenolA)carbonate Oligomers Part II: Characterization via UV-vis, FTIR, GPC, NMR and  DSC; chapter 5, p.58-69; Korn, M. End-functionalized Poly(bisphenolA)carbonate Oligomers Part III: Characterization via HPLC and Mass Spectrometry, chapter 6, p.70-85.
Korn, M. R.; Gagné, M. R. "Simultaneous atom transfer and nitroxide mediated controlled free radical polymerization of styrene", Chem. Commun. 2000, 32, 1711-1712.