Dr. Gregory M. Raner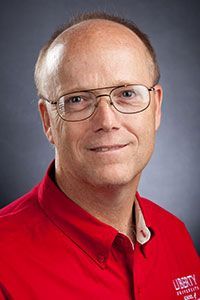 Professor of Chemistry
(434) 582-7628
graner@liberty.edu
Center for Natural Sciences, Room 152
Education
Post-Doctoral Training, The University of Michigan Medical School
Ph.D., The University of Utah
M.S., Syracuse University
B.S., LeMoyne College
Biography
Dr. Raner taught in the Chemistry and Biochemistry Department at The University of North Carolina at Greensboro for 19 years before coming to Liberty University. While there he developed an active research program aimed at understanding underlying biochemical mechanisms related to Drug-Herb interactions, chemical toxicologies and medical uses of natural products.
Courses Taught
BCHM 451 – Biochemistry I
BCHM 450 – Medical Biochemistry
BCHM 551 – Graduate Biochemistry
CHEM 301L – Organic I Lab
CHEM 302L – Organic II Lab
Professional Memberships
American Chemical Society
VA Academy of Sciences
American Society of Pharmacognosy
Publications
Bryson, D, Lim, P.L., Lawson, A., Manjunath, S., and Raner, G.M. Isotopic labeling of the heme cofactor in cytochrome P450 and other heme proteins. Biotechnol. Lett. 33(10):2019-26 (2010)
Harkey, A., Kim, H.-J., Kandagatla, S. and Raner, G.M. Defluorination of 4-fluorophenol by Cytochrome P450BM3-F87G: Activation by long Chain Fatty Aldehydes. Biotechnol. Lett. 34:1725-1731 (2012)
Sumithran, S., Sono, M., Raner, G.M., Dawson, J.H. Single turnover studies of oxidative halophenol dehalogenation by horseradish peroxidase reveal a mechanism involving two consecutive one electron steps: toward a functional halophenol bioremediation catalyst. J. Inorg. Biochem. 117:316-321(2012).
Raner, G. M. "Effects of Green Tea Extract on Gene Expression in Human Hepatoma (HepG2) and Tongue Carcinoma (Cal-27) Cells", in Tea in Health and Disease Prevention. (Elsevier Press, Ed., Victor Preedy, 2012).
Kandagatla S.K., Mack, T., Simpson, S., Sollenberger, J., Helton, E., and Raner, G.M., Inhibition of human Cytochrome P450 2E1 and 2A6 by aldehydes: Structure and activity relationships, Chem-Biol Interact. 219:195-202 (2014).
Badal, S. A. M., Asuncion Valenzuela, M. M., Zylstra, D., Huang, G., Vendantam, P., Francis, S., Quitugua, A., Amis, L. H., Davis, W., Tzeng, T.-R. J., Jacobs, H., Gangemi, D. J., Raner, G., Rowland, L., Wooten, J., Campbell, P., Brantley, E., and Delgoda, R. (2017) Glaucarubulone glucoside from Castela macrophylla suppresses MCF-7 breast cancer cell growth and attenuates benzo[a]pyrene-mediated CYP1A gene induction. J. Appl. Toxicol. 7:873-883 (2017).
Ledford C, McMahon M, Whitesell A, Khan G, Kandagatla SK, Hurst DP, Reggio PH, Raner GM. A dual substrate kinetic model for cytochrome P450(BM3)-F87G catalysis: simultaneous binding of long-chain aldehydes and 4-fluorophenol. Biotechnol Lett. Feb;39(2):311-321 (2017).
Roberts, C.E., Raner, G.M., Isaacs, G.D. High-Performance Liquid Chromatography Separation of Epigenetic Cytosine Variants, Methods and Protoc. 1, 10 (2018).