Dr. Jeremy Sellers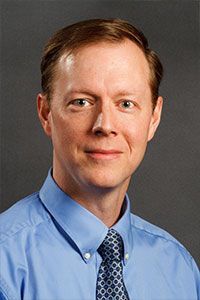 Chair, Biology & Chemistry Department
Professor of Biology
(434) 592-7707
jasellers@liberty.edu
Center for Natural Sciences, Room 248
Education
Ph.D., Molecular Genetics from Wake Forest University
B.S., Biochemistry from Campbell University
Biography
Dr. Sellers is a native of North Carolina and completed both his undergraduate and graduate training in his home state. He came to Liberty having previously held faculty positions at Bluefield College in Virginia and the University of North Carolina at Pembroke, most recently. While primarily trained in human lipid transport, his recent research endeavors have focused on invertebrate lipid transport systems.
Dr. Sellers and his family enjoy a variety of outdoor activities together.  Through their church, they have been involved in a variety of ministries including teaching Sunday school and AWANA, serving on Pregnancy Care Center boards, volunteering at Children's Homes, and serving as a deacon family.
Professional Memberships
Council for Undergraduate Research
VA Academy of Sciences
Courses Taught
BIOL 400
BIOL 415
BIOL 615
Publications
Kelly, L and Sellers, J. Abundance and Distribution of Invasive Fire Ants (Solenopsis invicta) in Pond Cypress Savannas. Annals of the Entomological Society of America. (Accepted for publication-Scheduled for Fall 2014).
Sellers, JA, Hou, L, Schoenberg, DR, Batistuzzo de Medeiros, SR, Wahli, W, Shelness, GS. Microsomal triglyceride transfer protein promotes the secretion of Xenopus laevis vitellogenin A1. Journal of Biological Chemistry. 280(14):13902-13905, 2005 Apr.
Sellers, JA., Hou, L., Athar, H., Hussain, MM., and Shelness, GS. A Drosophila Microsomal Triglyceride Transfer Protein Homolog Promotes the Assembly and Secretion of Human Apolipoprotein B: Implications for Human and Insect Lipid Transport and Metabolism. Journal of Biological Chemistry. 278(22):20367-20373, 2003 May.
Sellers, JA, and Shelness, GS. Lipoprotein Assembly Capacity of the Mammary Tumor-Derived Cell Line C127 is due to the Expression of Functional Microsomal Triglyceride Transfer Protein. Journal of Lipid Research. 42(11):1897-1904, 2001 Nov.
Shelness, GS. and Sellers, JA. Very-Low Density Lipoprotein Assembly and Secretion. Current Opinion in Lipidology. 12(2):151-7, 2001 Apr.
Wilson, GM., Sun, Y, Sellers, J., Lu, H., Penkar, N., Dillard, G., and Brewer, G. Regulation of AUF1 Expression via Conserved Alternately Spliced Elements in the 3′ Untranslated Region. Molecular and Cellular Biology. 19(6):4056-4064, 1999 June.