Liberty's residential Master of Theology program will only be available through the Summer 2023 semester. If you are interested in this program for Fall 2023 or later, please see our online Master of Theology.
Prepare to Preach the Gospel with a Master of Theology in Homiletics
Are you excited about developing your sermon writing and delivering skills? If you're looking for ways to communicate the mystery of God and the teachings of Jesus Christ to your congregation, then Liberty University's Master of Theology – Homiletics can help prepare you. Your desire and joy in preaching the Word of God should be bolstered with education and experience to reach the listener's heart. Our experienced professors can help you learn to put your thoughts down on paper and then deliver those thoughts with the power of the Holy Spirit behind it.
Liberty University's Master of Theology – Homiletics is a postgraduate program that is designed for students who have previously achieved their Master of Divinity or equivalent degree. This program will focus on your ability to develop, write, and deliver sermons to teach, inspire, and bring the Gospel to the listener. If you find yourself wanting to expand your knowledge and ability, but not yet ready to pursue your doctorate, then this postgraduate degree program will develop your skills while still preparing you for future doctoral studies.
Accreditation
Your divinity degree is approved by the Commission on Accrediting of the Association of Theological Schools (ATS) and has met rigorous accreditation standards. You can feel confident that your degree is both academically excellent and well-respected among churches, ministries, and nonprofit organizations.


Award-Winning Campus
At Liberty, you'll find an affordable, high-quality education that equips students like you for the real world. Our commitment to excellence helped us rank among Niche.com's Top 5 college campuses in America. Earning your degree from a nonprofit university with state-of-the-art resources like ours can help set you apart from your peers.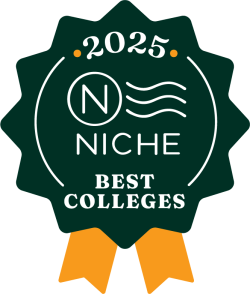 ---
Why Choose Liberty's Master of Theology (Th.M.) – Homiletics Degree?
If you are eventually planning to pursue your doctoral-level education then the Th.M. – Homiletics thesis track is the best route for you to take. It is specifically designed for those students going on to a doctorate, and it can smoothly help you transition to the challenges and rewards both in ministry work and your future studies.  Your studies in homiletics will help you develop your sermon writing and delivering skills. This degree program will culminate in a thesis paper that will help prepare you for the work you will do on a dissertation if you choose to pursue your doctorate.
John W. Rawlings School of Divinity has a state-of-the-art homiletics lab that is housed in the Freedom Tower. In addition, we have a Scriptorium that houses the Rawlings Foundation rare book collection valued at over $1 million with bibles, a Torah, resources, and many artifacts. Our campus also has many opportunities to give back to the community through our ministry centers. Through our centers, you can work with special populations and groups who may be in need of your unique skills.
---
What Will You Learn in Our Master of Theology (Th.M.) – Homiletics Degree?
Your training in theology will go beyond your M.Div. and investigate modern and contemporary Christian thought, as well as a deeper exploration of biblical theology. The homiletics specialization of your Master of Theology (Th.M.) will be focused primarily on the preparation and delivering of sermons.
You will learn about expository preaching and the methods of interpretation as well as the formula for sermon outlines and how to preach expository sermons. You will also learn how to preach evangelistically with special emphasis being placed on the Old and New Testaments. Special occasions such as Christmas, weddings, and funerals often require special sermons. You will study how to preach for these occasions as well as how to fulfill the needs of the contemporary church family.
The Old and New Testaments both have theological themes and messages that arise from the texts. You will learn how to focus on certain genres and keep a cohesive message going to educate your ministry on Scripture and the Lord's guidance for how they should live their lives.
View the Degree Completion Plan, and check out our featured courses below for more information!
Featured Courses
HOMI 605 – Expository Preaching
Here's what you'll study:
A study in the preparation of expository sermons.
Types of expository preaching: paragraph, parable, biographical, etc. A study of the methods of interpretation, the formula of expository sermon outlines, and the preaching of expository sermons.
HOMI 612 – Evangelistic Preaching
Here's what you'll study:
A study of the content, principles, and delivery of expositional evangelistic sermons.
Preaching evangelistically from the Old and New Testaments.
HOMI 635 – Preaching for Special Occasions
Here's what you'll study:
A study in the selection, preparation, and delivery of sermons to meet the needs of the contemporary church family.
Preaching of the special occasion sermons (e., Christmas, Easter, Weddings, Funerals, and more).
HOMI 670 – Preaching from the Old Testament
Here's what you'll study:
Preparation on preaching from the Old Testament.
Genres and theological themes that arise from the Old Testament text.
Highlights of Our Master of Theology (Th.M.) – Homiletics Degree
Monday-only classes for masters' programs allow students to complete large portions of their Postgraduate degree by only attending class one day a week.
We have a state-of-the-art homiletics/teaching lab in our School of Divinity building.
Our Scriptorium houses: the Rawlings Foundation rare books valued at over $1 million, a 111 ft.-long Torah scroll that dates to the 16th century, and a functioning replica Gutenberg Printing Press.
Local church ministry training is embedded within our programs.
We provide experiential learning opportunities through church and parachurch ministries.
Master of Theology (Th.M.) – Homiletics Degree Information
Career Opportunities for Master of Theology (Th.M.) – Homiletics Graduates
Bible Instructor
Evangelist
Family Pastor
Missionary
Professor
Senior Pastor
Admission Requirements for Postgraduate Degrees
Every application is reviewed on a case-by-case basis, and all applicants must submit the following documents and meet the minimum requirements for admission:
Admission application
Official Master of Divinity transcripts with a 3.0 GPA or higher
Self-certification form for students in the final term of their Master of Divinity degree
Current Liberty undergraduate students seeking preliminary acceptance into a postgraduate program must complete a degree completion application through their ASIST account