Art Uncut
Art Uncut is a residential high school experience where you will spend 9 days with us here at Liberty. You will interact with Liberty Studio and Digital Arts faculty in small master classes, collaborate with current Art majors and alumni, experience Liberty University up close and personal, and enjoy the freedom to integrate faith and art. Art Uncut fosters creativity and fun while introducing skills such as sculpting, drawing, painting, and digital design. At the end of the week, you will have the opportunity to present your creations in the Art Gallery for your friends and family.
Session Information
Topic: Creature and Character Design
Dates: June 25-July 3, 2022
Grades: Students who have completed grades 9, 10, 11, or 12.
Location: Liberty University – Green Hall (Campus Map)
Art Uncut Banquet: July 2, 2022 from 5:30 p.m.-7 p.m. located in the Alumni Ballroom. Campers attend free. Family members can purchase banquet tickets, $25/guest at registration. Attire is business casual.
Art Gallery Exhibition: July 2, 2022 at 8 p.m. located in the Art Gallery (Green Hall 1855)
---
Registration
 Enrollment Deadline: June 12, 2022
Tuition: $895. Includes room, board, and collegiate level instruction from Liberty University faculty and industry guests.

Early Bird: $795 now through May 20, 2022

Sibling Discount: When registering multiple children at the same time, receive one of the following corresponding discounts:

For 2 children, 20% off the second registration's tuition cost
For 3 children, 30% off the third registration's tuition cost
For 4 children, 40% off the fourth registration's tuition cost

Multi-Session Discount: When registering a camper for two sessions, receive 20% off the second session
Refunds: Full refunds with a 4.5% cancellation fee are available until 2 weeks before camp begins. Refunds are not available 2 weeks before camp except in the case of contracting COVID-19.
---
I'm enrolled! What do I do next?
Travel Itinerary
On June 25, 2022, you should arrive and check in from 12-4:30 p.m. at the LaHaye Student Union Atrium. On July 3, camp will conclude after the morning worship service, which ends at 10:30 a.m. For those arriving and/or departing by plane, please choose flights that work within the check-in and check-out time frames. If a flight is not available within the time frames, please choose a flight closest to them and we will do our best to accommodate.
Uncut Series provides shuttle service to and from the Lynchburg Amtrak Station, the Lynchburg Bus Station, and the Lynchburg Regional Airport. Students may also wish to fly into the Roanoke Regional Airport or Greensboro Regional Airport; however, shuttle service will not be provided from these locations. For those traveling by bus, train, or plane, and in need of shuttle service, please email Chris Nelson (cnelson@liberty.edu) with your itinerary no later than June 10, 2022.
---
Camp Schedule
---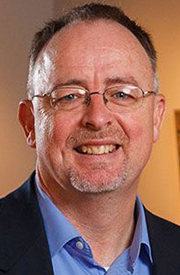 Todd Smith
Art Uncut Coordinator
Todd Smith serves as founding Chair of the Department of Studio & Digital Arts as well as the founding Director of the Liberty University Art Gallery and Permanent Art Collection. He has been involved in research and creative activities with emerging technology and new media on the local, regional, and national levels.
In 2011, Smith created a sculpture for the chapel at St. Hugh's College, Oxford University, which was blessed by Dr. Rowan Williams, Archbishop of Canterbury. Recently he has presented on topics related to the intersection of faith and art at St. Hugh's College. After many years in the field as a freelance designer, artist, and researcher, Smith transitioned to education at Liberty University.
Today, Professor Smith enjoys mentoring students, conduction creative research and overseeing a vibrant and rapidly growing department which offers Bachelor of Science, Bachelor of Fine Arts and Master of Fine Arts degrees residentially and online.
---
Camp Counselors
Coming Soon
---
Questions
What Kind of Supervision Will Be Present?
I Am a First-Year College Student Considering Transferring to LU. May I Attend Art Uncut?
Yes! Art Uncut is a great opportunity for potential Liberty students to come, live in the dorms, eat in the dining hall, and meet Liberty Studio and Digital Arts students, faculty, and staff members.