Occupational Wellness
Explore the Dimensions of Wellness: Digital | Emotional  |  Environmental  |  Financial  |  Intellectual  |  Occupational  |  Physical  |  Social  |  Spiritual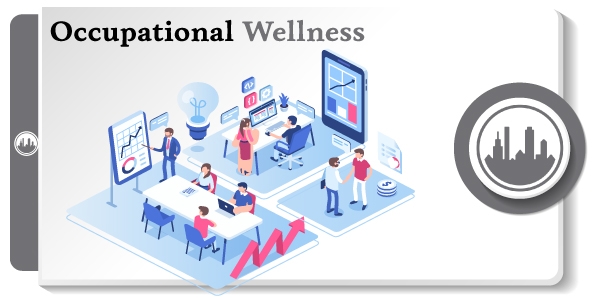 • Personal enrichment and engagement with one's work that is meaningful and rewarding.
• Occupational wellness is vital as in most cases, work is the place where most time is spent. Occupational wellness focuses on balancing work, school, and leisure time.
Practical Ways to Improve Occupational Wellness (Expand for more!)

Let's Start! Commit to just one health action. (Expand for more!)

Listen (Expand for more!)
Reflect (Expand for more!)
Then we will no longer be immature like children. We won't be tossed and blown about by every wind of new teaching. We will not be influenced when people try to trick us with lies so clever they sound like the truth. Instead, we will speak the truth in love, growing in every way more and more like Christ, who is the head of his body, the church. He makes the whole body fit together perfectly. As each part does its own special work, it helps the other parts grow, so that the whole body is healthy and growing and full of love (Ephesians 4: 14-16, NLT).
"Whatever you do, do your work [y]heartily, as for the Lord and not for people" (Colossians 3:23 NASB)
Resources and Articles (Expand for more!)

Listen to our podcast: Challenging Your Health Mindset
Be empowered to change your health mindset. Listen as our Executive Director, Dr. Keith R. Anderson discusses the 9 dimensions of wellness with diverse guests who provide thought-provoking perspectives on holistic wellness topics.