Physical Wellness
Explore the Dimensions of Wellness: Digital | Emotional  |  Environmental  |  Financial  |  Intellectual  |  Occupational  |  Physical  |  Social  |  Spiritual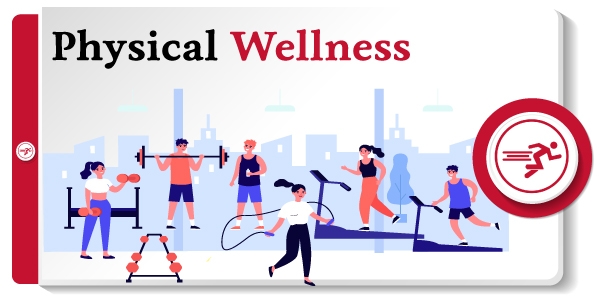 • Physical health and well-being through physical activity, healthful nutrition, and sleep.
• Physical Wellness is directly affected by adequate sleep, physical activity, and proper nutrition. Physical activity ranges in levels of difficulty and challenge.
Practical Ways to Improve Physical Wellness (Expand for more!)

Challenge Yourself Physically. (Expand for more!)
Challenge Yourself Nutritionally (Expand for more!)

Listen (Expand for more!)
Reflect (Expand for more!)
Therefore, since we are surrounded by such a huge crowd of witnesses to the life of faith, let us strip off every weight that slows us down, especially the sin that so easily trips us up. And let us run with endurance the race God has set before us (Hebrews 12: 1, NLT).
"Or do you not know that your body is a temple of the Holy Spirit within you, whom you have from God, and that you are not your own? For you have been bought for a price: therefore glorify God in your body." (I Corinthians 6:19-20, NLT)
Resources and Articles (Expand for more!)

Listen to our podcast: Challenging Your Health Mindset
Be empowered to change your health mindset. Listen as our Executive Director, Dr. Keith R. Anderson discusses the 9 dimensions of wellness with diverse guests who provide thought-provoking perspectives on holistic wellness topics.