Intellectual Wellness
Explore the Dimensions of Wellness: Digital | Emotional  |  Environmental  |  Financial  |  Intellectual  |  Occupational  |  Physical  |  Social  |  Spiritual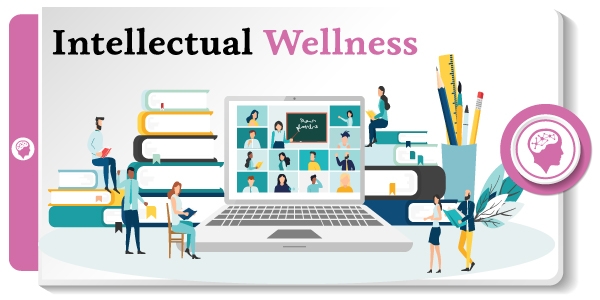 • Engaging in activities that stimulate and challenge mental faculties to enhance one's mental fitness.
• Intellectual wellness is when you can recognize that you are unique and have personal talents that allow you to be creative in ways that can enhance your knowledge and skills. In trying to improve your intellectual wellness, you challenge yourself by cultivating mental growth. Those who value intellectual wellness tend to have great critical thinking skills, better concentration, and improved memory skills.
Practical Ways to Improve Intellectual Wellness (Expand for more!)

Start Today! Commit to just one health action. (Expand for more!)

Listen (Expand for more!)
Reflect (Expand for more!)
Resources and Articles (Expand for more!)

Listen to our podcast: Challenging Your Health Mindset
Be empowered to change your health mindset. Listen as our Executive Director, Dr. Keith R. Anderson discusses the 9 dimensions of wellness with diverse guests who provide thought-provoking perspectives on holistic wellness topics.