Social Wellness
Explore the Dimensions of Wellness: Digital | Emotional  |  Environmental  |  Financial  |  Intellectual  |  Occupational  |  Physical  |  Social  |  Spiritual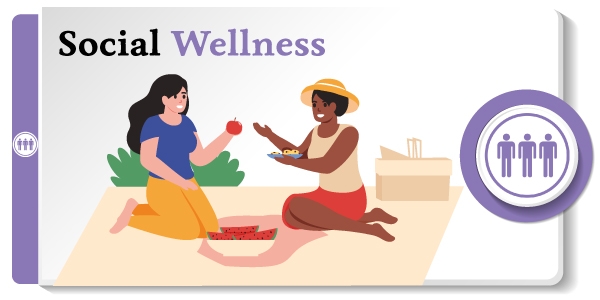 • Recognizing and engaging with one's interconnectedness with others for the betterment of the community as a whole.
• Social Wellness enhances the sense of belonging and connectedness. The importance of creating and maintaining a healthy support network, is explored in this dimension of wellness.
Practical Ways to Improve Social Wellness (Expand for more!)

Start Today! Commit to just one health action! (Expand for more!)

Listen (Expand for more!)
Reflect (Expand for more!)
"A friend is always loyal, and a brother is born to help in time of need" (Proverbs 17:17, NLT).
"A man who has friends must himself be friendly, But there is a friend who sticks closer than a brother." (Proverbs 18:24 NKJV)
Resources and Articles (Expand for more!)

Listen to our podcast: Challenging Your Health Mindset
Be empowered to change your health mindset. Listen as our Executive Director, Dr. Keith R. Anderson discusses the 9 dimensions of wellness with diverse guests who provide thought-provoking perspectives on holistic wellness topics.