Housing Eligibility

Find out what kind of housing you are eligible for as a student at Liberty University.
On-Campus Housing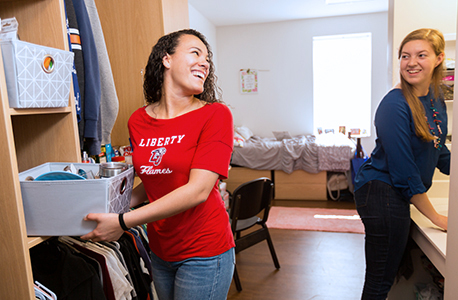 You must complete Financial Check-In prior to occupancy and agree to the terms and policies outlined in the On-Campus Housing Contract.
Liberty University requires all unmarried students under 21 to live on campus. On-campus residents must be currently enrolled in a residential program and attending classes on campus.
Students who are 25 or older (at any time during the semester) or are married are not permitted to live on campus, with one exception. Students ages 25-30 may be eligible to live in our Independent & Graduate Housing program. All rooms are assigned on a first-come, first-served basis.
All on-campus students are subject to the rules, regulations, and policies contained in the Liberty Way and the On-Campus Living Guide.
On-Campus Living Disclaimer – Click to View
Institutional Liability
The university will not be responsible for damage to or loss of personal belongings which are a result of fire, wind, water, insects, rodents, vandalism or theft. However, when damage or loss is reported, the university will take reasonable steps to attempt to resolve the problem. Students are encouraged to make sure personal belongings are covered by their parent's homeowner's policy or a renter's insurance policy.
---
Off-Campus Living
Students who are 21 or older, or live with an immediate family member (parent or sibling) who is 21 or older, may be approved to live off-campus.
Any student who accumulates 18 or more reprimands within a semester might be required to remain on campus even if they meet the age requirement for living off-campus.
Off-campus students are subject to the same rules, regulations, and policies contained in the Liberty Way, except for those that specifically pertain to residence hall living.
For more information on the off-campus application process, visit our Housing Selection webpage. 
Off-Campus Living Agreement – Click to View
Off-Campus Housing Resources