Housing: East Campus

Apartment-Style Living
Residence Halls 140-194
Join six other students in our apartment-style housing. Each apartment contains three bedrooms, each of which houses two or three students. Share a room, closet, and bathroom with one or two other students, and enjoy a full kitchen and living area, complete with a washing machine and dryer.
East Campus is perfect if you prefer quieter spaces with more privacy, and it is also popular with athletes and groups of friends that want to live together.
Students who live here love the freedom to cook in their dorm and enjoy the close-knit community within each apartment.
East Campus housing is near many recreational facilities including David's Place, a swimming pool, the tunnel to the Vines Center, recreation fields, Doc's Diner, and more. You also have access to mailbox kiosks located throughout East Campus.
Locate the East Campus residence halls on the Campus Map.
Cost (2019-20)
3-Person (B) Rooms: $2,900 per semester
2-Person (A, C) Rooms: $3,380 per semester
Cost (2020-21)
3-Person (B) Rooms: $3,000 per semester
2-Person (A, C) Rooms: $3,500 per semester
Watch Student Tour
View Gallery of East Campus Dorms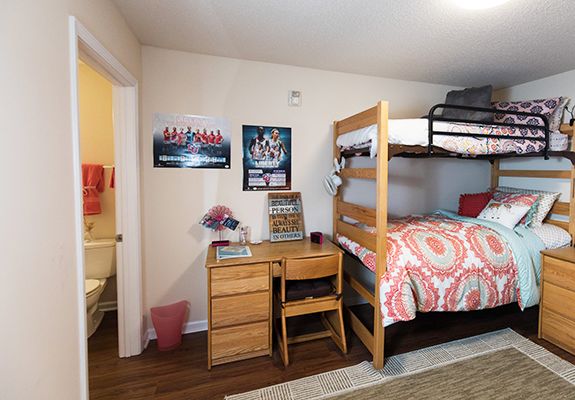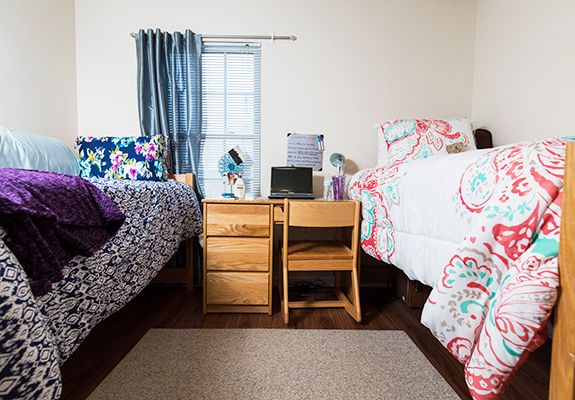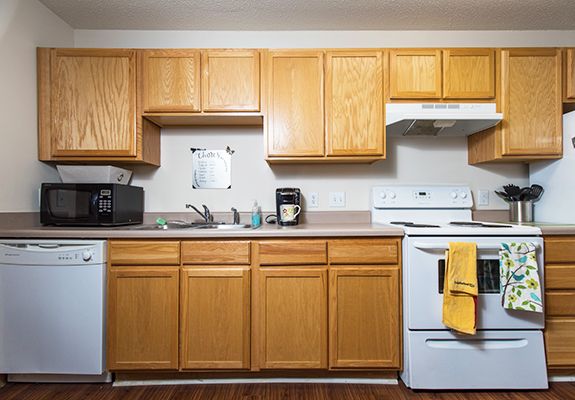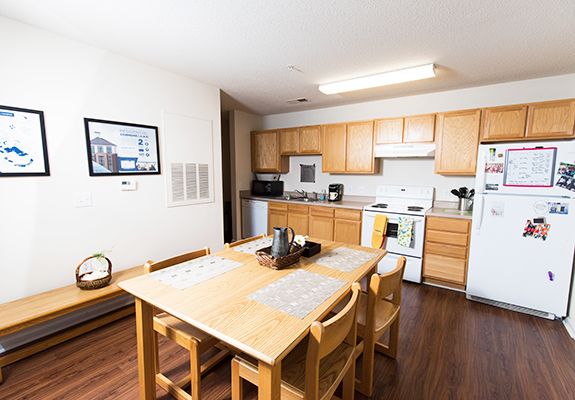 Room Layout
---
Construction on East Campus
There is a new structure coming to East Campus! A 9-story parking garage will soon occupy the space previously held by residence halls 191 and 192, and is projected to open by Fall 2020.
As a result, residence halls 190 and 193 will be closed for the 2019-2020 academic year. However, residence hall 194 will remain open. If your housing assignment is in building 194, please be aware that you will be living adjacent to a construction zone. While your building itself will not be impacted, heavy construction traffic and noises will be present in the area.  Additionally, sidewalk and parking access will be significantly limited throughout the duration of the academic year.
If you would like to change your housing assignment due to the construction, you may contact us at any point to ask about availability elsewhere on campus, or you may search for available rooms through the Housing portal in your ASIST account. Room Change fees will be waived throughout the duration of the academic year for students moving to other areas of campus from residence hall 194.
Please contact our office at (434) 592-4139 if you have any questions about the impact of this project. We look forward to the opening of the parking garage next year!