Impact the Lives of Our Nation's Military Members and Their Families by Earning a Bachelor of Psychology Degree in Military Resilience
Our 100% online Bachelor of Science in Psychology – Military Resilience degree seeks to prepare students to help our nation's heroes and their families deal with the physical, mental, and spiritual challenges that come with military service. Our military resilience degree program was created to provide you with a strong, Christ-centered knowledge base that you can use to support our servicemen and women.
We created our military resilience degree with your success in mind. Designed to be completed in less than 4 years, this degree offers you the flexibility to continue your job while earning your degree. At Liberty, our goal is to support you as both a student and a professional.
What is resilience in psychology?

Resilience in psychology is a person's ability to overcome acute mental distress. Common causes of such duress include, but are not limited to, trauma, tragic occurrences, difficulties in relationships, or accompanying mental disorders.
---
Why Choose Liberty's Online Military Psychology Degree Program?
Our B.S. in Psychology – Military Resilience degree is offered completely online, allowing you to remain active in your job and community without the worry of having to take courses on campus. Through carefully selected courses and professors who lead from a biblical worldview, Liberty can help prepare you for a career in serving military members. 
Whether you are a current service member, a veteran, a military spouse, or a civilian, our bachelor's in military resilience can help you stand out as a Christ-centered, value-driven professional.
Liberty University – A Top Military-Friendly School
Liberty University strives to support our service members and their families. From offering a world-class education online to providing education programs aimed at helping military members transition to civilian life, Liberty's military benefits are first-class.
We are the state of Virginia's first Purple Heart University!
Liberty University has been recognized for its standout academic programs and military supportive culture by Military Times.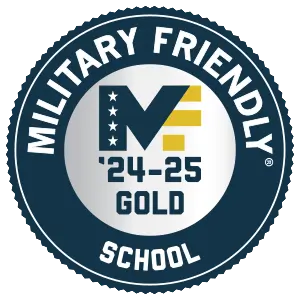 ---
What Will You Learn in the Online Military Resilience Training Program?
At Liberty University, we strive to design degree programs that prepare you for a rewarding career. With core courses in areas such as social psychology and the integration of psychology and Christianity, you can build strong foundational knowledge of psychological principles and integrate your faith into the field.
The military resilience training program was created to provide an in-depth study of military resilience counseling and the psychology of military families. Each course is taught from a Christian perspective to create a balance between science, practice, and faith. This combination allows you to explore the different approaches to psychology from a biblical worldview. You can learn to apply tools and techniques for creating treatment plans and approaches to use in the field of military resilience. 
Featured Courses
---