Wind Symphony Auditions
I. Contact
Contact Dr. Stephen Kerr by email prior to your audition with your name, instrument, and the semester you plan to enroll in the Liberty University Wind Symphony.
II. Prepare
Prepare your music and video.
A.  Download audition application, and the appropriate music for your video. Auditions must be for the instruments represented in the audition music below. If you do not see your instrument and have questions, please email the director, Dr. Stephen Kerr at spkerr@liberty.edu.
Audition Application
Audition Music
Do not memorize.  Download pages for your instrument and prepare.
Harp: Bartók Concerto for Orchestra: 1st movement only (PDF has more)
Harp: Rimsky-Korsakov Capriccio Espagnol, cadenza and fandango (no excerpting of PDF needed)
B.  Shoot your video.  While your video must be in 'one take' for each page, you can make as many videos as you like and just send us your best take—only one version, please.  You can use any means of recording the video that you like.  Please be sure that your audio quality is good.  The product will be uploaded by you to YouTube per the instructions in "III. Send."
III. Send
Send us your finished video and application.
Upload the finished video to YouTube as an UNLISTED video. By doing this no one can see the video with the exception of whoever has access to the link. Copy the link for your video and email it Dr. Stephen Kerr, Director of Bands, at spkerr@liberty.edu, and to Dr. Gabriel Miller, at gmiller1@liberty.edu.  We will correspond with you soon after with information about acceptance into the Liberty University Wind Symphony.
Students may only submit one video. If you are not selected during the audition process to participate in the Wind Symphony and wish to discuss your audition further please contact Dr. Muller.
To create a YouTube Account & Uploading Your Video:
1. To begin, click "Sign In" on the YouTube homepage in the upper right corner.
2. Select the option to "Create An Account"
3. You will need to establish a Google account, if you already have a google email you can use that email as your username.
4. Fill in the required information to finalize your YouTube account.
5. Once your account has been set up and you are logged in, select the "Upload" Button on the YouTube home page, located to the right of the search engine.
6. Select the Arrow to upload your video.
A drop-down menu with options to make the video Public, Unlisted, or Private is shown. Select the option for UNLISTED (This ensures only those who have the link can view the video).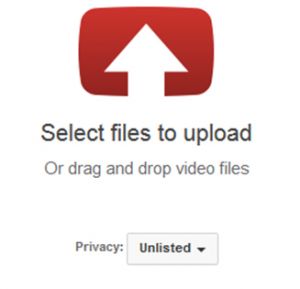 7. Title the video with your Name (i.e. John Smith Wind Symphony Audition)
8. Send in the link to your video, and include your completed application, via email to Dr. Kerr at spkerr@liberty.edu and Dr. Muller at swmuller@liberty.edu.
Thank you for your interest in the Liberty University Wind Symphony!
---