Center for Music Education and Performance

Training Professionals in Music Education & Performance
The Center for Music Education & Performance trains and equips passionate musicians as skilled performers and music education specialists.
We Accomplish This By:
Equipping students with the skills necessary to succeed in a variety of commercial and academic markets.
Offering students a choice of concentrated studies to pin-point God's calling on their life.
Training students under world-class professors who serve as mentors to their students and instill superb musicianship and a commitment to excellence.
Hosting an impressive roster of partner faculty to prepare men and women who will lead and teach worship with passion, conviction, and focus.
---
A Unique Opportunity
The Center for Music Education & Performance prepares students to understand, articulate, and apply classroom theory and practical skills to their current level of musicianship and future career in music. In the Center for Music Education & Performance we believe in cultivating a worship lifestyle and desire to share Christ through music while maintaining the highest level of musical excellence.
Whether teaching in a public school classroom, performing with an orchestra, or singing in an opera, we train our students to do everything "as unto the Lord and not unto men." Our calling is to equip students to change the world through music for the glory of God!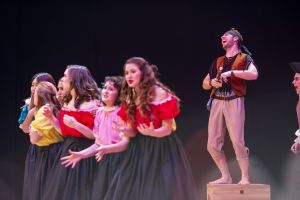 ---
Goals for the Center for Music Education & Performance
God has provided the Center for Music Education & Performance the opportunity to impact the world by training Christ-centered performers, composers, commercial musicians, and music educators to do the following:
Cast a vision for the training of 21st-century musicians.
Evaluate and develop a methodology for reaching the culture for Christ through music performance and music education.
Encourage students to engage in a broad range of music-making experiences.
Challenge students to develop diverse musical skills in a variety of styles and contexts.
Instruct students in techniques of improvisation as a means of musical communication.
Foster opportunities for undergraduate and graduate student involvement in the music profession.
Encourage students to support the mission of the School of Music through interaction with guests, faculty mentorship, internships, student teaching, and community involvement.
Promote missions through music.
---
Liberty University School of Music is a member of and accredited by the National Association of Schools of Music.