Center for Music & Worship

Professionally Train in Music & Worship
Seize the opportunity to lead worship through music with excellence and creativity. Today's churches need both music ministers and worship leaders who can take charge of the multi-faceted and changing ministry opportunities.
The Center for Music and Worship at Liberty University equips you for a career in this area. Gain broad experience in worship teaching, worship training, team management and discipleship, worship evangelism, principles of marketing technology, and drama and music. In addition, our music internship experience places you with partner churches to serve alongside their ministry, while further developing your musical, technical, and worship-leading skills.
Learn how to minister to diverse congregations with theological integrity that is practical to society's broad-ranging needs.
Our faculty are world-class professors who serve as your mentors and who instill you with superior musicianship and a commitment to excellence. We also host a professional roster of partner faculty to prepare you for leading and teaching worship through music with passion, conviction, and focus.
---
Learn More About Our Christian Music School
---
Advance Your Career Through Our Strategic Departments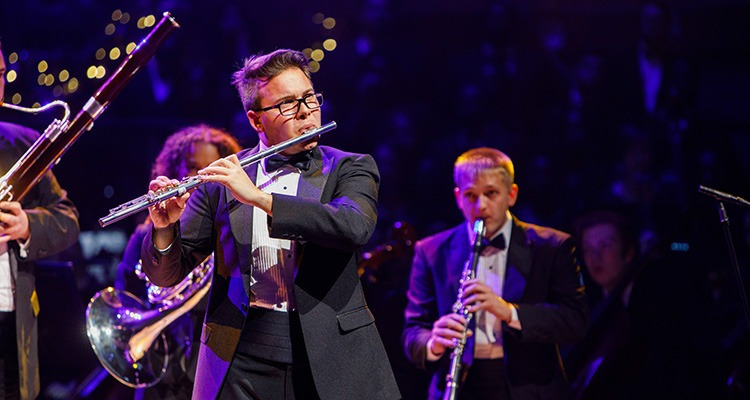 Study with world-class faculty who are expertly trained in your instrumental discipline. Housing our faculty's studios, the foundational Department of Applied Music ensures you are placed in the studio that best fits your musical goals. Each week in your applied lessons, you will incorporate music theory, musicianship, and creativity into your study with our faculty.
Get equipped to serve as an industry professional in the ever-changing, competitive commercial music marketplace. Through our Department of Commercial Music, you'll prepare for a career as a: Christian artist, songwriter, recording engineer, music producer, publisher, performer of jazz, or film industry practitioner.
Multi-Ethnic Music Studies
In our Department of Multi-Ethnic Music Studies, you will use your training in world cultures to successfully engage with a variety of music communities. Learn ethnic music theory, music performance, worship philosophy, and global studies in order to successfully communicate the Gospel in culturally diverse and socially challenging contexts.
Study in one of the largest worship programs in the nation in our Department of Music & Worship Studies. Learn how to shape and craft meaningful worship through music from professional practitioners, producers, and songwriters. These artists and leaders represent some of today's largest and most successful ministries in the evangelical community.
---
Career Opportunities in Music & Worship
Creative Arts Director
Jazz Studies Specialist
Church Media Director
Worship Leader
Songwriter
Professional Christian Music Artist
Film Score Composer/Arranger
Studio/Live Event Producer
Worship & Theater Ministry
Publisher
Recording Engineer
Director of Audio Ministry
Radio & TV Director in Worship
Accreditation for the School of Music
The School of Music is designated as an All-Steinway Music Institution. At least 90% of all pianos in the Center for Music and the Worship Arts are either designed or built by Steinway & Sons.
Liberty University is an accredited institutional member of the National Association of Schools of Music (NASM).
Liberty is regionally accredited by SACSCOC.