How to Apply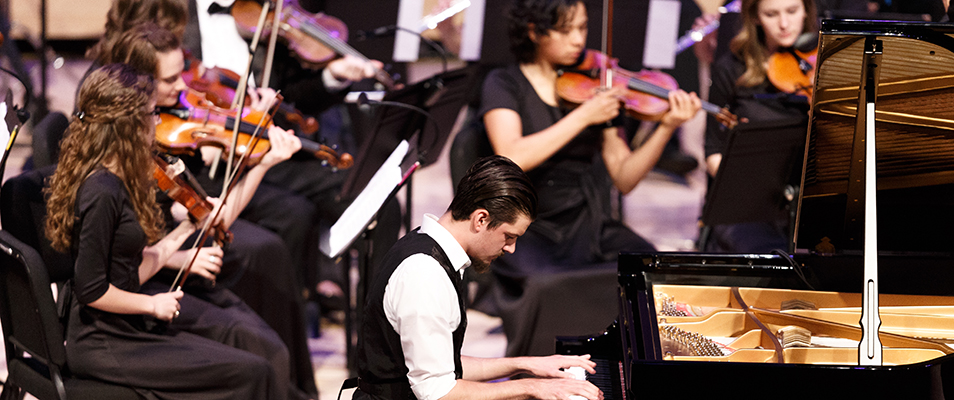 Apply to the Liberty University School of Music
The Liberty University School of Music is uniquely positioned to train and equip musicians to be Champions for Christ. Begin your journey by following the steps below.
---
Application Steps
1. Apply for Admission
Apply for admission to Liberty University.
The LU School of Music (SOM) does not require a separate application process from general admission.
2. Audition for Placement
Anyone planning to study in one of our music degrees must complete a placement audition for the purpose of guiding him or her to the correct level of study with the right instructor.
Organized auditions are held four times a year during Liberty's College for a Weekend events. Auditions can be scheduled at other times throughout the year by contacting the appropriate Area Coordinator for your instrument.
Visit the audition pages for detailed information on how to schedule and prepare for an audition:
3. Apply for SOM Scholarships
There are a number of scholarships available to students studying in SOM degree programs.
Anyone interested in receiving Liberty University scholarships, federal grants, work-study, or loans must complete the Free Application for Federal Student Aid (FAFSA). Visit the Financial Aid webpage for more information.
Once you've been accepted and claimed your student account you're able to log into the SOM Scholarship Application.
Visit the SOM Scholarships Page for detailed descriptions of available scholarships and access to the online application.
4. Register for Classes
After choosing which degree you plan to pursue, you can plan which classes to sign up for during your first semester. The CASAS Advisor for the School of Music will be able to assist you in choosing which classes to take.
5. Complete Theory Placement Test
Enroll in MUSC 105, Harmonic Practices and Theory I. When the school year approaches, you will be contacted about taking the online Music Theory Placement Test.
Exceptions to this rule:
A.P. Music Theory: Incoming students who have taken the Music Theory Advanced Placement (A.P.) Test and received a composite score of 4 or above are automatically eligible for the Advanced Section of MUSC 105 and therefore are exempt from taking the placement test. Find the meeting day and time for the advanced section by checking ASIST. Students should request that their score report is sent to Liberty University directly from the College Board Website (use Liberty's school code: 5385). Contact the Music Theory Coordinator (jgmiller1@liberty.edu) to be added to the class. *A.P. testing does not qualify students to test out of Music Theory courses here at Liberty.
Transfer Students: Students transferring from music programs at other colleges or universities should first visit the LU Transfer Office for instructions on how to proceed with the transfer process. Once this process is completed, transfer students need to take a transfer student theory test to determine music theory placement. Students may take this test between the hours of 8:30 a.m.-4:30 p.m. in MUSIC 330.