Life of Christ
Now on Display at Liberty University
This beautiful 21-piece collection of paintings is located in the Alumni Ballroom on the 3rd floor of the Montview Student Union. Now in Liberty's permanent collection, the Life of Christ art was donated in honor of Dr. Troy L. Day and in memory of the late Alton H. Thigpen.
The massive oil on canvas paintings (most are 7-by-5 feet with some as large as 11-by-7) valued at more than $1 million, were created by artist Robert Wilson Sr. beginning in 1963.
His crowning achievement is the Life of Christ paintings now on display at Liberty University.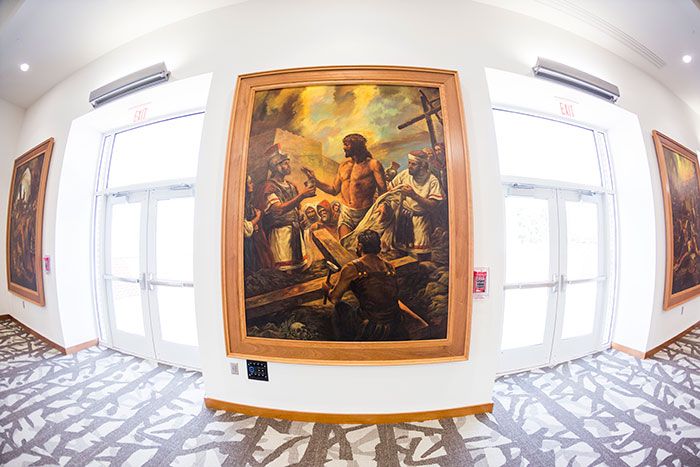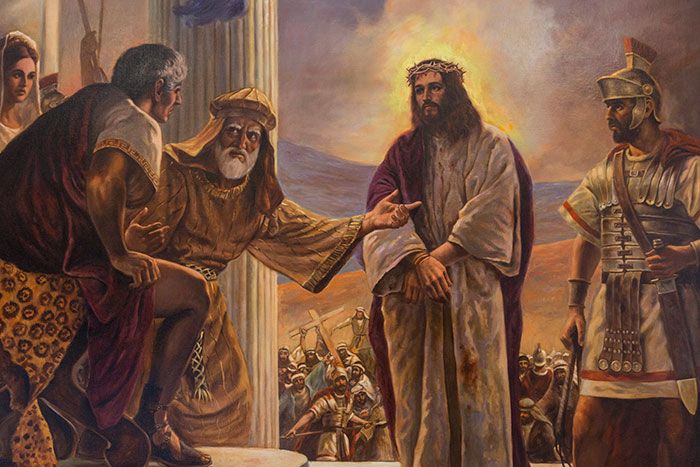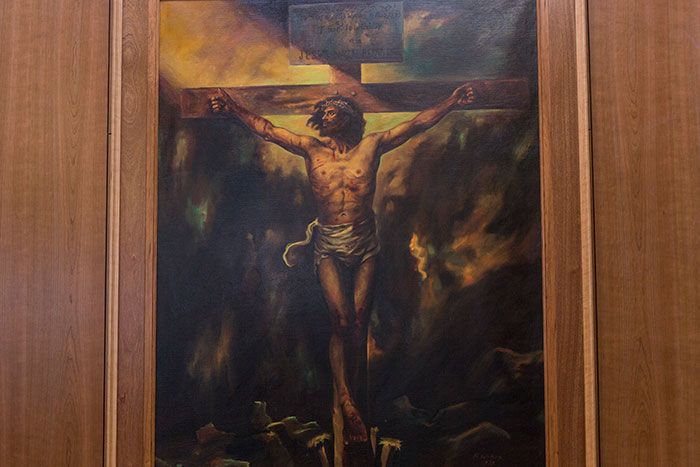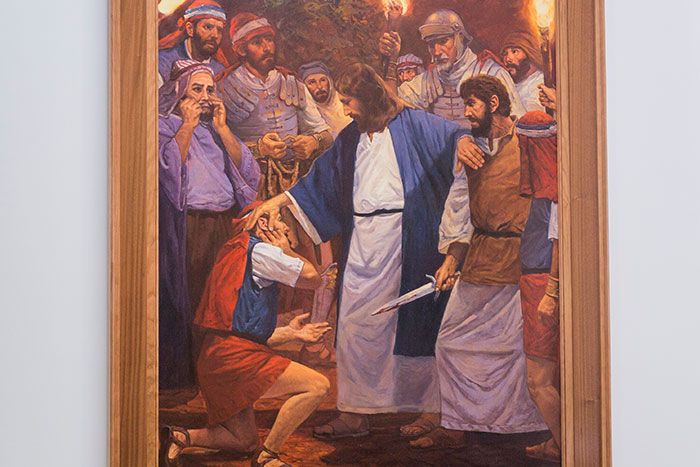 Wilson is a self-taught artist with over forty years of experience. Following a career in the Army Air Corps and Air Force, during which he flew transport planes in WWII and Korea, he turned to painting. At ease in any medium, Wilson developed an interest in historical paintings as a U.S. Bicentennial project. And he completed a series of paintings depicting the role of South Carolina in the Revolutionary War. Wilson also delved into the Civil War era and produced a series of collector's prints depicting leaders and battles of that war.
In 1978, President Jimmy Carter admired eleven of the paintings at the National Prayer Breakfast. Day and Thigpen, both from North Carolina, initially purchased about 10 paintings and were so moved by them that they commissioned the artist to complete the visual story of Christ. Before Liberty University, they were displayed in Earl Owensby's religious museum in Shelby, N.C.
When Thigpen's grandson became a student at Liberty University, the family felt like this was the perfect place to display the paintings and Day agreed.
The Liberty University Art Gallery dedicated the Life of Christ paintings on Oct. 28, 2016, in the Montview Student Union's Alumni Ballroom.
Hours and Location
Most Wednesdays
noon–3 p.m.
Alumni Ballroom
Montview Student Union
---
Contact
(434) 592-7629
---
Parking
Get a temporary parking pass at the Visitors Center.