School of Nursing
Where Art Meets Science
~
Positively Impacting Our World
Through the Art and Science of Nursing.
A Christian Nursing Education
Choose a career in the highly marketable field of nursing and use your degree to impact individuals, communities, and nations. In the Liberty University School of Nursing (LUSON), you can get your bachelor's, master's, and doctoral nursing degrees in residential and/or online formats.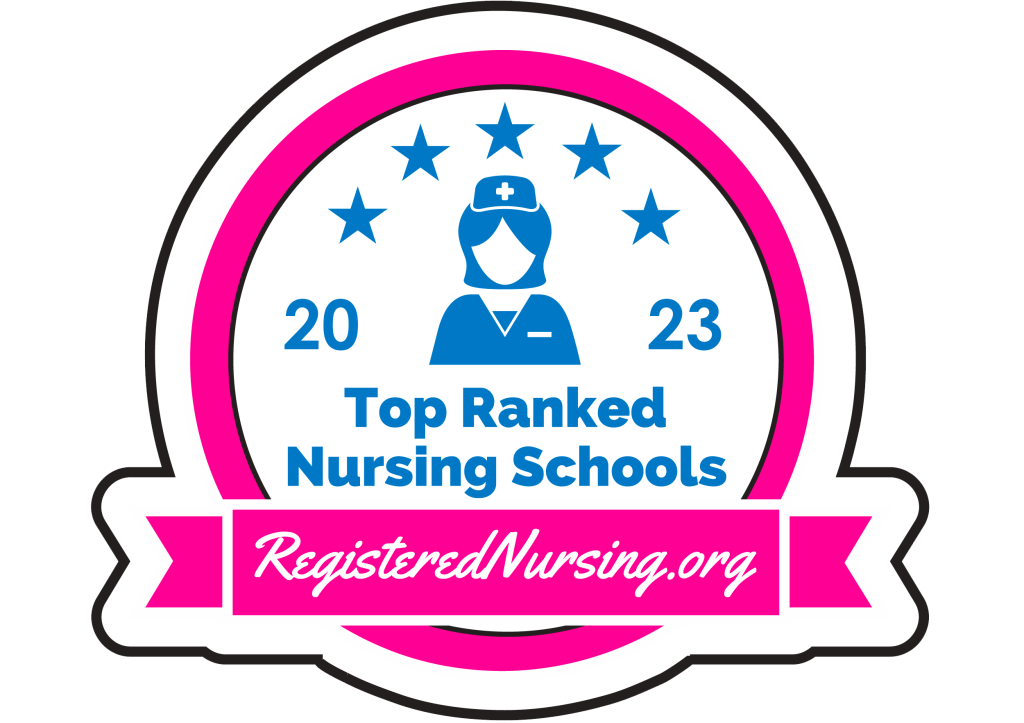 LUSON blends the art of caring with the expertise of science and research, giving you a holistic approach to the nursing field. Here, you'll be taught how to care for your patients physically as well as tend to their mental, emotional, and spiritual needs.
Learn more about the LUSON Mission, Philosophy, and Purpose.

Graduates are known for their clinical competence, strong work ethic, and heartfelt compassion. This is a reflection of Liberty's commitment to instilling Christian virtues and a desire to serve in the life of every nursing student.

Learn from a credentialed and experienced staff who share your passion for the field of nursing and your love for Jesus Christ. And through our Simulation Center, fully accredited by the Society for Simulation in Healthcare, you'll gain the confidence you need through simulation events with high fidelity simulators, standardized patients, and skill trainers.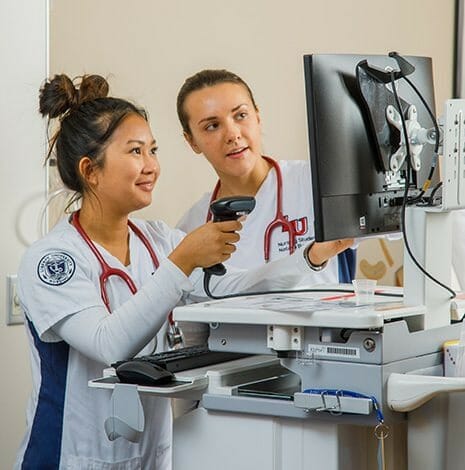 Our Top Nursing Degree Programs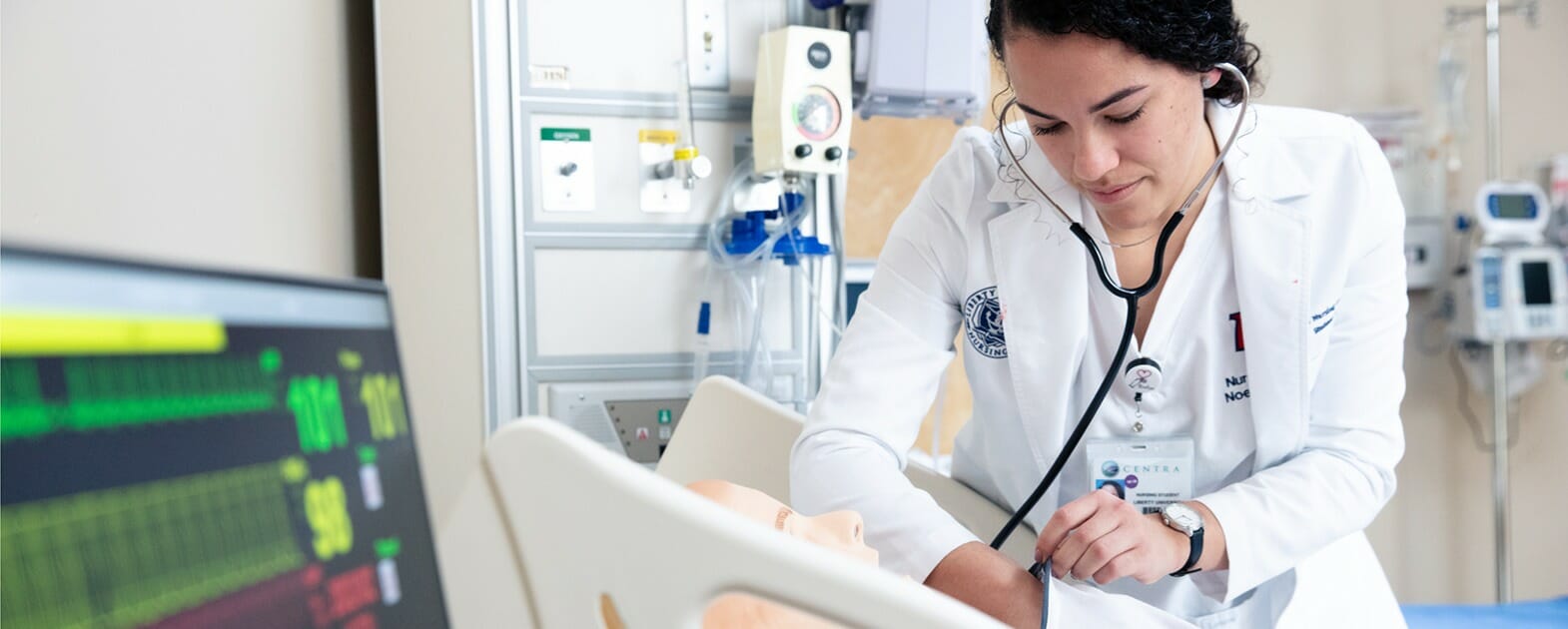 Get Hands-On Learning in Our Simulation Center
Actively participate in hands-on, high-fidelity simulation with the help of experienced faculty who are dedicated to increasing safety and competence in the clinical experience.
Featured Nursing Faculty
Dr. Elizabeth Whorley
Chair, Online Undergraduate & Graduate Nursing Programs | Associate Professor
View Bio
School of Nursing Facts & Figures
8:1
Clinical group average class size
100%
FNP pass rate for the last 5 years
600
BSN program offers 600 clinical hours while Virginia only requires 500

94%
NCLEX-RN pass rate compared to the national level of 86.57% in 2020
90%
Retention rate for residential students academic year 2021
School of Nursing Events
Get up-to-date information on LUSON latest events like:
Student Meet & Greets
Nursing Career & Graduate School Fairs
Nursing Doctoral & Graduate Studies Open House
Interprofessional Education (IPE) Events
High School Nurse Camp
Nursing Alumni
Serving others, creating change, and improving the healthcare of our nation: LUSON alumni are practicing nursing with confident, competent, and compassionate care.
Our alumni are caring for those most in need here and around the world.
Our graduate alumni are leading organizations both in the acute care and community settings and in the educational arena. Their leadership is impacting nursing practice, nursing education, and the healthcare industry.
Samantha Wilkins-Copeland
Featured School of Nursing Articles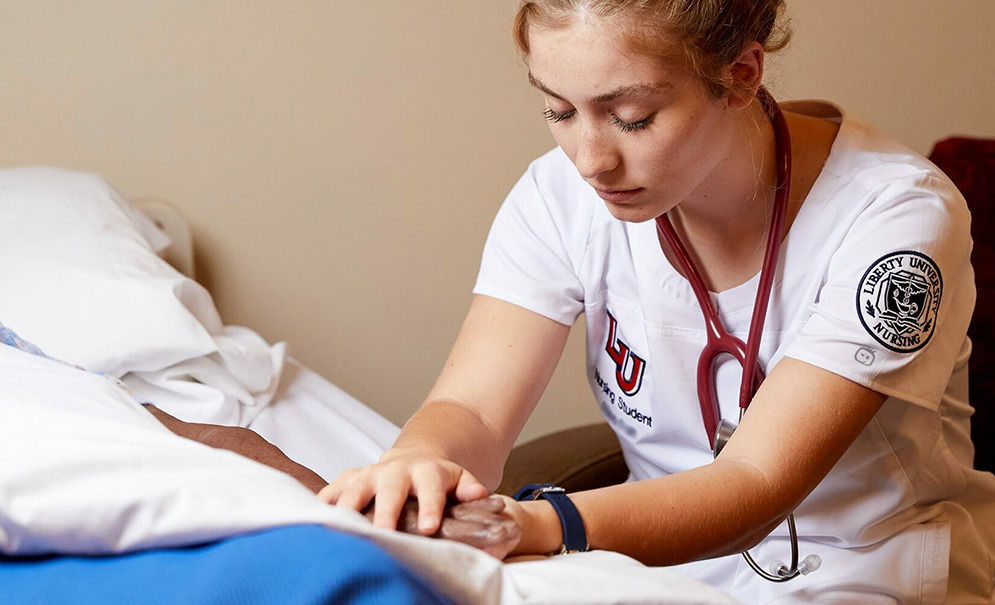 Christian Compassion
In the School of Nursing, we say we are the hands and feet, the heart of Christ to a hurting world. Our prayer is that God would open the eyes of our hearts, that He would break our hearts with the things that break His heart. On Clinical Missions Trips, LUSON students get to experience hands-on clinical training and utilize nursing skills while providing much-needed services and health education in countries like Rwanda, Kenya, Nepal, and Israel.
Accreditation for the School of Nursing

The baccalaureate degree program in nursing, master's degree program in nursing, Doctor of Nursing Practice program, and post graduate APRN certificate program at Liberty University School of Nursing is accredited by the Commission on Collegiate Nursing Education, 655 K Street, NW, Suite 750, Washington, DC 20001, (202) 887-6791.

The Liberty University School of Nursing Simulation Center is fully accredited by the Society for Simulation in Healthcare (SSH).
It allowed many students to continue learning virtually in 2020 due to COVID-19.
Liberty University is accredited by the Southern Association of Colleges and Schools Commission on Colleges (SACSCOC) to award associate, bachelor's, master's, specialist, and doctoral degrees. For questions about the accreditation of Liberty University, please contact: Commission on Colleges 1866 Southern Ln. Decatur, GA 30033-4097 (404) 679-4500. Inquiries about the institution itself, such as admission requirements, financial aid, educational programs, etc., should be addressed directly to Liberty University.
School of Nursing Mission, Philosophy, and Purpose
Our Mission
Our Philosophy
Our Purpose
The School of Nursing Trains Champions for Christ who care with both their hearts and their minds. Exhibiting the art and science of nursing, our students help those in need nationally and around the world by impacting and investing in the lives of others.
The primary goal of the Liberty University School of Nursing is to educate students to minister to others through the profession of nursing. The School of Nursing supports the following propositions based on the Bible, nursing process, and nursing theory.
God, the infinite source of all things, has shown us truth through Jesus Christ in the Holy Scripture and in a personal relationship with Him.
Persons are spiritual, rational, moral, social, and physical beings, created in the image of God. They are, therefore, able to know and to value themselves and other persons, the universe, and God. The metaparadigm of Person can include the family unit, larger communities, and specific populations. Nursing care should be client centered and representative of client needs and desires.
Education as the process of teaching and learning, involves the whole person, by developing the knowledge, skills, and attitudes which enable each individual to change freely. Thus, learning occurs most effectively when both instructor and student are properly related to God and each other through Christ. (Liberty University, 2014)
Nursing is a multiform activity that provides a wide range of health care to society. It revolves around the need for assessment, goal development, selection of interactions, delivery of care, and evaluation of responses. Nursing is a healing art communicated through the ministry of caring and based on science derived from research and scholarship. Nurses must have knowledge, skills, and attitudes to meet the needs of diverse populations.
Environment is more than the place where nursing care is offered. Environment is the place where a person is physically, spiritually, mentally, and emotionally present. Nursing care should be designed to care for the whole client in their personal environment, to educate at their level of understanding, and to support through the sharing of available resources.
Health is defined by the client and can vary based on their personal life experiences. The nurse's role is to help the client define health expectations and create a plan to reach their personal health goals.
The Liberty University School of Nursing is designed to prepare registered nurses and advanced practice registered nurses to view nursing as a ministry of caring and service. The nursing curriculum is built upon a foundation from the arts, sciences, and the Bible and emphasizes the use of the nursing process to guide students as they acquire nursing knowledge, build strong clinical skills, and develop the foundation necessary for sound practice based on Christian ethical standards. Graduates are skilled at using the art and science of nursing to educate, lead, and positively influence all individuals and communities.