LUSON Simulation Center
Center Overview
With over 14,000 square feet of space, students from baccalaureate to doctoral programs utilize the Liberty University School of Nursing (LUSON) Simulation Center each week. Liberty University School of Nursing students actively participate in high fidelity simulation twice a week, with faculty dedicated to increasing safety, confidence, and competence in the clinical experience.
---
Hours of Operation
Monday
Health Assessment rooms only, 1-4 p.m.
Tuesday-Thursday
8 a.m.-6 p.m. (Closed during Convocation)
Friday
Health Assessment rooms for NURS 210 practice only
Saturday
1-5 p.m.
Sunday
2-5 p.m.
*In case of a delay or closure of Liberty's campus, the Simulation Center will also be delayed or closed.
---
Hands-On Learning at the LUSON Simulation Center
Broaden your nursing education and increase your skill performance through hands-on practice in a non-threatening, safe environment at the LUSON Simulation Center.
Your experience at the Simulation Center will help increase your confidence, competence, and critical thinking skills associated with the nursing process. Here, you'll grow in the practice of bedside wisdom and ministry as well as leadership, and teamwork.
Our simulation program trains professional, safe, and effective nurse leaders who are taught from a biblical worldview to uphold ethical standards of good nursing practice. Our students also learn nursing as a global ministry of excellence and caring based on the Benner theoretical framework.
---
Tours
Simulation Center Open House
Register for tours of the Center
Visit Undergraduate courses
Meet Faculty and Nursing Students
Request a Tour
Contact Lisa Foote, Executive Director of Simulation & Standardized Patients to request a tour.
---
Accreditation
The Liberty University School of Nursing Simulation Center is fully accredited by the Society for Simulation in Healthcare (SSH).
It allowed many students to continue learning virtually in 2020 due to COVID-19.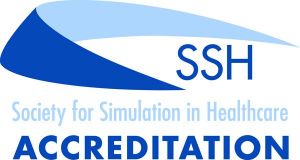 AHA Certification
The American Heart Association's Basic Life Support (BLS) course trains individuals to recognize life-threatening emergencies and to provide care in a variety of circumstances.
In the fall of 2019, 179 nursing students gained initial HeartCode BLS certification. An additional 184 nursing students were re-certified.
---
Collaborating Organizations