Simulation Training
Simulator Training for Pilots at Liberty University
Develop the skills you need for a successful aeronautics career with state-of-the-art simulation devices right here at Liberty University's School of Aeronautics (LUSOA).
Designed and built by prestigious companies like ALSIM, Frasca, and TakeFlight Interactive, our simulation technology also includes custom devices built by Liberty University's simulator support team.
Your world-class simulator training opportunities include:
Certified flight simulators
Virtual reality experiences
AI flight instruction
Aircraft systems trainers
Learn more about the simulation devices you could be training on as an aeronautics student at Liberty University.
Learn About Our Aviation Simulation Technology
---
Liberty's Simulator Department
The Liberty University Simulator Department is a 14 CFR Part 60 National Simulator Program (NSP) that is certified through the Federal Aviation Administration (FAA). In addition to our training devices, innovations in 14 CFR Part 60 include a revolutionary digital binder system designed in-house and an industry-leading feedback system for program enhancements.
Enhanced capabilities include Live ATC receivers located on the Liberty Mountain that are coupled with ADS-B hosting through Flight Radar 24 and Flight Aware helping you succeed in all areas of aviation.
---
Our Simulator Support Facility
Get the type of innovation and quality you're looking for at our industry-leading Simulator Support Facility. This area is designed specifically for the creation, implementation, and maintenance of simulators and technology utilized in the aerospace industry.
Our shop area consists of moveable workstations equipped with plumbed air, power, and network access. These allow for simulator repair and production within the facility. The shop space is a hub and spoke design with the individual simulator bays surrounding the shop and is accessible for maintenance purposes through roll-up doors.
The Simulator Team has access to full surface mount device (SMD) rework stations, the liquid cooling computer builds, a full fabrication shop, 3D printers, and more.
Contact the Simulator Support Facility: lusoasimulators@liberty.edu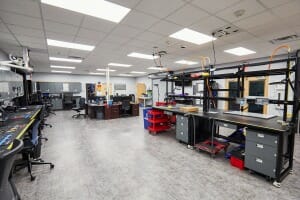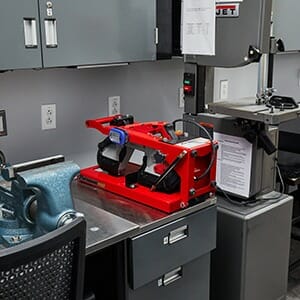 ---
Partnerships with Aerospace and Simulation Technology Leaders
The LU Innovations and Technology Team proudly partners with aerospace and technology leaders like the ones below to provide innovative solutions to aerospace technology and training challenges.
Interested in partnering with the LU Innovations and Technology Team? Send us an email at SOAInnovations@liberty.edu.
---
Aviation Simulation Technology Resources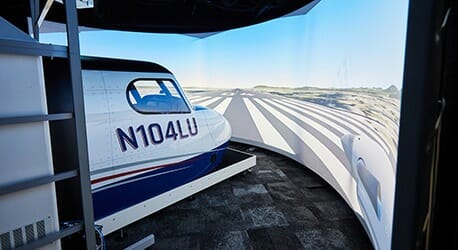 ALSIM ALX
The ALSIM ALX can transform into ten different flight models including multi-turbine aircraft to meet your needs. The LUSOA utilizes this turbine simulator to give you the experience of flying more complex aircraft at faster speeds. Crew Resource Management (CRM), Hydraulics, Bleed systems, and FMS training are just a small sample of the capability of this world-class, multi-use simulator.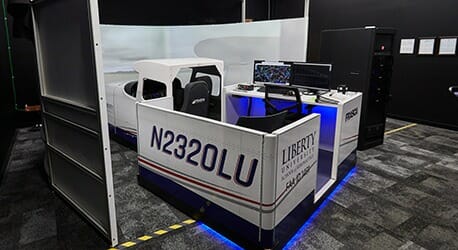 Frasca FTD-5
The Frasca FTD-5 fleet consists of Cessna 172, and Piper Seminole FTD-5 certified devices. These simulators are equipped with a 220-degree wrap-around visual and active control loading to give you an immersive experience. The actual Garmin G1000 avionics is the same equipment that is installed in the aircraft. This gives you a maximum transference of training from the simulator to the aircraft, reducing the time and cost of training.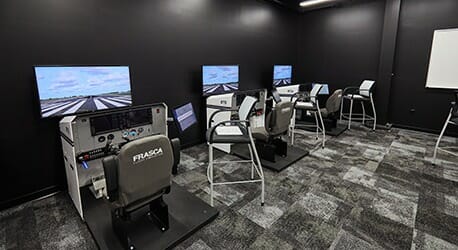 Frasca RTD
The Frasca RTD fleet provides a unique capability of reconfiguring aircraft types to meet your training requirements. The SOA currently operates the devices as G1000, round dial, and multi-engine trainers. These devices were key in the remote flight instruction innovation that the Simulator Team created at the height of the COVID-19 lockdowns. Because of this innovation, LU students were able to continue FAA flight instruction when in-person instruction was prohibited.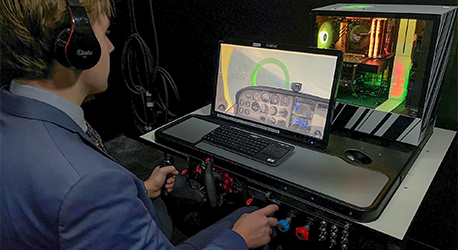 TakeFlight Lab
The TakeFlight Lab integrates TakeFlight Interactive virtual flight instructor to provide training for all of the private pilot students at LU. The lab gives you the opportunity to learn, fly, and be graded against the FAA ACS standards before you step into the cockpit. This program is leading the way to improve transference and correlation while lowering the cost and time needed to achieve your aviation dreams.

Virtual Reality Lab
The Virtual Reality (VR) Lab is an interactive experience that lets you learn about environments that you would not normally be able to experience. Learning airport operations to space flight, the custom-built VR lab incorporates a fleet of liquid-cooled computers to run the leading edge of virtual reality.
---
Interested in an Aeronautics Degree?
---