New Horizons High School Program
Aviation Maintenance Camp
Dates: June 22-25, 2020
Location: Liberty University School of Aeronautics
Eligibility: Rising 9th-12th graders
Aviation Maintenance Camp provides high school students with the opportunity to explore rewarding career paths in the aviation maintenance industry. Through hands-on projects and visits to multiple aviation maintenance facilities students will be exposed to many of the perspective job opportunities that exist within this exciting industry.
At our camp, you will experience the Liberty University campus while participating in hands-on maintenance projects where you will be exposed to the skills needed to maintain and repair aircraft including: riveting, turbine engine theory, and more! 
Apply for Aviation Maintenance Camp
Applications Due March 31, 2020
Contact
Steven Brinly
Department Chair
srbrinly@liberty.edu
---
Exploring Aviation Camp
Dates: Summer 2020
Location: Liberty University School of Aeronautics
Eligibility: Rising 9th-12th graders
Exploring Aviation Camp gives high school students from all over the U.S. the opportunity to explore exciting career opportunities (and hobbies) that the field of aviation has to offer.
Through basic ground school classes and fun hands-on activities, you'll be able to get an idea if a career in aviation is right for you!
At our camp, you will be immersed in the world of aviation through ground school classes taught by professionally certified flight instructors as well as a number of fun educational activities.
These activities include model rocket building/launching, building, and launching model gliders, flying in our state of the art flight simulators, 2 flights in an actual airplane, hands-on maintenance projects, and more!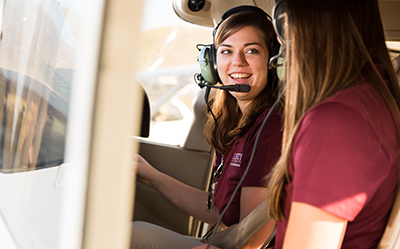 2019 Travel & Housing Information
Driving: Arrive at Liberty University between 2:30 p.m. and 4 p.m. on Jun. 6, 2019. Plan on leaving at 3 p.m. on Jun. 9, 2019.
Flights: All flights must arrive at Lynchburg Regional Airport on Jun. 6, 2019, and must depart after 3 p.m. on Jun. 9, 2019. The camp staff will meet you at your baggage claim shortly after you arrive. We will deliver you back to your ticketing counter when you depart.
Housing: Staff and students will reside in on-site Liberty University dorms. Meals will be provided by LU dining hall.
Contact
Stacey Moore
High School Program Director
snmoore@liberty.edu
---
Pathways Flight Academy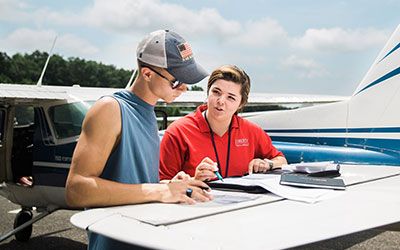 Applications for Summer 2020 will be available soon.
In partnership with the Virginia Space Grant Consortium, the LU Pathways Flight Academy is a program designed to give High School Students who are interested in making a career out of aviation the opportunity to accomplish their first solo flight in an airplane.
This will be accomplished through a high-intensity two-week program consisting of ground and flight training. There are three academy sections offered each summer.
The Commonwealth of Virginia is providing funding that permits the Pathways Flight Academies program to be offered free of charge to participants.
Eligibility
High School Students that are at least 16 years of age by the start of the camp
Hold a valid FAA Medical Certificate (at least a third class)
Virginia Resident
How to Apply
The application for the Academies is now closed. Applications for Summer 2020 will be available in Nov. 2019.
Contact
Stacey Moore
High School Program Director
snmoore@liberty.edu