Intelligence and National Security Degree Programs

Gain a clear understanding of how the United States defines and executes national security policy and how the U.S. Intelligence Community operates.
With our Strategic Intelligence concentration, cognate, and minor, you will gain a practical understanding of terrorism, counterterrorism, and intelligence-gathering to equip you for a career in this field.
Our online undergraduate National Security concentration will give you a broad overview of national security policy, homeland security policy, organization and execution, and the application of strategic intelligence to meet national security objectives, and our Master of Science in National Security will prepare you for leadership and administration of national security organizations.
In addition to your studies, you'll engage in hands-on learning opportunities alongside professionals who are currently working in the intelligence and national security field. You will also learn from professors such as Rear Admiral Tony Cothron and Scott Roenicke who bring a wealth of knowledge from their respective careers as noted in the story from Liberty News.
---
Strategic Intelligence Degree Offerings
B.A. in International Relations: Strategic Intelligence Concentration
B.S. in Criminal Justice – Strategic Intelligence Studies Cognate
Strategic and Intelligence Studies Minor
National Security Degree Offerings
B.S. in Government – National Security
Master of Science in National Security
Networking Opportunities
Gain access to intelligence agency recruiters.
Liberty has developed a strong network of recruiters from several intelligence agencies who are specifically seeking Liberty students for internships and employment. Each year, our department hosts recruiters on campus and at virtual job fairs.

Get Involved On Campus
Prepare for employment within the intelligence community. The Strategic Intelligence Society will help you develop as a critical thinker as you analyze current events.
Network with faculty and students as you learn to discern intelligence within the fields of politics, technology, transnational issues, economics, and military policy.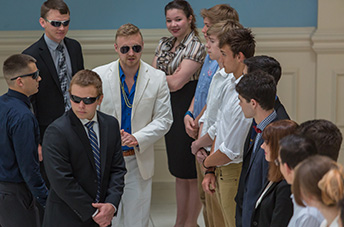 Real-world Experience
Engage in realistic exercises with intelligence and counter-intelligence agents, and put your academic knowledge to practical use.
Liberty's strategic intelligence professors help to craft simulation experiences for students preparing them to address real-world situations.
Read: Strategic intelligence operation thwarts simulated threat
---
Did You Know?
Liberty's Strategic Intelligence Society has over 100 members.
Students participate in a major intelligence exercise each spring semester.
Intelligence exercises bring multiple disciplines together including criminal justice, law, ROTC, engineering, and computer science.
Strategic Intelligence Society offers leadership positions to students.
Liberty offers field trip opportunities in support of real-world organizations (DIA, FBI).
---
Faculty Spotlight

Assistant Professor of Government
Rear Admiral Tony Cothron retired from the U.S. Navy on 1 January 2009 after 31 years of distinguished service as an Intelligence Officer. During his Navy career, he served as Executive Assistant to the Director of National Intelligence, as the 62nd Director of Naval Intelligence, as the Deputy Director for Customer Requirements at the National Security Agency, as the Commander of the Office of Naval Intelligence, and as the Commander of the U.S. European Command's Joint Analysis Center.

Associate Professor of Government
Professor Roenicke served as a national policy and strategy advisor in support of the Department of Defense for more than 30 years, during which he supported 8 Chairmen of the Joint Chiefs of Staff as Senior Politico-Military Advisor for Russian Affairs. His areas of responsibility included issues associated with counter-terrorism, European and Asia-Pacific security, nuclear and conventional safety and security, arms control and nonproliferation, emerging technologies, and U.S. and NATO warfighting requirements.
---
Courses You Could Take
Introduction to Intelligence and National Security