About Helms School of Government
Think Critically. Lead with Honor.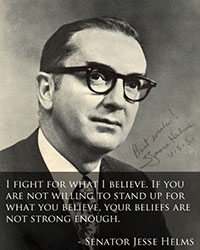 At the Helms School of Government, we help develop leaders who are guided by duty, honor, and morality. Teaching classes from a conservative Christian perspective, we offer associates, bachelor's, master's, and doctoral degrees along with certificates and a variety of targeted minor degree options.
Prepare to be a leader in your chosen field and join what our school's namesake, Senator Jesse Helms, termed, "The war for truth and freedom." Helms was an influential leader in the rise of today's conservative movement and promoted traditional values.
Instilling a Christian sense of justice and civic duty in our students, the Helms School of Government helps our students prepare to make an impact in our world by teaching the life-changing principle of  "service greater than self."
Get a Strong Academic Foundation
Your degree from the Helms School of Government can help open doors of opportunity in a variety of careers including politics, the legal field, law enforcement, and even foreign service.
At the Helms School of Government, you'll develop the critical thinking skills you need and also be able to target your interests through degree programs and minors like:
Criminal Justice
International Relations
Government/Politics and Policy
Strategic Intelligence
Pre-Law
Homeland Security
Learn from Our Experienced Faculty
Study under professors who have served as intelligence analysts, campaign organizers, lawyers, presidential appointees, missionaries, and police officers. These seasoned professionals take what they've learned in their careers and translate it into practical applications that bring your classroom experience to life.