House of Delegates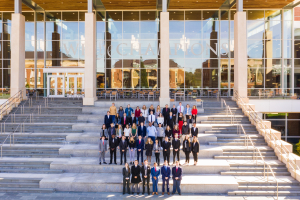 About
The Liberty University Student Representative Branch exists to allow students the opportunity to make a real difference on our campus. The House of Delegates (HOD) serves as one of the two houses in the Representative Branch and is comprised of Delegates who represent the student body as a whole. The House meets every other week and is a place for students to share ideas, collaborate and grow together as they serve the student body. Delegates are strongly encouraged to join a Committee where ideas are debated and legislation is crafted. Apply to be a delegate and make a difference at Liberty University.
Find Your Delegate!
View the List of Committees!
---
Speaker of the House
Born in Findlay, Ohio, Nathan Wehrly studies Government: Politics and Policy at Liberty University. He immediately joined the House of Delegates at the beginning of his freshman year and actively crafted legislation. From the start, Nathan showed great determination and a sincere desire to improve student's lives at Liberty University. Throughout his time in Student Government, Nathan has served as Student Affairs Chairman and was recently elected as Speaker of the House. Outside of his duties as a legislator and leader, Nathan champions bipartisanship, transparency, and efficiency, three qualities he sees as crucial for the House of Delegates. Nathan is honored to serve the House of Delegates and seeks to create a more effective body that represents every student at Liberty University.
Being a Delegate
Roles
Student Representatives connect with students and collaborate with fellow representatives to propose positive change on campus.
Responsibilities
Meet with students to hear their concerns and ideas.
Collaborate with other Delegates in a Committee to turn ideas into legislation.
Attend a bi-weekly House of Delegates meeting where legislation is discussed and voted upon.
Craft impactful legislation and advocate for it to your peers and the University's Administration.
Participate and volunteer in SGA events and activities.
Term
The length of one term for a Delegate is one year. Representatives may renew their membership at the end of the year.
Bylaws
View the House bylaws.
CSER
Student Representatives may receive CSER credit. Regular attendance is taken at meetings, and representatives are expected to faithfully attend SGA meetings, events and related activities.
Apply