Executive Cabinet

Office of the Student Body President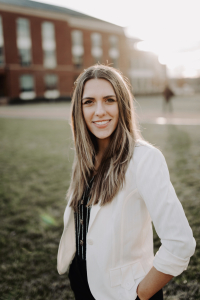 Student Body President
Hello! My name is Constance Schneider and I am honored to serve as Liberty's Student Body President this year. I am from Atlanta, Georgia and am a senior double majoring in Industrial Organizational Psychology and Spanish. I have been in Student Government for 3 years and have truly enjoyed the opportunity to advocate for my peers and help enact positive change on campus!
Liberty is a unique place. Not only do we challenge our students to be thinkers, creators, and academics, but we also empower students to go into the world and share the truth of the Gospel to everyone they encounter. This is what brought me to Liberty and what makes our school truly one of a kind.
Joel and I invite you to join us as we rise together and continue the legacy our founders and countless other students have left behind!
My door is always open and I would love to connect with you!
Office of the Student Body Vice President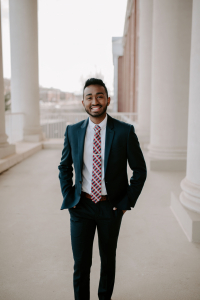 Student Body Vice President
Hey, my name is Joel Thomas, and I'm honored to serve as the Student Body Vice President this year. I'm a Senior studying Biomedical Sciences with a minor in Spanish and am from Charlotte, North Carolina.
Over the past three years, I have lived on campus and served as a Community Group Leader and Resident Shepherd. Through these experiences, I grew in new ways and saw God's hand at work in the lives of the men on our hall and in leadership. I also served on the Spiritual Life Committee in the Executive branch of SGA. In my free time, I love to meet new people and hear different perspectives, eat great food with friends, and play basketball.
I have always believed that we are called to love and serve in the community God has placed us in. I'm passionate about making a difference here at Liberty as we are called to give and not merely receive. Our school is an incredible place for so many reasons, but primarily because we choose to be unified in Christ. I would love to hear from and represent you and your ideas as we begin this journey to continue the great mission of our school of training champions for Christ. Please reach out, and I would be more than happy to connect!
About the Executive Cabinet
The Executive Cabinet carries out the day-to-day operations of SGA. Cabinet members are appointed by the Student Body President and include the Treasurer, Director of Clubs, Director of Communications, Director of Spiritual Life, Director of Events, and Director of Internal Affairs.
Meet the Staff
Chief of Staff
Hello! I hope you will consider joining me, Derek, Esther, and the entire Executive Cabinet in SGA as we work to make our community a more welcoming, exciting place.
If you'd like to get to know me, stop by my office hours or text me at (703)-483-0102!

Treasurer
Hello! My name is Vlad Chutchev and I'm excited to serve as Treasurer this year. It's my goal in the coming months to increase clarity and accessibility for all clubs throughout the finance process. I'm committed to effectively communicate club requirements and being there for club leadership when questions arise. Please don't hesitate to reach out!
Director of Clubs
Hey! I'm Alexa Whaley and I serve as the Director of Clubs for SGA. The Clubs Department's main goal is to equip and serve our amazing, student-led, campus clubs! I firmly believe that there is a club out there for everyone. Check out our Clubs' List and get involved!

Communications Director
Hi! My name is Abbey Hayes and I serve as the Director of Communications. This is my first year working with SGA and I am beyond excited to serve and represent the student body. The Communications Department provides a beautiful avenue to advocate and represent students that feel as though they do not have a voice. I am so excited to help you in any way I can!
Events Director
Hi! I'm Mikayla Soucie and I have the privilege to serve as the Events Director for SGA this year! Nothing brings people together quite like an event does. So, here at Liberty, we want to bring unity and passion to our student body through events! I love working alongside excellent and hard-working people that make me better, daily. Feel free to reach out; I'd love to help you in any way I can. I'm excited to serve you this year!
Director of Internal Affairs
Hello there. My name is Paul-David "PD" Steele and I have the honor to serve as the Director of Internal Affairs. Prior to my current position, I served as a Delegate and as the Clerk of the Senate for one year each. Throughout my time in SGA, I have learned so much about my strengths and weaknesses, and I am very thankful for every opportunity to improve myself to be of better service to others.
As the Director of Internal Affairs, my job is to work with the Student Body President regarding legislative matters, to ensure that all legislation is up-to-date, and provide the House and Senate leaders with the resources necessary to help them lead in the most effective way possible. I pray that I can assist you to the best of my ability.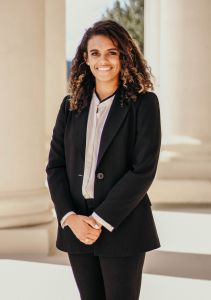 Spiritual Life Director
Hi there! My name is Lydia Elrod, I am a senior at Liberty University studying English, and I am serving as Student Government's Spiritual Life Director. I am honored to be in this position and to be a part of a very special Executive Cabinet this year. I will always be here to serve in every way that I can. Please reach out to me by email, and I will be in contact with you as soon as possible. Prayer requests are always welcome.
After graduation, I plan on continuing my education in English with hopes of becoming a professor, to support my passion for writing. I find myself writing about any and everything that life brings my way, but that almost always lands on reflections about the goodness of my heavenly Father. I pray for these same reflections within all of SGA this year.
As representatives of the student body, and above all else, Jesus Christ, we stand to unify Liberty under the common goal of letting our lights shine for the Lord continuously. "You are the light of the world. A city set on a hill cannot be hidden "(Matthew 5:14).
SGA Associate Director:
SGA Office Managers: