Executive Cabinet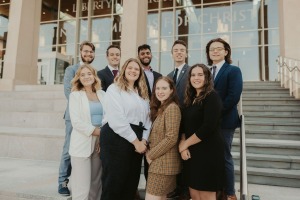 ---
Office of the Student Body President
Daniel Hostetter 
Student Body President
Hey friends! My name is Daniel Hostetter, and I am so excited to serve as your Student Body President. I grew up in Johnstown, Pennsylvania, and I am studying Government: Politics and Policy with minors in Theology and Biblical Studies. I love discovering good coffee, reading new books, and losing to my Chief of Staff Braden Daniels in Spikeball.
I love Liberty, and I'm committed to working for the good of all students and for the glory of God. I am convinced that the Lord is working through us to advance His kingdom on this campus as we pursue discipleship and maturity, encourage one another in prayer, value intellectual curiosity and excellence, and trust that the Lord will be faithful to complete His good work in us.
Riley and I are excited to meet you! We value your heart for Liberty and can't wait to listen to your stories and solutions. I can't wait to connect with you!
Ephesians 5:1-2
View Daniel's Office Hours
Office of the Student Body Vice President

Riley Foster
Student Body Vice President
Hey Liberty!
I am so thrilled to serve you as Student Body Vice President this year! I study Business Administration: Digital Marketing & Marketing Analytics with minors in Spanish and Global Studies. This will be my third year serving in Student Government, and I have spent the last two years serving our clubs and student organizations in the executive branch Clubs Department
In my time at Liberty, I have been both inspired and humbled upon building relationships with students who love God and advocate for others so deeply. Now in this role, I am inspired and humbled tenfold, as I grow in loving God and advocating for others in new ways.
Liberty looks more like the Kingdom of God because of YOU, and the diverse cultures, beliefs, and thoughts you bring to our campus. I am grateful for the opportunity to get to know the individual elements you bring to LU.
I look forward to an incredible year! Stop by our offices anytime, I would love to get to know your story. I would love to advocate for YOU.
View Riley's Office Hours
About the Executive Cabinet
The Executive Cabinet carries out the day-to-day operations of SGA. Cabinet members are appointed by the Student Body President and Vice President and include the Chief of Staff, Treasurer, Director of Clubs, Director of Communications, Director of Events, Director of Internal Affairs, Director of Community Affairs, and Director of Spiritual Affairs.
Meet the Staff 2022-2023

Braden Daniels
Chief of Staff
sgachiefofstaff@liberty.edu
Hey LU! My name is Braden Daniels, and I am thrilled and humbled to serve as your Chief of Staff this academic year. I grew up in Beckley, West Virginia and am a Junior majoring in Pre-Law: Law and Policy and Interdisciplinary Studies: Religion and Social Sciences. I love virtually all sports, especially playing volleyball, beating my Student Body President, Daniel Hostetter, in Spikeball, and watching Rafael Nadal, the Baltimore Ravens, the San Antonio Spurs, and the Duke Blue Devils.
As Chief of Staff, I handle the operations of the Cabinet through things like vision drafting, Cabinet meetings, and personal check-ins as well as SGA as a whole through things like operation of the SGA website and email. I also work alongside Daniel and Riley to make sure administrative advocacy and student interaction run smoothly.
This summer, I was inspired by watching the world's greatest chefs pushing the boundaries of food and art by constantly asking if things really have to be the way we are told they are supposed to be. I look forward to bringing that same energy in my position as Chief of Staff, not in the way I cook but in the way I lead the Cabinet and shine biblical love to all of Liberty University.
View Braden's Office Hours

Benjamin Henriksen
Treasurer
sgatreasury@liberty.edu

Hello everyone! My name is Benjamin Henriksen, and I'm very excited to serve as your SGA Treasurer. Running a club can be difficult. The treasury department is here to provide you with the financial resources you need to glorify God with your passions. Feel free to reach out to me with any questions or concerns about your clubs' funding or the funding process.
View Benjamin's Office Hours

Grace Hutchinson
Director of Clubs
sgaclubs@liberty.edu
Hi! My name is Grace Hutchinson, and I am thrilled to be serving as the Director of Clubs for SGA this year. I am majoring in both Accounting and Social Sciences with minors in Criminal Justice, Strategic Intelligence, and Biology, so I have interests in just about everything!
The clubs on campus are a great way to meet new people and to learn more about yourself and those around you. That is why it is my pleasure to further the Clubs Department's goal to equip and serve SGA's student-led clubs and to foster a community at Liberty. For more information about our clubs, stop by our Clubs Fair at the beginning of each semester or check out our List of Clubs. And feel free to stop by the SGA Offices or reach out if you have questions. I'd be happy to help!
View Grace's Office Hours

Claire Hadler
Director of Communications
 sga@liberty.edu
Hi! My name is Claire Hadler, and I have the joy of serving as the Director of Communications this year! I am beyond humbled to serve the student body along with the SGA Cabinet through this position. I am excited to bring a unique, creative, and Gospel-centered perspective to every form of media that we create on my team. Please feel free to reach out for any communication/media questions or needs!
View Claire's Office Hours

Katherine Alford
Director of Events
 sga@liberty.edu
Hello! I am Katherine Alford! I am an International Business major who is passionate about travel and always looking for a new adventure. I am excited to serve as your SGA Events Director. I believe that building a strong community is a cornerstone for success, and the execution of lively events is key to reaching this goal. I would love to get to know you, so you keep your eye out for the Events team at tailgates and festivals or come by the SGA office!
View Katherine's Office Hours

Micah Allen
Director of Internal Affairs
 sga@liberty.edu
Hey guys! My name is Micah Allen! I am a Senior from Rochester, NY studying Government: Politics and Policy with a minor in International Relations. I am one of the biggest sports fans you'll ever meet, almost always watching the New York Yankees, Buffalo Bills, and Buffalo Sabres! In my free time, I enjoy hanging out with friends, going to the gym, and watching the Office! I originally came to Liberty because of all the good things that I heard about it from interns at my church, and I am so glad that I chose to come here! SGA has been one of the highlights of my time at Liberty, and I am so excited to serve alongside Daniel and Riley as the Director of Internal Affairs this year! My job consists of managing legislation, presenting it to Daniel, and ensuring that communication between the three branches of SGA occurs as smoothly as possible!
View Micah's Office Hours

Sanjay Jacob
Director of Spiritual Affairs
 sga@liberty.edu
Hi everyone! My name is Sanjay Jacob, and I have the honor and pleasure of serving as the Director of Spiritual Affairs for SGA this year. I am a senior this year, and I'm studying Information Systems with a Focus in Cyber Security, minoring in Pastoral Leadership and Business. I also have the pleasure to serve as an RS on Commons 2 Floor 1.
This year, I am praying that we continue to put the Lord first in everything we do and strive to glorify His name daily! Through my role, I hope to serve this student body in a way that honors the Lord and can help further cultivate an environment of intentional prayer and worship to Him.
I'm excited to serve you all this year and can't wait to see what the Lord has for us!
God Bless!
View Sanjay's Office Hours

Austin Greene
Director of Community Affairs
 sgacommunity@liberty.edu
Hey everyone! My name is Austin Greene, and I am so excited to be serving as the Director of Community Affairs for the second time!
I am from the beautiful state of Colorado, and I love the outdoors, movies, good food, and enjoying life with wonderful people. I am pursuing degrees in Business Administration: International Business and Christian Leadership and Church Ministries.
I'm excited about being able to promote the healthy functioning of the community and communities at Liberty University, as well as building productive relationships and fostering a great culture for students to live, love, learn, and lead.
I would love to meet you! Feel free to stop by and say hi!
View Austin's Office Hours
SGA Director: