Student Court
About
The Student Court exists to mediate any disputes that may arise between members of the Student Government Association.
The Justices of the Student Court also serve on the Traffic Court, which hears student appeals of traffic and parking citations issued by LUPD.
General inquiries about the Student Court may be directed to any of the Justices.
Student Court Suits/Appeals 
In most cases, disputes between members of the Student Government Association resolve themselves before judicial action is necessary. Community and understanding are two of the values that SGA seeks to foster, and the members of SGA have been exemplary in demonstrating those qualities.
However, in the event of a suit/appeal from a member of SGA, the Court will take every step to ensure a fair and impartial hearing to all parties involved.
If you have an issue to bring to the Court's attention, please submit your suit/appeal through the links provided. If the issue is related to Executive or Legislative misconduct, please fill out the Petition for the Creation of an Investigative Committee. If the issue is not related to misconduct, please fill out the Petition for Ruling. If the issue is related to Judicial misconduct, please reference the Constitutional guidance on judicial impeachment and submit your complaint to the appropriate committee in the House or Senate.
As with any professional writing, the Court recommends that your written submission be concise.
---
Chief Justice

My name is Andrew Hilty and I am a Junior studying History. I'm originally from Idaho and love outdoor sports like hiking, camping, hunting, and fishing. I am excited to serve the student body of Liberty University by applying the rules in a fair and equitable manner and I am excited to serve with my fellow justices as we learn from each other the principles of justice.
Associate Justices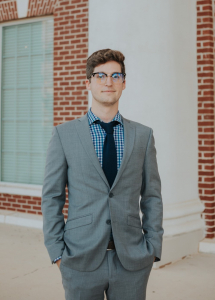 Hello, my name is Clint Koontz and I'm from Hagerstown, Maryland. I enjoy hiking, spending as much time as I practically can with friends, watching indie films, and a good cup of coffee. (And I mean really good.) I also love ethical and philosophical debate. I spent time at my community college back home studying Psychology, Ethics, and Philosophy, so I'm very glad and honored to be putting that to good use as part of a team of Justices in our Student Government. I look forward to my time on the Court and to being a voice for fairness on our campus!

My name is Ashley Hart and I am a Junior studying Pre-Law. I am from Winston-Salem, North Carolina and I love going on spontaneous trips with friends. I am excited to be an Associate Justice and hope to balance upholding the rules and administering grace to students. I look forward to serving the student body with my fellow justices!

My name is Alyssa Edwards and I am a Senior studying to be a respiratory therapist. I am on two dance groups here on campus and I also am a dance teacher at a local dance studio. This is my first year serving on the court and I am so excited!

My name is Lauren Hosier and I am a Sophomore. I have a major in International Relations: Strategic Intelligence and a minor in American Sign Language (ASL). I am a runner, and I am always looking for an excuse to be outside. I am here to serve the students and be a resource to those in need. I look forward to serving and growing alongside such intuitive justices.
Serving on the Student Court
The Court has historically been made up of one Chief Justice and four Associate Justices. The Chief Justice has the authority to appoint Judicial Assistants and Clerks of the Court as he or she desires. 
In recognition of the fact that Judicial service has been and continues to be an excellent venue through which student leaders can serve their peers, the Chief Justice welcomes the opportunity to hear from any student who desires to join the Judicial branch.
Please contact the Chief Justice, Andrew Hilty, at any time.