Student Court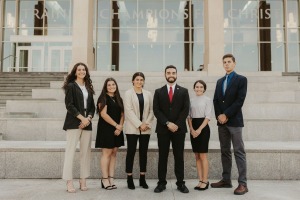 ---
About
The Student Court exists to mediate any disputes that may arise between members of the Student Government Association.
The Student Court also serves as the Traffic Court, which hears student appeals of traffic and parking citations issued by LUPD.
General inquiries about the Student Court may be directed here.
Student Court Suits/Appeals 
In most cases, disputes between members of the Student Government Association resolve themselves before judicial action is necessary. Community and understanding are two of the values that SGA seeks to foster, and the members of SGA have been exemplary in demonstrating those qualities.
However, in the event of a suit/appeal from a member of SGA, the Court will take every step to ensure a fair and impartial hearing for all parties involved.
If you have an issue to bring to the Court's attention, please submit your suit/appeal through the links provided.
Please file a Petition for a Ruling if you are seeking a ruling on the permissibility of an action already committed under a governing document within the Court's jurisdiction (and any associated relief).
Please file a Certified Question if you are seeking the Court's interpretation of a governing document within the Court's jurisdiction. Note: this form should not be used regarding any actual case or controversy.
Please file a Petition for the Creation of an Investigative Committee if you believe that a member of the Executive or Legislative Branches has violated the Constitution or Code of Ethics and that such a behavior merits discipline up to impeachment. (Please refer to the Code of Ethics procedures on dispute resolution before submitting a Petition for the Creation of an Investigative Committee.)
If the issue is related to Judicial misconduct, please reference the Constitutional guidance on judicial impeachment and submit your complaint to the appropriate committee in the House or Senate.
Please click here to view the Student Court Bylaws.
As with any professional writing, the Court recommends that your written submission be concise.
---
Chief Justice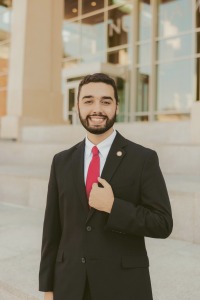 My name is Caleb Webb, and I am a junior majoring in Law & Policy and minoring in Biblical Studies, Philosophy, and Criminal Justice. I enjoy spending free time with friends, watching sitcoms and sci-fi, traveling, and exploring nature. I love being able to analyze and interpret rules to ensure results that best uphold fairness and the rule of law. I aspire to one day practice law as an attorney and ultimately work as a judge. If you are interested in what we do on the Student Court, feel free to contact me at sgachiefjustice@liberty.edu. I'd be happy to grab coffee!
Associate Justices
My name is Hannah Loucks, and I am serving as an Associate Justice on the Student Court this year after having previously served as the Clerk of the Court. I am an accounting major from Idaho, and some of my favorite activities include going to coffee shops, hiking, and being outdoors. I am grateful to be serving the student body of Liberty through the Student Court
My name is Gianna De Rosa, and I am a junior majoring in Government: Politics and Policy and minoring in Journalism. I am from Fredericksburg, Virginia, and in my free time I enjoy reading, spending time with friends, and trying new foods. I am honored to serve as an Associate Justice, and I look forward to serving my school and growing alongside my fellow Justices.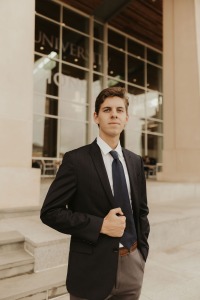 My name is William Blankschaen, and I am a senior studying military and global history. I am from Dawsonville, Georgia, and I enjoy reading, theatrical arts, and political analysis. It is an honor to serve the student body as an Associate Justice this year.
My name is Grace Nasser, and I am very grateful for the opportunity to be on the Student Court this year. I am a senior studying International Relations: Strategic Intelligence and French. I enjoy watching movies, traveling, and reading a variety of books (currently reading the SAS Survival Handbook). I hope to approach this role with a Christ-like balance of both justice and grace.
Clerk of the Court
Hello! My name is Nancy Jane Jackson, and I am the Clerk of the Court this school year. My major is Digital Marketing and Advertising, and I have a minor in Spanish. You'll most likely find me reading, enjoying the outdoors, or adding new travel destinations to my bucket list. I am excited to take on the role of Clerk not only to serve the students on campus but also to grow as a member of SGA and experience more "behind the scenes" of what makes Liberty so great!
---
Serving on the Student Court
The Court is made up of four Associate Justices, a Chief Justice, and a Clerk of the Court.
Responsibilities include collaborating with other Justices in reviewing cases, conducting hearings, and developing rationales.