Gain the Collegiate Training You Need to Lead in Your Outdoor Adventure Sport Career
Turn your passion for outdoor sports into a career that allows you to stay active. Imagine a job where each day presents a new challenge to overcome. Whether you are looking to work as an adventure sports administrator or as an outdoor recreation planner, we can help equip you with the career-specific skills you need to thrive. 
At Liberty, we offer an outdoor adventure sport specialization within our M.S. in Sport Management. If you have been thinking about obtaining your master's degree to advance your sports management skills for outdoor specific activities, this program is made for students like you.
We want to partner with you to make your goals a reality. With an outdoor adventure sports degree, you could have exciting opportunities to work with people in exhilarating activities like mountaineering and horseback riding. It's time to learn how to plan and implement programs like team building challenges for companies or youth ministry outreach. Your career can make a lasting impact as you help people work together, get moving, and stay motivated. Pair your passion with strong academics to bring a fresh perspective to the outdoor adventure sport industry. 
---
Award-Winning Campus
At Liberty, you'll find an affordable, high-quality education that equips students like you for the real world. Our commitment to excellence helped us rank among Niche.com's Top 5 college campuses in America. Earning your degree from a nonprofit university with state-of-the-art resources like ours can help set you apart from your peers.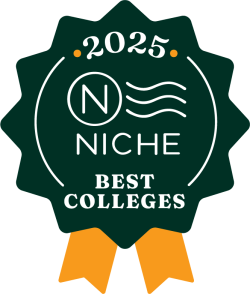 ---
Why Choose Liberty's Non-Thesis Outdoor Adventure Sports Graduate Degree?
Choosing Liberty means choosing the best in facilities, teaching, and experiential opportunities. We offer state-of-the-art facilities like our FBS football stadium and natatorium. We also have 20 NCAA Division I teams and 39 club sports teams.
Our master's in sports management is accredited by the Commission on Sport Management Accreditation (COSMA). That means your degree has met rigorous accreditation standards. Let us help you stand out in this competitive industry.
When it comes to our standard of academics, we strive for nothing but the best. During a time where college has become more available to students worldwide, we have not compromised on quality. Additionally, you can complete an internship under faculty supervision so you can feel confident about your professional skills when you graduate.
As you balance your internship hours, graduate schoolwork, and work and family life, rest assured that we designed our master's courses with you in mind. We offer night courses that run for just 8 weeks and meet once a week. You can also choose to complete some of your courses online. Don't limit your career potential because of your busy schedule; let us help you achieve more without slowing you down.
---
What Will You Learn in Our Outdoor Adventure Sport Degree?
Our master's degree in outdoor adventure sport highlights the ethical and cultural foundations of the field as well as the current issues, trends, and challenges faced by professionals managing the sport and recreation systems.
Throughout this degree you will:
Gain insight into the history, best practices, and management of outdoor adventure-based programs.
Learn how to implement outdoor programs that take risk management and group dynamics into consideration.
Overall, this program can help equip you with the background and strategic leadership skills you'll need to stand out.
Featured Courses
SMGT 611 – Foundations of Outdoor Adventure Sport
SMGT 612 – Outdoor Adventure Programming
SMGT 613 – Leadership and Administration of Outdoor Adventure Sport
---
Highlights of Our Sport Management Master's Degrees
Our sports management programs are accredited by the Commission on Sport Management Accreditation (COSMA).
Our sport management master's degree program was rated #1 by Sports Management Degree Guide!
Liberty University boasts numerous state-of-the-art facilities to support 18 men and women's athletics teams.
Many of these teams and individual athletes compete on the national stage.
You will have opportunities to gain real-world experience with our NCAA Division I programs and club sports teams.
Master of Science in Sport Management Degree Information
Career Opportunities for Outdoor Adventure Sport Non-Thesis Degree Graduates
Adventure Sport Administrator
Advertising Sport Manager
Director of Operations for Facility and Arena Management
Fitness and Health Industry Manager
Outdoor Recreation and Park Planner
Professional Sport Manager
Recreation and Tourism Manager
Resort Manager
Admission Requirements for Graduate Degrees
Every application is reviewed on a case-by-case basis, and all applicants must submit the following documents and meet the minimum requirements for admission:
Admission application

Self-certification form (for students who are in the final term of their bachelor's degree)

Current Liberty undergraduate students seeking preliminary acceptance into a graduate program must complete a degree completion application through their ASIST account
A regionally or nationally accredited bachelor's degree with at least a 3.0 GPA for admission in good standing. 2.5 to 2.99 may grant admission on caution