Make a Difference by Earning a Degree in Coaching and Athletic Administration
Remember that coach who pushed you further than you thought possible and helped you achieve more than you imagined? Can you see the faces of your teammates inspired and ready to succeed due to the hours of conditioning and unshakable comradery built by your athletic director? Now it's your turn to make a similar impact on the lives of today's aspiring athletes.
Liberty's sport management master's degree in coaching and athletic administration is designed to not only help you succeed professionally but also to allow you to make a lasting impression on your players. With the athletic director career track, you will be tasked with the important role of guiding and directing your school's sport programs. You'll gain the leadership skills and confidence needed to be successful in your position.
Our students benefit from the encouragement, training, and spiritual mentorship provided by our professional team of sport management faculty. We believe a master's degree from a nonprofit, Christian university should stand out for its integrity and personal care of each student. Our professors know each of their students by name and make it a point to pray with and for them throughout the entire program.
Joining our master's degree program means you'll receive the same student-professor relationship and career growth opportunities. We intend to invest into you so you can truly invest back into your athletes! Make a difference with a degree that focuses on what matters.
---
Why Choose Liberty's Coaching and Athletic Administration Graduate Degree?
In order to land a prestigious job as a coach or athletic director, you will want to develop the soft skills employers are looking for. These include strong communication, teamwork, decision-making, and organizational skills, as well as a strong code of ethics. At Liberty, our goal for the coaching and athletic administration master's degree is to help you sharpen each of these skills with industry best practices and resources—all under expert guidance from faculty members with years of field experience.
Additionally, you will be gaining invaluable instruction and mentorship from our team of industry professionals. Each of our professors has real-life experience, plus a doctorate degree in their respective field! They care about your education and your career, and they will be here with you to guide and advise you throughout your academic journey towards the completion of this monumental academic achievement.
Lastly, you can be assured that you're receiving superior sport resources. We offer state-of-the-art facilities like our FBS football stadium, our natatorium, 20 NCAA Division I teams, and over 40 club sports teams. Get involved and boost your industry experience! Add your field related thesis you will complete at the end of your degree, and you are looking at an impressive resume to help you land your dream position.

Award-Winning Campus
At Liberty, you'll find an affordable, high-quality education that equips students like you for the real world. Our commitment to excellence helped us rank among Niche.com's Top 5 college campuses in America. Earning your degree from a nonprofit university with state-of-the-art resources like ours can help set you apart from your peers.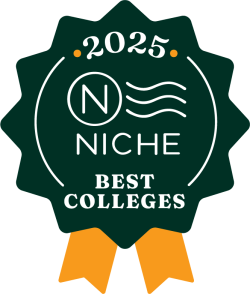 ---
What Will You Learn in Our Sport Management: Coaching and Athletic Administration Degree?
Sharpen your leadership and mentorship skills with Liberty's coaching and athletic administration master's degree. You'll complete courses in strategic player development and sport governance to better understand the logistics of the sport industry and player motivations. By focusing on successful coaching philosophies and the holistic development of athletes, your coursework will help you become an effective coach. Walk away equipped to lead a team to victory.
By pursuing the thesis track for the coaching and athletic administration specialization, you will have courses dedicated to helping you complete a thesis proposal, research, and defense of your thesis. Additionally, you will examine the implications of sports on communities and society as a whole. As a nonprofit, Christian university, we integrate a faith-based approach to these issues, as well as a specific course on ethics in sport and sport ministry opportunities. We will also ensure you are prepared in the legal and financial aspects of sport management.
Overall, we want you to walk away with a degree that gives you confidence about the situations you will encounter in this career path.
View the Degree Completion Plan, and check out our featured courses below for more information.
Featured Courses
SMGT 621 – Advanced Coaching Theory
An in-depth study of the theoretical frameworks supporting effective coaching behaviors
Skill development, athlete evaluation, communication strategies, and successful coaching philosophies
SMGT 622 – Strategic Player Development
Issues related to the holistic development of athletes
Included topics: player safety, personal development, mental preparation, academic performance, team cohesion, and off-the-field conduct
SMGT 623 – Sport Governance
An in-depth analysis of the history, development, and organizational structures of the agencies that govern amateur and professional sport
Initial and continuing eligibility, major governance areas, and current issues requiring policy revisions will be examined
SMGT 689 – Thesis Proposal and Research
Assistance in M.S. thesis completion
It is expected that research for the thesis project will be relevant to the student's specialization area and will make an academic contribution to the literature in Sport Management
Highlights of Our Sport Management Master's Degree
Our Sport Management Master's degree programs have been rated #1 by Sports Management Degree Guide.
Liberty University boasts numerous state-of-the-art facilities to support 18 men's and women's teams.
Many of these teams and individual athletes compete on the national stage.
You will have opportunities to gain real-world experience with our NCAA Division I programs and 39 club sports teams.
Master of Science in Sport Management Degree Information
Career Opportunities for Sport Management Master's Degree Graduates
 Athletic Administrator
Collegiate Athletic Administration
Director of Operations for Facility and Arena Management
High School/College Coach
Professional Sport Manager
Recreation and Tourism Manager
Sport Communication and Public Relations Practitioner
Sport Compliance/Governance Facilitator
Admission Requirements for Graduate Degrees
Every application is reviewed on a case-by-case basis, and all applicants must submit the following documents and meet the minimum requirements for admission:
Admission application

Self-certification form (for students who are in the final term of their bachelor's degree)

Current Liberty undergraduate students seeking preliminary acceptance into a graduate program must complete a degree completion application through their ASIST account
A regionally or nationally accredited bachelor's degree with at least a 3.0 GPA for admission in good standing. 2.5 to 2.99 may grant admission on caution