LUPD Divisions

The Liberty University Police Department (LUPD) is made up of several divisions. Each team works to keep the Liberty University campus safe and to protect you and the entire university community.
Operations Division
The Operations Division provides quality law enforcement services to the students, faculty, staff, and visitors of Liberty University with a Christ-like attitude of service, professionalism, and courtesy.
Patrol Unit
The Patrol Unit is comprised of Virginia-certified uniformed law enforcement officers and is considered the backbone of the department. Patrol officers are the most visible symbol of law enforcement. The Patrol Unit consists of four squads of uniformed police officers who are on patrol 24 hours a day, 7 days a week.
Patrol officers provide a safe environment to the community by conducting mobile controls as a deterrent to prevent crime, responding to calls of service, and enforcing the laws of the Commonwealth as well as university rules and regulations.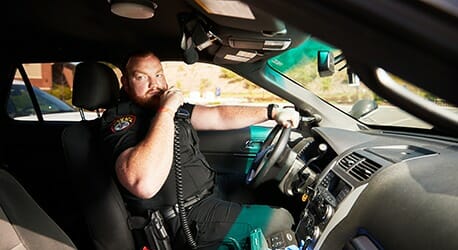 Emergency Communications Officers
Communications Officers are on duty 24 hours a day, 7 days a week, and assist the Patrol Division by answering 911 and non-emergency calls as well as dispatching patrol officers to various types of incidents.
Dispatchers are certified Virginia Criminal Information Network (VCIN) operators and provide Patrol Officers with valuable information concerning driver's license, vehicle registration, and criminal history checks. Communication Officers are supplied by Emergency Management & Community Engagement.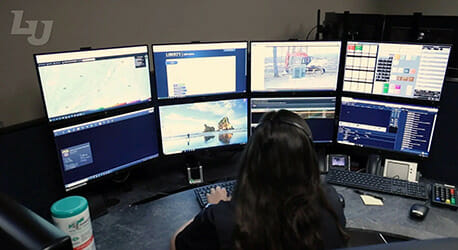 LUPD K9 Explosive Detection Team
Liberty University Police Department utilizes K9 Units to ensure the safety of the students, faculty, and staff while attending major events on campus. Their job is restricted to smelling and detecting explosives. Each dog goes through specialty training for several months before they receive their Police badges. Their handlers work and train with them throughout the year to stay up-to-date on the most current and effective detection methods.
If seen on campus, know that our K9 Officers do wear harnesses and collars that indicate when they are hard at work. While there may be times that interactions are be permitted, please consult their handlers first.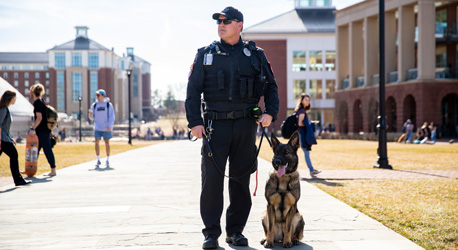 LUPD Training Team
The LUPD Training Team coordinates internal training for the Liberty University Police Department officers and manages the department's overtime assignments.
The unit also includes the Firearms Range Master who coordinates the firearms training and qualifications courses at the Liberty Mountain Gun Club.
Learn more about firearms on campus.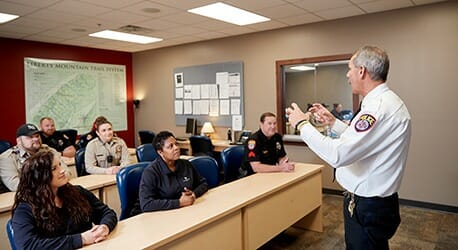 LCA School Resource Officer
Liberty University Police Department provides an officer to Liberty Christian Academy (LCA) to serve as School Resource Officer. This officer monitors traffic for student drop-off and pick-up, monitors students in the hallways during transition times, and provides security at LCA home sports games.
This officer also assists the LCA Deans of Discipline with disciplinary issues and any criminal activity that might be detected on the campus.
---
Security Services Division
LUPD Security Officers serve in each building on campus from 7 a.m.-11 p.m.  They are first responders in emergency situations and are the community outreach arm of LUPD.
Security officers are available for protection throughout the building, initial reporting of incidents, and suspicious activity. They also help with general questions regarding security around campus and found property.
Get to know them. They are here for the student body, faculty, and staff.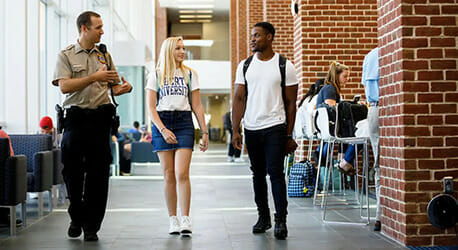 ---
Investigations Division
The Investigations Division is primarily responsible for investigating complex criminal cases which occur within LUPD's jurisdiction.
These cases are thoroughly and professionally investigated with the utmost consideration for the needs of the victim and without bias or prejudice. Investigative support is also provided to the Operations Division as needed.  The Investigations Division also works in close liaison with the Office of Equity and Compliance (Title IX), the CARE Team in the Office of Community Life, and area law enforcement agencies in our common goal of maintaining a safe community.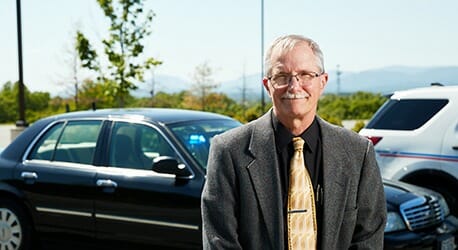 ---
Administrative Division
The Administrative Division is the customer service and clerical branch of the Liberty University Police Department.
This division responds to non-emergency inquiries and provides information, referral services, or direct police assistance on the phone and in person.
The Administrative Division also provides immediate support to LUPD by managing campus parking systems, handling report routing, record keeping, onboarding, managing forms, filing, maintaining inventory, completing purchase orders, and distributing updated policy information and rosters to the department.