Helping You Reach Your Goals
Using a talented team of industry experts, the Marketing Department at Liberty promotes all facets of the university. Through advertising and promotion, direct mail, and digital media, our department creates compelling and strategic marketing materials.
We are a spirited team of designers, photographers, project coordinators, videographers, and writers who have been charged by the president to be "the face of Liberty." Our award-winning department upholds the Liberty vision and can generate an effective marketing strategy for your department.
---
Your project coordinator will review your request and may contact you if additional information is needed. A tentative deadline will be set according to project timelines.
---
Marketing Resources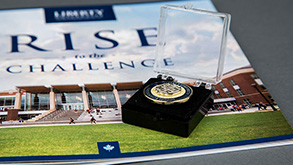 Our creative professionals can help you develop the materials you need to market your department. Our long list of options includes brochures, direct mail, and digital advertisements.
Consistent branding is key to the identity of any organization. Our Branding Guidelines, Editorial Style Guide, and other resources will help you stay true to the Liberty brand in all of your department's outgoing communication and media.
Liberty University-branded images are available for your computer wallpaper background, desktop telephone background, and PowerPoint templates.
---
Marketing Initiatives