Readerboard Policy & Procedure
Readerboard Message Instructions
Email your request to readerboard@liberty.edu, which must include the following:*

Name of the event/promotion
Date, time, and location of the event
Requested run date
Note explaining whether the event is open to the public, if applicable

The readerboard weekly schedule runs Monday–Sunday. The submission deadline is 4:30 p.m. on the Monday prior to the run week.
Your message will appear in the week's rotation provided it adheres to the Readerboard Policy and dependent upon the priority of the message and volume of requests.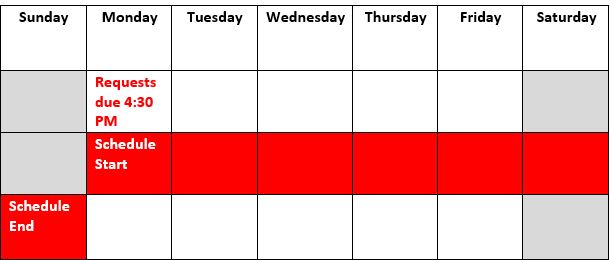 *Your message may be edited for space.
---
Readerboard Policy
Overview
Liberty University owns and operates five full-color readerboard signs. The purpose of these signs is to disseminate information regarding special events and unique accomplishments related to Liberty. This policy will relate only to those readerboards managed by the Marketing Department. [The sixth sign, designated for use by Thomas Road Baptist Church (TRBC) and Liberty Christian Academy (LCA) exclusively, is managed by a representative from those organizations.]
Marketing reserves the right to make final decisions regarding content.
Scheduling
Schedules for readerboard messaging are created weekly. Messages to be posted for that week must be emailed to readerboard@liberty.edu before the submission deadline. Please note the submission deadline is one week prior to the posting of the announcement on the readerboard. An event does not necessarily have to occur within a given week to be included in that week's schedule.
Unscheduled Posts
Requests received after 4:30 p.m. on the deadline day will be considered an unscheduled post and will be scheduled only under extenuating circumstances.
Unscheduled posts will only be accepted when they pertain to events that could not have been predicted or occurred after the scheduled deadline. It is the responsibility of the message sponsor to inform Marketing as soon as they are aware of the event or the likelihood of it occurring.
Message Duration
In general, most messages will run all week. If a message should continue for more than one week, that information should be included in the initial readerboard request. Please include the requested run dates in your initial email.
Message Criteria
In an effort to preserve the original purpose of the readerboard signs, Liberty University has developed criteria by which each week's messages will be selected:
All messages must be related to Liberty University.
All messages must concern events open to the general public or accomplishments/announcements that would be of interest to them (with the exception of campus-facing readerboards).
Events which concern a larger number of people will generally take precedence over smaller gatherings.
Events that are seasonal or occur with less frequency will be given priority over events that occur on a regular basis.
Athletics, theatre, and other university-sponsored events will be posted as promotional in nature to boost attendance for those events open to the public. Game scores and/or competition outcomes will only be posted for those events that have unique news value, such as playoff games and national tournaments. All game outcomes must be treated as unscheduled posts by nature of their time sensitivity.
Vines Center and University Blvd. (campus-facing side) Readerboards
The Vines Center readerboard and the University Blvd. readerboard side that faces Main Campus are the only readerboards that will display messages that do not relate to the general public. Messages may appeal to the faculty, staff, or student body of Liberty University (general public announcements may also appear).
Departments/organizations wishing to display an LU-only message on the Vines Center or University Blvd. readerboard should follow the instructions above, communicating that their message is appropriate for an internal audience. All points of the policy concerning message scheduling, duration, and criteria apply.
Contact Information
Email message requests to readerboard@liberty.edu. Please follow the procedure listed above when sending requests.