Photography Team
The Photography Team has an active presence on campus, covering a broad scope of events from sports to Commencement. Our purpose is to visually document the life of Liberty University. We maintain archived photographs, provide images for university websites, create marketing materials for different departments, and provide photographs for the Liberty Journal.
Studio
The Flash Studio can be approached from multiple directions within Green Hall on the north side of Main Campus.
If entering from the bus stop, post office, or Tilley Student Center, follow the main hallway until it turns left. Continue halfway down the hallway until it opens wide to your right, where the Department of Studio & Digital Arts and Department of Theatre Arts share a hallway. The studio is through the double doors on your right, room number GH 1024.
If entering Green Hall from the visitor parking lot through the switchboard lobby area, continue straight through the Department of Studio & Digital Arts and turn left at the end of the hallway. You will notice double doors on your right, and the Flash Studio is immediately through these doors.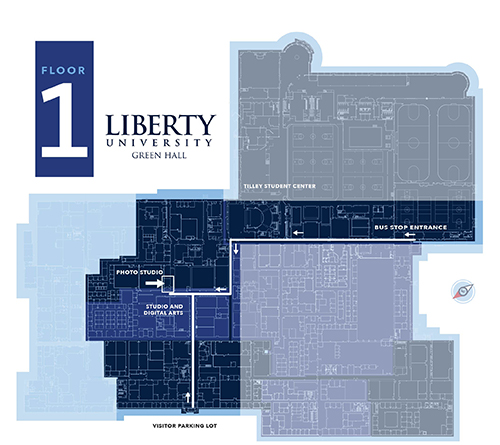 Contact Us
Please contact your Project Coordinator for any photography needs. If you do not have an assigned Project Coordinator or have a question, contact our Managing Photographer:
Joel Coleman
LUphoto@liberty.edu
Photography Policy
All photographs are the copyright of Liberty University. All rights are reserved.