A Christian Health Approach
The Department of Public & Community Health provides an integrated approach to health, offering competency-based and practice-focused preparation for successful careers in public health and healthcare. Through a Christian worldview, students will learn to strategically address the health needs of priority populations from the individual to the global level using a variety of health promotion and education strategies.
The department comprises both undergraduate and graduate degree programs applicable to a variety of practice settings and situations, as well as further education in clinical and professional fields. Students completing the program and meeting the prerequisites will be eligible for professional certification through the National Commission for Health Education Credentialing (CHES).
View Testimonials
---
Mission Statement
"Embracing the Christian worldview with a commitment to serve the under-served, the Liberty University Public and Community Health Program provides diverse educational, research, and practice opportunities to enable others to experience the embrace of God—"A faithful envoy brings healing" (Proverbs 13:17).
---
CEPH Accreditation
The Department of Public & Community Health degree programs are accredited by the Council on Education for Public Health (CEPH). This is in addition to other program-specific accreditation and Liberty University's regional accreditation.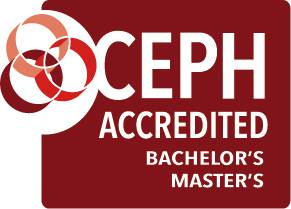 ---
Program Values
The following Core Commitments serve as the statement of values guiding the program.
Intelligent faith. We commit to building all instruction, scholarship, and service on a foundation of biblically-based, scientifically sound, reasonable faith that supports the Christian worldview. (Hebrews 11:1; 1 Thessalonians 5:21-22)
Servant leadership. We commit to serving responsibly in local, global, religious, and professional organizations and communities in the spirit of humility and cooperation, building collaborative relationships, fostering leadership qualities in others, and contributing our knowledge, skills, and resources for the common good. (Mark 10:42-45)
Compassionate service. We commit to follow Christ's example of compassion and benevolence toward those in need through active, altruistic, responsible engagement, using our knowledge and abilities to promote the physical, mental, and spiritual well-being of the people we encounter and the communities we serve. (Matthew 25:31-40)
Transformational teaching. We commit to equip ourselves and others with the requisite knowledge, skills, and attitudes for a lifelong pursuit and application of knowledge and truth to improve our communities and ourselves. (2 Timothy 2:2)
Creative excellence. We commit to develop and use our gifts, talents, and resources to the best of our abilities to achieve excellence in teaching, scholarship, and service for the glory of God and the benefit of humanity. (Ecclesiastes 9:10; 1 Corinthians 6:19-20; Colossians 3:23-24)
Personal integrity. We commit to faithfully apply the Scriptures to all of life so that our words and actions cohere to the highest ethical standards of honesty, fairness, and wholeness in our personal and professional practices. (1 Corinthians 4:2; 2 Corinthians 8:21)
Respect for all. We commit to treating all people with dignity and respect, honoring the gifts and unique contributions of each person, fostering a climate that is open and welcoming, promoting the university's core values, and celebrating the Creator's diversity in creation and design. (James 2:1-4; Proverbs 24:23)