MPH Gate System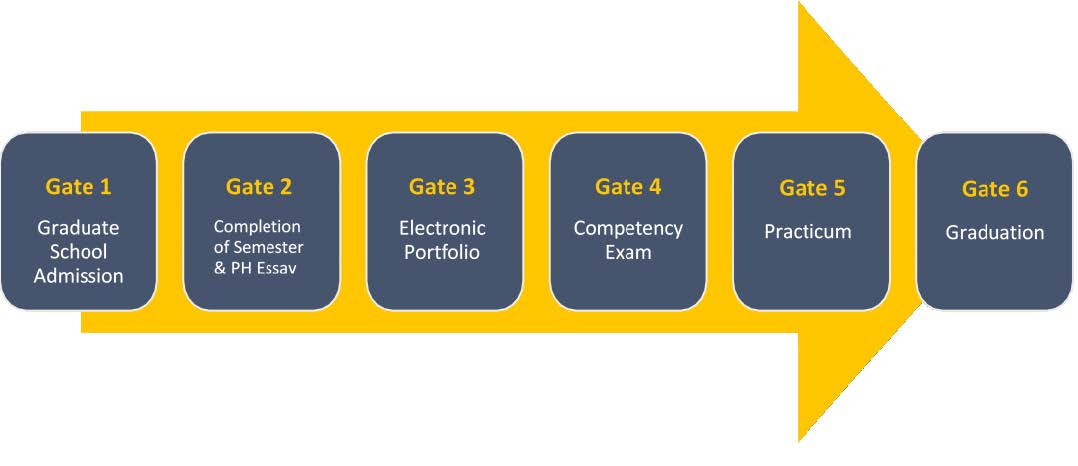 GATE 1: Admission to Graduate School
Once you have been accepted for admission and enrolled in HLTH 501, you have entered the MPH Gate System.
Gate 1 is completed when you pass HLTH 501 with a grade of C or better. You will then be contacted by the Gate Coordinator with further instructions on how to proceed with gate 2.
---
GATE 2: Completion of a semester and Public Health Essay
Gate 2 is completed when you submit your public health essay and complete at least 12 credit hours (must include HLTH 501 with a grade of C or higher).
Public Health Essay:
During the transition from Gate 1 to Gate 2, you will write a short essay explaining what public health is and how it fits into your career goals. This is a non-graded assignment.
The hope is that the exercise will help you better understand the importance of an MPH degree and your personal calling to the field of public health practice.
The essay is submitted to the Public Health Student Concourse (access given after completing HLTH 501).
---
GATE 3: Completion of Electronic Student Portfolio
You may begin creating an electronic student portfolio (ESP) upon successful completion of HLTH 501 (Biostatistics) with a grade of C or better and completion of 9 additional credits. Specific assessment opportunities for the Program's foundational competencies comprise the student portfolio.
The ESP serves as the repository for documents to demonstrate your achievements as they develop. These assignments provide an assessment of your progress and are evidence of program effectiveness. Addition of appropriate documentation is the your responsibility. (See the Public Health Student Concourse in non-term courses in Blackboard for details).
---
GATE 4: Competency Exam
HLTH 600 course:
The competency exam provides evidence of a student's readiness for a practicum experience. A passing score of 70% is a requirement to register for HLTH 698 Practicum.
The exam may be taken a maximum of 3 times during HLTH 600 to achieve a passing score.
Failure to successfully pass the exam after 3 attempts will result in a remediation plan being assigned by a faculty panel. After the remediation plan is completed, you may be permitted by the panel to retake HLTH 600 no more than once.
---
GATE 5: Practicum
All students enrolled in the Master of Public Health program must complete a practicum field experience in an organization, agency, or community that provides planning or services relevant to public health and their specialization.
The goal of the MPH practicum is to provide you with the opportunity to use knowledge and skills acquired in the academic program under the direction of a preceptor/supervisor.
The Practicum also affords an opportunity to develop and apply certain competencies that are better developed outside of the classroom. Examples include the development of leadership ability and group process skills, political awareness and communication skills, understanding of public and private financing mechanisms, and understanding organizational behavior.
Prerequisites: 
Access to the practicum course (HLTH 698) includes an application process. Detailed information on the process is available in the MPH Practicum Guidelines in the Public Health Student Concourse. In order to register for this course, the following items must be satisfied:
Successfully complete the MPH core courses and the declared area of concentration courses. All core and concentration courses must be successfully completed prior to applying for the practicum course.
Complete a background check (instructions on the concourse)
Complete the MPH Practicum Agreement and APEX form. The agreement form must be attached to the APEX form in order to
Although the Practicum Coordinator and faculty are here to help, the student is ultimately responsible for finding and securing a practicum that will meet his or her particular needs and course requirements.
If you have issues or need clarification on the practicum placement process, please contact the Practicum Coordinator, Giordana Morales at gmorales11@liberty.edu. (Include your name and ID number in all correspondence).
Course Requirements:
120 hours (minimum) over 16 weeks (a full semester)
A pre-defined project that assists an organization in addressing an unmet need while supporting student growth in developing skills in public health practice within the student's concentration.
Preceptor site approval from director and Practicum Coordinator
Contact the Practicum Coordinator for more information or explanations:
---
GATE 6: Apply for Graduation
Students are permitted to walk in the commencement ceremony prior to completion of the HLTH 698 Practicum; however, students should apply for graduation upon enrollment in the practicum to ensure degree conferral at the end of the course.
Refer to the University Registrar webpage for details.
For any questions regarding the date system please contact:

Gate Coordinator
MPHhelper@liberty.edu
(434) 592-6691