Competition Teams & Clubs
Join a Competition Team or Club with Liberty's School of Engineering (LUSE)
Enhance your educational experience with competition teams and clubs at LUSE. Get to know other students while integrating your classroom learning into real engineering projects.
Engineering Competition Teams
Paddles up! The American Society of Civil Engineers Concrete Canoe Competition is an elite project to design and construct a river-worthy canoe from concrete. Strong and agile, this canoe will be tested for maneuverability and speed as it is rowed by team members in slalom and sprint races. Through the course of this competition, team members will develop and test a lightweight concrete mixture and design a hydrodynamic canoe hull to compete on race day. Individuals are exposed to multiple elements of concrete design including mixture proportioning, lightweight reinforcement methods, and formwork construction. Additionally, team members will conduct strength tests on concrete specimens and expand their knowledge of material mechanics. As a staple of civil engineering programs across the nation, the ASCE Concrete Canoe Competition provides hands-on experience in the world of construction management and builds awareness of the versatility of concrete. Furthermore, the team strives to implement the University's Creationeering model with excellence to engineer innovative designs, foster professional and efficient team dynamics, and rely upon the Creator for inspiration!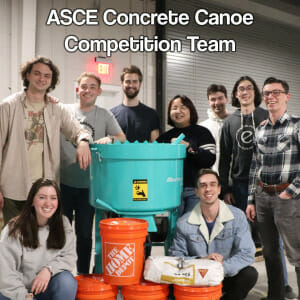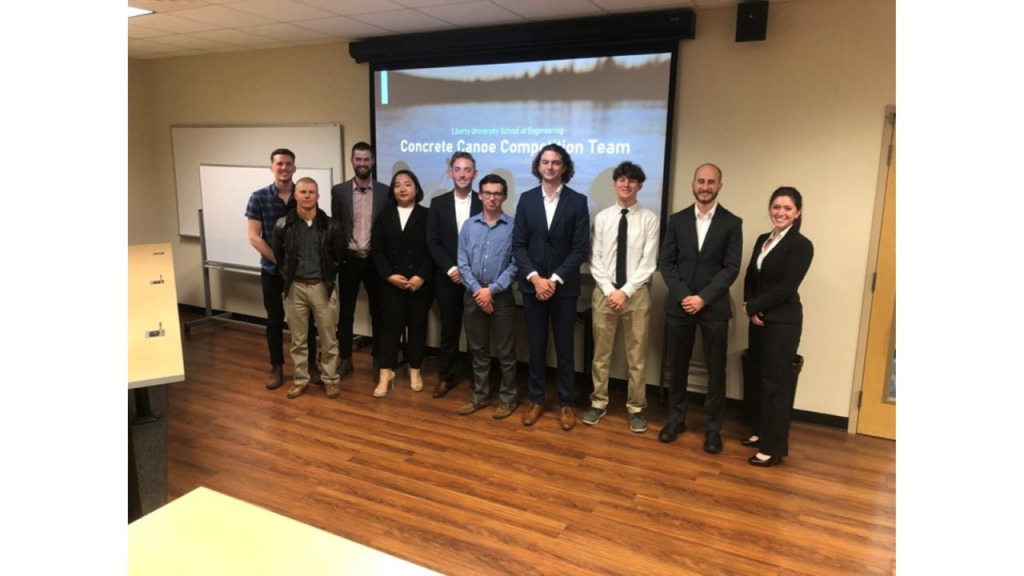 Human Powered Vehicle Challenge
Liberty Motorsports Baja SAE
Liberty Motorsports Formula SAE
Theme Park Engineering Competition Team
Engineering Student Clubs
Chinese Student Christian Association
American Society of Civil Engineers (ASCE)
The purpose of ASCE is to inform, engage and develop students' interests in Civil Engineering. This student chapter seeks to provide outlets where students can exercise and challenge their innovative ideas outside the classroom (community service, national competitions, missions trips), offer sources for networking and connections, and present guest speakers to inform members about different opportunities in the Civil Engineering field.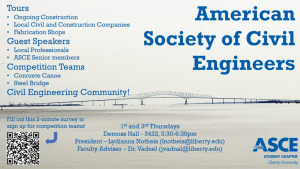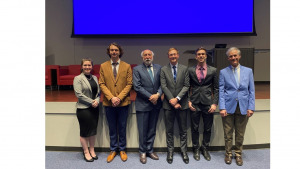 Media / Publicity Joshua Whitaker
Engineering Missions and Research Club (EMRC)
High-Performance Computing Computer
Liberty Women in S.T.E.M.
Society of Women Engineers (SWE)