ABET Accreditation & Data
Program Educational Objectives and Student Outcomes
The School offers five degrees that provide students with the skills, knowledge, and understanding of information technology necessary for impacting tomorrow's socio-technological culture.
Currently Accredited Engineering Programs
What is ABET Accreditation?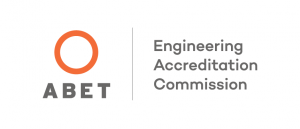 Accreditation is value. Reaching into our public, private, and professional lives, accreditation is proof that a collegiate program has met certain standards necessary to produce graduates who are ready to enter their professions.
Accreditation Impacts:
Students
Programs and Institutions
Professionals in Business, Industry, and Government
Public
ABET is an integral part of each of these areas because it accredits over 4,361  applied science, computing, engineering, and engineering technology programs at more than 850 colleges and universities in 41 countries worldwide. Over 100,000 students graduate from ABET-accredited programs each year.
---
Student & Graduate Data
Program Enrollments (Fall 2022)
Civil Engineering: 443 (90 residential; 353 online)
Computer Engineering: 61
Electrical Engineering: 68
Industrial & Systems Engineering: 52
Mechanical Engineering: 389
Graduates (2021-2022)
Computer Engineering: 7
Electrical Engineering: 16
Industrial & Systems Engineering: 3
Mechanical Engineering: 56
---
State Requirements
Licensure Information
Engineering does not require licensure to practice, however; Liberty University's program prepares students for the FE exam; the first step in optional licensure.
The Fundamentals of Engineering (FE) exam is generally your first step in the process to becoming a professional licensed engineer (P.E.). It is designed for recent graduates and students who are close to finishing an undergraduate engineering degree from an EAC/ABET-accredited program. The FE exam is a computer-based exam administered year-round at NCEES-approved Pearson VUE test centers.
Prospective students should be aware that each state has different professional licensure and certification requirements governing various occupations. Liberty University works to confirm if its educational programs meet the educational prerequisites for professional licensure or certification outside the Commonwealth of Virginia and updates this information each year. Students who plan to pursue licensure outside the Commonwealth of Virginia should be aware that state licensure requirements are subject to changes. Students are ultimately responsible for verifying their individual eligibility for state licensure and satisfying any requirements imposed thereby. While a program may originally meet the educational requirements for licensure, changes in requirements could impact the program's ability to meet any new educational requirements.  Students are strongly encouraged to check with their state licensure board to confirm licensure requirements and obtain additional guidance as needed from the respective licensure board.
State Licensure/Certification
View the licensure/certification requirements for your state.
Location Change
At any time you may notify us of a location change that could affect your licensure disclosure information. We require that you provide us official notification by completing the State Change Notification form. Any address changes done through your myLU portal will not be considered an official address change and will not generate an updated disclosure.
Engineering Program Learning Outcomes
The student will be able to:
Identify, formulate, and solve complex engineering problems by applying principles of engineering, science, and mathematics.
Apply engineering design to produce solutions that meet specified needs with consideration of public health, safety, and welfare, as well as global, cultural, social, environmental, and economic factors.
Communicate effectively with a range of audiences.
Recognize ethical and professional responsibilities in engineering situations and make informed judgments, which must consider the impact of engineering solutions in global, economic, environmental, and societal contexts.
Function effectively on a team whose members together provide leadership, create a collaborative and inclusive environment, establish goals, plan tasks, and meet objectives.
Develop and conduct appropriate experimentation, analyze and interpret data, and use engineering judgment to draw conclusions.
Acquire and apply new knowledge as needed, using appropriate learning strategies.
Program Educational Objectives
Integrate creativity, ethics, faith, and profession consistent with Christian principles.
Continually improve and learn in an ever-changing technologically-advancing culture.
Understand and solve problems in an efficient and effective manner based on requirements.
Listen with an open mind and communicate effectively as a team member across various audiences and platforms (e.g., oral, written, visual).
Produce validated, quality work within acceptable tolerances and adhere to appropriate codes and standards.
Attain relevant, specific certifications and licensures.