Eagle Scholars Program
The Eagle Scholars Program is now taking applications for Fall 2022, incoming cohort of freshmen. Apply Now
Mission
The Eagle Scholars Program provides high-achieving freshmen and sophomores, regardless of major, personal and professional development that cultivates leadership skills for college and beyond.  Students build community as they work together through experiential curricula.
Benefits
Priority early registration for classes
Personal development to prepare you for university leadership opportunities (Resident Leadership, LU Send Now teams, Student Government, etc.)
Professional development training to increase the likelihood of internships and employment.
Preferred Housing choice on the eighth floor of Commons 2. Students enjoy sharing this Hall with other Eagle Scholars. This promotes connecting with others and encouragement for academic achievement.
Eagle Scholar Events
Eagle Scholars compete in challenges at the Master's Inn.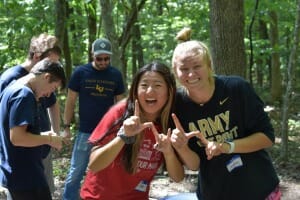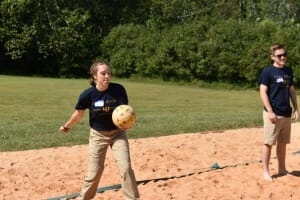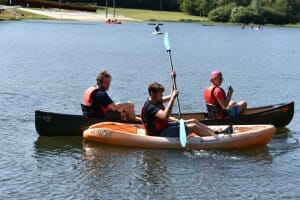 ---
Program Agenda
Each semester has a specific theme, event, and trip or service project.
Semester 1 (Fall): Connecting with others
Team-building retreat at Camp Hydaway
Large and Small group class settings
Christmas Banquet
Semester 2 (Spring): Self Leadership
Special, individualized projects
Large and Small group class settings
End of Spring Celebration
Semester 3 (Fall): Leading Others
Welcome events for new Eagle Scholars
Habitat for Humanity build in Altavista
Independent group projects and small class settings
Semester 4 (Spring): Changing Culture
Ministry capstone projects with faculty guidance
Independent group projects and small group class settings
---
Eligibility
Residential, undergraduate, new students with an unweighted high school GPA. of 3.3 or higher.

*We are currently waiving the minimum requirement of the SAT, ACT, or CLT test scores.

High-achieving students who desire leadership and professional development
Proactive, career-minded students with a teachable spirit
Incoming students who have been accepted into the honors program are not eligible for the Eagle Scholars Program
---
Requirements
Complete program application (We are now accepting applications for the incoming Fall 2021 freshmen)
Maintain 3.0 or higher GPA
Complete the following required courses:

Connecting With Others (ESLP 101)
Self Leadership (ESLP 102)
Leading Others (ESLP 201)
Changing Culture (ESLP 202)
---
Volunteering and Services Projects
Students can choose from the following list. Please note that some activities may place a limit on the number of volunteers and operate on a first-come, first-served basis. Refer to assignment instructions for more details. 
Teach a concept learned in ESP to any of the following audiences: Sunday school (if you lead one), CGL or RS group, small group, etc. You may teach this in the spirit of a Habitude or McGraw Hill textbook lesson. Plan your lesson and share 2-3 insights with your group/audience. Create 2-3 discussion questions to facilitate interaction. You may work in pairs for this.
Volunteer with a charity or non-profit of your choosing. This may be a one-time event of no less than 2 hours.
Volunteer with LU Serve for any service activity they have arranged. This may be a one-time event of no less than 2 hours.
CFAW activities. Assist the ESP Director in recruiting activities. You will work with ESP leadership to plan and carry out the recruiting efforts for CFAW. The work begins in advance of the event by discussing aspects of the program to showcase and reviewing the presentation materials. You will then work 1-2 hours during the CFAW events. You will keep a brief, bullet-point style journal of your work (dates, work done, etc.) and submit that along with your report for this assignment.
Spring Banquet. Plan and co-host the spring banquet. ESP leadership seeks several students who will take an active role in creating enjoyable banquets for all. Tasks include advanced planning, set up/tear down and assisting ESP leadership during the event.
Spring Retreat. Assist the ESP Director in planning the Spring Retreat. ESP leadership seeks several students who will take an active role in creating an enjoyable retreat for all. Tasks include advanced planning, set up/tear down and assisting ESP leadership during the event.
Nursing Home Ministry. Plan and carry out a nursing home ministry activity. You can work in groups. If working in groups, each student must journal their contribution in written form. You will seek a nursing home that allows on-site visitation and carry out your activity in person.
Video Bible Study. Create a video Bible study that you could use for a nursing home or any other health care scenario that does not allow visitors during a time of crisis (Covid). You may work in groups of 2-3 to choose a scripture passage and create the main lesson idea. Each person can teach one lesson/insight. The total length of your video should be around 7-10 minutes. Each person must keep their portion of the video to around 2-3 minutes. You will post the video link to Canvas and email your professor a copy or link. The video takes the place of the Report Form.
Propose your own activity. You can suggest a service activity not listed above. You must seek advanced approval from your professor and show basic logistics for the activity. This may be a one-time event of no less than 2 hours.
---
Testimonials
"My favorite memory from Eagle Scholars would definitely be traveling to New York City. I enjoyed teaching science to the third and fourth graders and seeing how excited they got. I also loved meeting with the older girls and sharing parts of our testimonies. It was amazing to watch God use the testimonies of eagle scholars to help the New York students open up and reach breakthroughs in their own lives. I also grew a lot closer to my classmates during the long bus ride, early morning breakfasts and fun days of exploring the city." – Lexi Barshinger
"My favorite memory from the Eagle Scholars program was the New York trip. I could say so many things about those four days, but to put it simply, I believe that it was there that I really experienced and saw what the Eagle Scholars program is all about. "Taking over" Evangel Christian School for a day was a whirlwind of planning and executing and improvising and emotion. I remember sitting in the back of the cafeteria before our day started, watching my friends prepare their lessons and presentations – one of the coolest parts of being a Christian for me is watching those I love do ministry, and I got to do that throughout the trip…It was the perfect way to end my time in the program." – Gabby Corrao
"My sophomore year, Eagle Scholars empowered me to begin a community service project for a local nursing home. What began as a trip across town to sing Christmas carols ended with several of us in tears listening to the stories of the residents in the home. This project was more than just a grade, but a moment that opened our eyes to the world outside of Liberty University. As students, we often get lost in our own world of studies and friends, but Eagle Scholars always pushed me beyond my comfort zone to serve the community as the hands and feet of Christ. It changed the trajectory of my college career for the better." – Kasey Lange
"Spending time with my fellow Eagles while nailing shingle after shingle into the roof of a shelter that would soon be deemed "home" by a loving family is my most cherished memory in Eagles. I was able to do something productive with my time while building relationships and learning new skills. If you offered me the chance, to glorify God, hangout with friends, and learn something new all in one sitting, I'd be there 100% of the time. Eagles in partnership with Habitat for Humanity gave me that chance." – Joe Barr
---
Faculty & Staff
Contact the Eagle Scholars Staff by emailing eaglescholars@liberty.edu or calling (434) 592-5601
Frank DiGregorio
Director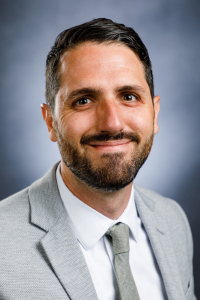 Dan Berkenkemper 
Department Chair Residential Services
Assistant Professor
Dwayne Melton, D.B.A.  Associate Dean              Associate Professor
Ester Warren, Ed.D. 
Dean, General Education
Associate Professor
Hailey Manicone, Ed.D.            Director of Operations