Prepare to Stand Out in the Aviation Industry with Integrity and Excellence
If the idea of serving on a military aircraft or piloting passenger planes with a commercial airline excites you, we have a bachelor's degree that can make that excitement a reality. Be prepared to meet the needs of the aviation industry with a degree from Liberty University.
Within the next 20 years, there will be a worldwide need for over 637,000 new pilots. Commercial airlines and military recruiters often look for pilots who don't just have an appropriate license, but also possess the collegiate experience, leadership skills, and strong character that enables them to progress from charter pilot to captain status during their career.
As a Liberty aeronautics student, we want to equip you in each of these areas. With our level of academic excellence and mission to Train Champions for Christ, we want to help you stand out to employers for all the right reasons. You'll benefit from our alumni who have paved the way and impressed employers at all levels. Our resulting network of airlines and military recruiters excited about hiring Liberty students will be at your disposal. Our airline hiring agreements help our students secure competitive jobs before they even graduate!
Gain the knowledge and leadership skills required to succeed with integrity wherever your career in aviation takes you. Take the first step toward a successful career now.
Award-Winning Campus
At Liberty, you'll find an affordable, high-quality education that equips students like you for the real world. Our commitment to excellence helped us rank among Niche.com's Top 5 college campuses in America. Earning your degree from a nonprofit university with state-of-the-art resources like ours can help set you apart from your peers.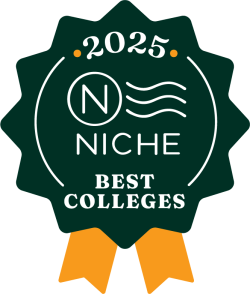 ---
Why Choose Liberty's B.S. in Aeronautics: Military Degree Program?
Pursue an aeronautics degree that gives you the opportunities and resources you'll need to enter the aviation field with confidence. At Liberty, we try to offer our students as many avenues for career growth and future success as possible.
As a Liberty aeronautics student, you can:
Apply for various aviation scholarships.
Join our National Intercollegiate Flying Association (NIFA) flight team, which has won the regional competition (Region X) for the last fourteen years!
Earn course credit for your previous aviation experience and pilot license(s).
Take additional courses to earn an aircraft maintenance certificate to serve as a mechanic, as well as a pilot!
Reduce your flight hours significantly with our Restricted Airline Transport Pilot (R-ATP) program!
Certifications and Licenses
Additionally, you can obtain the following certifications and licenses through our aeronautics degree:
Private Pilot
Instrument Rating
Commercial Pilot
Single Engine
Multi-engine
Flight Instructor Rating
---
What Will You Learn in Our Military Focused Aeronautics Degree?
Prepare for a career as a military pilot with Liberty's military-focused aeronautics bachelor's degree. Gain the foundational aviation skills you need to be a confident and proficient pilot working in the Armed Forces.
Our bachelor's degree provides both classroom and hands-on experience with the majority of courses including flight time with one of our certified instructors, so you can accrue the hours you need to get your pilot's license.
Your coursework will involve leadership, management, and safety training in addition to these flight hours. You will learn vital skills in navigation, technical mathematics, and advanced aircraft system procedures. To pull it all together, we include an aviation interview course to prepare you to present yourself confidently in an interview setting, so you can be ready to land the job you want most.
View the Degree Completion Plan, and check out our featured courses below to learn more about what you'll be studying!
Featured Courses
AVIA 230 – Unmanned Aerial Systems
Here's what you'll learn:
This is an introductory course in unmanned aerial systems (UAS).
The course includes the history of unmanned aircraft; the elements of command and control; the National Airspace System and how it relates to UAS; current and planned Federal Aviation Administration regulation; and the very latest operations and challenges currently facing this industry
AVIA 250 – Introduction to Space Flight
Here's what you'll learn:
A survey of the major aspects of space flight and exploration.
The history of space flight, space vehicle launch and orbits, international space station operations, human physiology in space, and present and future commercial, industrial and military applications in space.
Examination of differing views are presented by scientists in the field including those with a biblical worldview.
AVIA 320 – Instrument Flight
Here's what you'll learn:
Basic instrument flight training
Approximately 35 hours and will include a combination of both aircraft and simulator flight training
Air Traffic Control procedures, airway navigation, and both precision and non-precision instrument approaches
Preparation for the FAA Instrument Practical Test
AVIA 483 – Military Intelligence
This course is an upper-division study of tactical military intelligence and the related military branch intelligence agencies as well as the Defense Intelligence Agency.
Highlights of Our Aeronautics: Military Bachelor's Degree
From top of the line flight simulators to award-winning flight teams, our Bachelor of Science in Aeronautics: Military is designed to prepare you for success!
Within 15 years, Liberty's aviation degree programs have grown from just 4 students to over 400 residential students. No matter how far we may come, we will never stop pushing to make our program the best it can be for students like you!
Other noteworthy aspects of our aeronautics bachelor's degree include:
State-of-the-art training devices, simulators, and planes
27 Aircrafts available to train with (not including drones)
Loening Trophy winner for 2017, 2018, and 2019
American Airlines Safety Award winner three years running
Our aviation program is now one of the largest faith-based collegiate aviation programs in North America
Aeronautics – Military Degree Information
Career Opportunities for Aeronautics: Military Graduates
Liberty University's Bachelor of Science in Aeronautics prepares you for the following occupations:
Air traffic controller
Aviation security manager
Commercial pilot
Flight instructor
Military pilot
Private pilot
Admission Requirements for Undergraduate Degrees
Every application is reviewed by the admission committee on a case-by-case basis, meaning there are no set minimums for acceptance. However, all applicants must submit the following documents* for admission:
Admission application
Official high school transcripts
Official college transcripts (if applicable)
Results from the CLT, SAT, or ACT are not required for admission, but may be used in consideration for merit-based aid.
Admission essay
*Note that additional documentation may be requested by the admission committee after your application has been received.