Stand Out for All the Right Reasons with a Bachelor's Degree in Aeronautics
Do you dream of flying around the globe as a commercial airline pilot or joining the next generation of drone operators? Look no further! Our bachelor's degrees in aeronautics allow you to pursue a variety of flight licenses, from private pilot to flight instructor rating.
Partner with our nonprofit, Christian university so we can help you ignite your passions and surpass your goals. However far you feel called to go with aviation, we are committed to providing a degree program that fits your educational needs. Why limit yourself?
Your collegiate aeronautics courses will train you to be a problem solver and innovator in the field. Stand out to prospective employers by getting a degree rooted in Christian principles, championing professionalism and integrity in all you learn and do. Get a degree that takes you further with Liberty University!
---
Award-Winning Campus
At Liberty, you'll find an affordable, high-quality education that equips students like you for the real world. Our commitment to excellence helped us rank among Niche.com's Top 3 college campuses in America. Earning your degree from a nonprofit university with state-of-the-art resources like ours can help set you apart from your peers.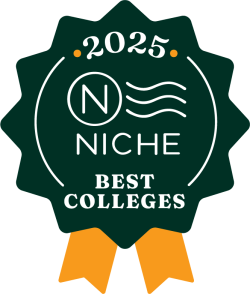 ---
Why Choose Liberty's Bachelor of Science in Aeronautics Degree Program?
Throughout your B.S. in Aeronautics degree pursuit, you will use state of the art equipment and flight simulators to prepare you for the ever-evolving aviation industry! Join our residential student body as they compete in the National Intercollegiate Flying Association (NIFA) flight competitions, the Women's Air Race Classic, and the National Aviation Maintenance Competition.
Study at Liberty University to become a part of our award-winning program and pursue the following benefits and opportunities:
Various Aviation Scholarships available
Regional Airline Hiring Agreements
National Intercollegiate Flying Association (NIFA) Flight Team
American Airlines Safety Award winner for 2016, 2017, and 2018
Transfer credit opportunities if you have a pilot's license
Unmanned Aerial Systems (UAS) Certification
Credit for Life and Work Experience.
Another great plus at Liberty is the ability to take your experience and have it count towards class credits. You've worked hard, and we offer numerous opportunities for you to gain credit hours for the experience or licenses you have.
Already Have Your Pilot's License? (Aviation Experience Plus)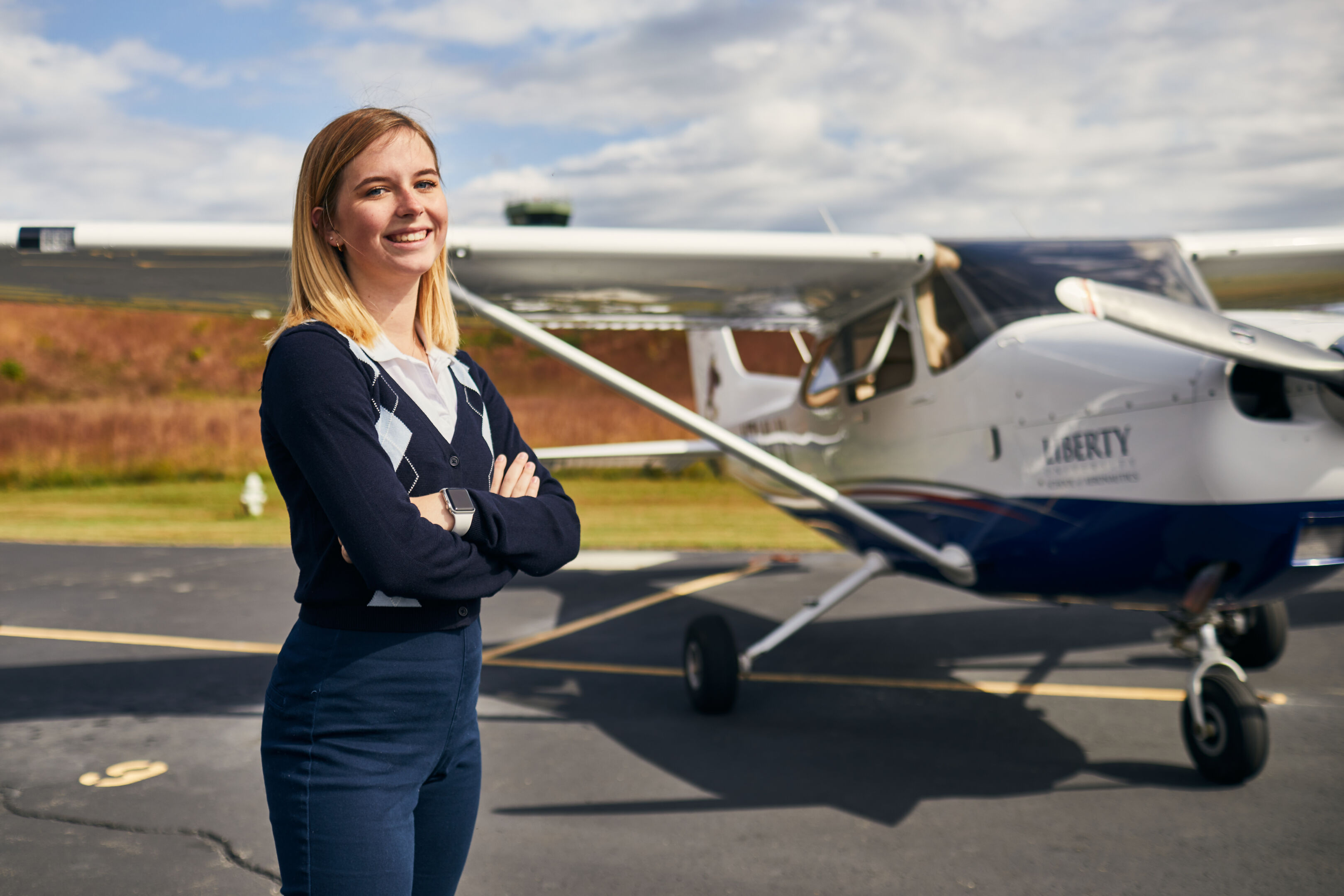 ---
What Will You Learn in Our Aeronautics Bachelor's Degree?
Earning a degree from our aeronautics program will provide you with a well-rounded understanding of the aviation industry, equipping you for a variety of careers in flight. Several graduates from our UAS program work at Textron Systems as instructors and managers due to the education and training they received from Liberty.
You can pursue one of the following opportunities to earn licenses and certifications:
Private Pilot
Instrument Rating
Commercial Pilot
Multiengine
Flight Instructor Rating
Unmanned Aerial Systems (UAS)
Featured Courses
AVIA 220: Private Flight I
Primary flight training in fundamental pilot operations, including ground reference maneuvers, traffic patterns, emergency procedures and takeoffs and landings. Approximately 20 flight hours.
AVIA 305: Airplane Aerodynamics
A study of the physical principles of airplane aerodynamics, thereby fostering an appreciation of the factors affecting aircraft performance, stability and control, and special flight conditions often experienced by commercial pilots of fixed-wing aircraft.
AVIA 400: Aviation Human Factors
This course is divided into three parts. The first will cover the scope of all regulations concerning aviation and how they impact the pilot. The second part will provide the basic understanding of the human factors concepts including psychological and physiological limitations of humans operating in complex environments. The third part will provide an in-depth study of Crew Resource Management, which involves having a complete understanding of the flight deck environment and the proper utilization of all resources available to an aviator.
AVIA 410: Flight & Ground Instructor Theory
Provides the student with a detailed study of the responsibilities and teaching concerns of a flight instructor. The course is divided into two major sections: fundamentals of teaching and learning, including effective teaching methods, learning process, consideration of flight training syllabi, effective evaluations, and flight instructor responsibilities; the second section is concerned with the analysis of the flight maneuvers involved with Private Pilot, Commercial Pilot and Flight Instructor Certificates. The course will also provide practical teaching experiences.
Highlights of Our Bachelor of Science in Aeronautics
From top of the line flight simulators to award winning flight teams, our Bachelor of Science in Aeronautics is designed to prepare you for success! Within 15 years, Liberty's aviation degree programs have grown from just 4 to over 400 residential students. No matter how far we may have come, we will never stop pushing our program to make it the best it can be for students like you!
Other noteworthy aspects of our Aeronautics bachelor's degree include:
State of the art training devices, simulators, and planes
27 Aircraft available to train with (not including drones)
Loening Trophy winner for 2017, 2018, and 2019
American Airlines Safety Award winner three years running
Our aviation program is now one of the largest faith-based collegiate aviation programs in North America.
Aeronautics Bachelor's Degree Information
Residential format
Total hours will vary depending on the degree

Commercial/Corporate: 134-143 credits
Global Studies: 131-140 credits
Military: 125-134 credits
Unmanned Aerial Systems: 126-135

Transfer in up to 75% of your total degree

Program falls under Liberty's School of Aeronautics
Review our School of Aeronautics Academic Catalog
Career Opportunities for Liberty's B.S. in Aeronautics Graduates
Liberty University's Bachelor of Science in Aeronautics prepares you for the following occupations:
Air traffic controller
Aviation security manager
Commercial pilot
Flight instructor
Government and military pilot
Private pilot
Admission Requirements for Undergraduate Degrees
Every application is reviewed by the admission committee on a case-by-case basis, meaning there are no set minimums for acceptance. However, all applicants must submit the following documents* for admission:
Admission application
Official high school transcripts
Official college transcripts (if applicable)
Results from the CLT, SAT, or ACT are not required for admission, but may be used in consideration for merit-based aid.
Admission essay
*Note that additional documentation may be requested by the admission committee after your application has been received.