Chris Piorkowski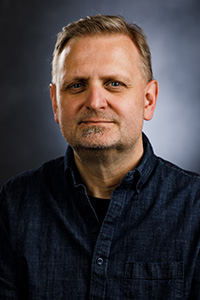 Associate Professor of Film Scoring
Education
M.F.A. Vermont College of Fine Arts
M.A. Newcastle University Australia
B.M. Music Conservatory of the Performing Arts (Poland)
Biography
Chris Piorkowski is an award-winning composer, artist, and educator.  Completing his graduate studies with a major in Music Composition for Film and Multimedia, Professor Piorkowski holds the Master of Music (M.F.A.) terminal degree from Vermont College of Fine Arts.
As a performer, pianist, and composer, Associate Professor Piorkowski participated in a music performance for Pope John Paul II, performing a solo piano concert at "Palais des Congrès de Paris" in Paris, France with over three thousand visitors present. He has also accompanied several notable opera and musical singers including Melissa Swift-Sawyer, Anne Demougin, and Lisa Fairmont. In 1999 Professor Piorkowski was selected, because of his outstanding achievement in composition and arrangement, to score, produce and arrange the Theme Song of The Boxing World Cup in Helsinki. In addition to his many composition projects, he was chosen as an orchestrator, composer, arranger, and audio engineer for German Popstar and recording artist Guildo Horn (Eurovision Song Contest 89').
Professor Piorkowski has been an educator for over twenty-six years, teaching in private music schools, high schools, and college. At age twelve, he received a Diploma in Harmony from Music Conservatory. He studied Symphonic Orchestra Conducting with Joe Herter and later Orchestration with Steven Scott Smalley. Professor Piorkowski received a Diploma in Sound Engineering and Music Production from Audio Institute of America in San Francisco. He also received a Diploma in Media Composition from Music For The Media in London. He studied Jazz Piano with Walter Norris and Jazz Harmony with Sigi Bush at Music University Berlin (HDK). In 1996 he received a Scholarship from Berklee College of Music in Boston, where he later studied Film Scoring and Orchestration. He continued his education at the University of Newcastle Australia – Music Technology Master Program.
Professor Piorkowski worked on countless projects at the legendary Sound City Studios in Los Angeles, CA (now recording studio hall of fame). He scored over 40 Feature and Short Films as well as many TV commercials. Professor Piorkowski's music appears on ShowTime, PBS, and other network television. Among many other film trailers and multimedia projects, he composed music for Gene Roddenberry (Star Trek creator company).
Professor Piorkowski joined the Liberty University School of Music faculty in the Spring of 2017 to serve as the Associate Professor of Film Scoring.