Student Organizations
Liberty Motorsports
Liberty Motorsports is a competition team competing in the Formula SAE Electric Competition in Fontana California.
Formula SAE is a collegiate design challenge in which university students are tasked with designing and manufacturing a Formula One style race car that they will compete with universities from around the world in events testing speed, durability, endurance, cost, and creativity. Formula SAE Electric cars are capable of 0-60 mph in under 3.5 seconds thanks to the instant torque from the electric motors.
Liberty Motorsports consists of over fifty students from multiple disciplines including mechanical engineering, electrical engineering, computer engineering, business marketing, project management, and strategic communications. Our team has established strategic partnerships with Hendrick Motorsports, Lynchburg Machining, Systems Engineering and Manufacturing, and Blue Origin to help make this program possible.
Liberty Motorsports strives to uphold a culture of excellence and inspire innovation in order to develop the next generation of high performing engineers that honor and glorify God.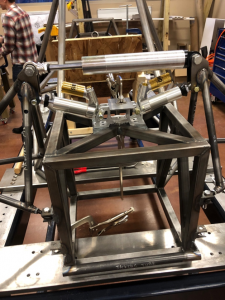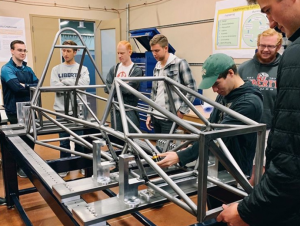 ---
Liberty Baja SAE
Baja SAE challenges engineering students to design and build an off-road vehicle that will survive the severe punishment of rough terrain and in some competitions, water. As in real work situations, these future engineers work together as a team to discover and resolve technical challenges in design, test, and manufacturing, as well as business issues. The most rugged of all the competitions, Baja SAE also gives students the first-hand challenge of pursuing their passion while managing real-life demands and priorities. Each team's goal is to design and build a prototype of an all-weather, rugged, single-seat, off-road recreational vehicle intended for sale to the nonprofessional weekend off-road enthusiast.
At Liberty's chapter of Baja SAE, the mission is to not only produce the best vehicle possible, but also take it to the competition yearly and perform to a high standard. The team is built to give students hands on experience, that allows them to successfully collaborate on a team, gain management skills, focus on a final goal, and provide work that gives glory to God.
Our team will be competing in May at the Louisville, Kentucky competition.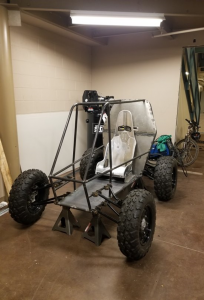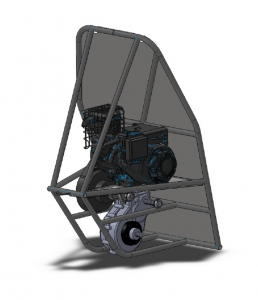 ---
Liberty University's Renewable Energy Club
Liberty University's Renewable Energy Club is dedicated towards educating students on the unique and interesting world of Renewable Energy Technologies, including Solar, Wind, Geothermal, and Kinetic energy generation. This club participates in events and competitions throughout the year and provide students a place to discuss and design new projects and ideas.
---
VEX Robotics
VEX Robotics is a nationally recognized robotics competition in which students present innovative solutions to complex problems. Our Robotics Team uses VEX V5 materials and competes with other universities to prove themselves. Our team helps students develop problem solving skills, teamwork, and creative thinking.
Building these robots require members to be flexible in their approach to design, as solutions often do not work the first time. Overall, VEX provides students with an opportunity to have fun building, innovating, and competing in a challenging environment that aids them in developing and honing their engineering skills.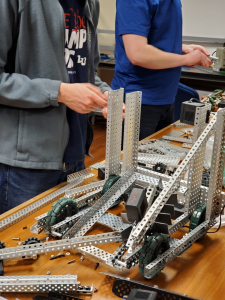 ---
Liberty University Robotics Club
For engineering students to have an outlet to learn how to build and control robots, to have fun, to meet other engineers, to gain exposure to different technologies, and to allow them to apply what they have learned in the classroom to real-world experiences.
---
Society of Women Engineers (SWE)
SWE seeks to encourage young women to achieve their full potential as Christ-centered students in their calling as engineers and leaders. In this pursuit, we dedicate our time and service to help promote the values, knowledge, and skills of aspiring young women in the engineering and technology fields. Our meetings accomplish this through speakers, career-building workshops, and conferences.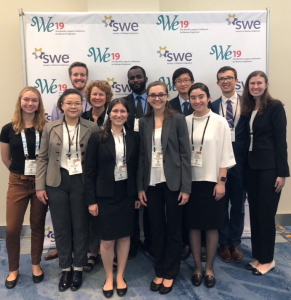 ---
Institute of Electrical and Electronics Engineers (IEEE)
IEEE (Institute of Electrical and Electronics Engineers) is the world's largest professional organization with over 400,000 members worldwide. Liberty's IEEE student chapter focuses on professional development. We provide resources and opportunities for engineering students to network with industry professionals, prepare for career fairs, and study for the Fundamentals of Engineering exam. IEEE equips students to advance their resumes and stand out to employers. Join Liberty's IEEE student chapter and be a member of one of the most recognized technical professional organizations!
---
American Society of Mechanical Engineers (ASME)
To promote and enhance the technical competency and professional well-being of mechanical engineers. To better enable its practitioners to contribute to the well-being of humankind through quality programs, projects, and activities in mechanical engineering.
---