Dr. Ola-lekan O. Shobayo
Professor of Mechanical Engineering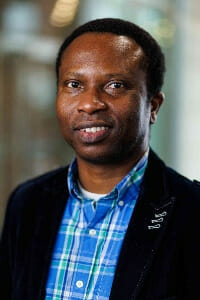 Office: DH 3430U
Email: oshobayo@liberty.edu
Phone: (434) 592-7723
Education
Dec. 2021: Ph.D. (Mechanical Engineering) The University of Oklahoma (OU), Norman, OK
Aug. 2019: M.Sc. (Mechanical Engineering) The University of Oklahoma (OU), Norman, OK
Aug. 2007: MBA. (Business Administration) The Obafemi Awolowo University, Ile-Ife, Nigeria & B.Sc. (Mechanical Engineering)
Biography:
Dr. Olalekan Shobayo obtained his B.S. in Mechanical Engineering and Master's in Business Administration (MBA) from Obafemi Awolowo University, Nigeria. He acquired over 10 years of industrial experience in managing technical professionals, manufacturing engineering processes, diverse facilities maintenance, and project management services in multinational industries. Additionally, he started his graduate program at Mississippi State University (MSU) in 2015. Transferred to and obtained his M.S. and Ph.D. in Mechanical Engineering from the University of Oklahoma (OU) in 2021.
While at MSU and OU, Dr. Shobayo's research interests cover a broad range of topics in fluid mechanics, and heat transfer, with a focus on computational fluid dynamics (CFD). He is a member of the American Society of Mechanical Engineers (ASME) Fluids Engineering Division (FED), and a reviewer for the ASME Journal of Fluids Engineering. He recently won the OU Dissertation of Excellence Award (DEA) award, and he is also certified as Facilities Management Professional (FMP) and Project Management Professional (PMP).
Experience Record
+5 years in teaching & research experience in High-Performance Computing (HPC) systems, turbulent flow physics & science modeling, Computational Fluid Dynamics (CFD) at MSU and OU, USA.
+ 2 years in Building Maintenance, Facilities, and Project Services at Lafarge Holcim PLC, (Formerly UNICEM) Calabar, Cross-river state, Nigeria.
+ 7 years in Manufacturing Engineering, Facilities, and Project services at British American Tobacco (BAT) Ltd, Ibadan, Oyo, Nigeria.
Specialty Areas
Research Knowledge in Fluid Engineering, Heat Transfer and Computational Fluid Dynamics
Facilities Management
Project Management
Manufacturing Engineering
Publications
Evaluation of performance and code-to-code variation of a dynamic hybrid RANS/LES model for simulation of backward-facing step flow OO Shobayo, DK Walters: Fluids Engineering Division Summer Meeting 51555, V001T08A002 – 2018
Hybrid RANS-LES Simulation of Turbulent Heat Transfer in a Channel Flow With Imposed Spanwise and Streamwise Mean Temperature Gradient OO Shobayo, DK Walters: Fluids Engineering Division Summer Meeting 59032, V002T02A052 – 2019
Evaluation of a Statistically Targeted Forcing Method for Synthetic Turbulence Generation in Large-Eddy Simulations and Hybrid RANS-LES Simulations OO Shobayo, DK Walters: Fluids Engineering Division Summer Meeting 83730, V003T05A043 – 2020
Scale-Resolving Simulations of a Statistically Targeted Forcing Method for Synthetic Turbulence Generation in a Freestream Turbulence OO Shobayo, DK Walters: Journal of Fluids Engineering – 2022
Evaluation of a Statistically Targeted Forcing Method for Synthetic Turbulence Generation in Scale-Resolving Simulations OO Shobayo, DK Walters: Journal of Fluids Engineering – 2022
A New Variant of the Dynamic Hybrid RANS-LES Model for Complex Turbulent Flows T Jamal, OO Shobayo, DK Walters: ASME International Mechanical Engineering Congress and Exposition 85666 – 2021
Improved Methods For Scale-Resolved Turbulence Modeling In Computational Fluid Dynamics Simulations OO Shobayo – 2021
Statistically Targeted Forcing (STF) Method for Synthetic Turbulence Generation of Initial Conditions in Three-Dimensional Turbulent Mixing Layer Flow OO Shobayo, DK Walters: Fluids Engineering Division Summer Meeting 85284, V001T02A030 – 2021
Hybrid RANS–LES Simulation of Turbulent Heat Transfer in a Channel Flow With Imposed Streamwise or Spanwise Mean Temperature Gradient OO Shobayo, DK Walters: Journal of Fluids Engineering 143 (8) – 2021