The Center for Academic Development – Teaching Excellence serves as a central location for professional development and the collection and dissemination of information relevant to the promotion of excellence in teaching and learning at Liberty University. We offer a robust number of services for online and residential faculty.
Here's What's Happening:
New Faculty Orientation (NFO)

Monday, Aug. 7; 8 a.m.-4:30 p.m. – Location: DeMoss Hall, Room 3066 (Business Dress)
Tuesday, Aug. 8; 8 a.m.-4:30 p.m. – Location: DeMoss Hall, Room 3066 (Business Casual)
NFO is reserved for new, full-time residential faculty and academic administration. If you are unable to attend due to extenuating circumstances, please notify your Dean AND contact the Center for Teaching Excellence at cte@liberty.edu. Full-time, online faculty and academic administration who work on campus should also attend. Please bring your laptop and charger.
All-Faculty Orientation (AFO)

Wednesday, Aug. 9, 8 a.m.-TBA – Montview Alumni Ballroom
Continental breakfast, lunch, and fellowship included. No registration needed. Tap in with Flames pass at event. This year's theme will be "Live Grateful".
Note- Part of this year's training will take place in a Canvas training shell, "All-Faculty Orientation: Fall 2023". Following the live, in-person event, faculty will be asked to view the course materials and complete the verification quiz.
Thursday, Aug. 10 – TBA, Save the Date
Congratulations to the 2022-2023 President's Award Winners!
The purpose of the award is to recognize teachers who have promoted significant student learning- evidenced by creative and innovative approaches to teaching, the effective use of instructional technology, and exceptional pedagogical skill. Additionally, their impact on student faith, thought, and character fully realizes Dr. Falwell's vision of training leaders in all discipline areas. The award process involves a formal peer nomination, dean support, faculty input, and student contribution. Winners are determined by the Selection Committee and affirmed by the Provost. Faculty, Instructional Mentors, and other peers who have direct knowledge of a nominee's qualifications and experience in demonstrating excellence in teaching may nominate a deserving full-time faculty member in the following categories: Undergraduate and Graduate. 
Liberty University Undergraduate
Crystal Passburg, School of Health Sciences
David Schweitzer, College of Arts and Sciences
Liberty University Graduate
Andrew Walker, College of Arts and Sciences
James Zabloski, School of Divinity
Melissa Stewart, Helms School of Government
CTE Director's Award for Excellence in New Faculty Mentoring 
This award recognizes seasoned faculty mentors' extraordinary dedication to supporting new colleagues in the Koinonia Mentoring Program. Mentors meet monthly with their mentees, offering advice, support, and encouragement to new faculty members. Award recipients are selected based on mentee nominations and determined by a scoring committee.
Congratulations to the recipient of the 2022-2023 Director's Award for Excellence in New Faculty Mentoring, Dr. Gary Isaacs. 
Congratulations to the 2023-24 Illuminate Grant Recipients!
The ILLUMINATE Grants for the Improvement of Teaching are designed to encourage faculty to enhance instruction through the introduction of new pedagogical and active learning techniques, activities, and/or learner-centered experiences. Grants are awarded on a competitive basis. Confidential scoring committees evaluate applicants on the grant's purpose, student engagement, higher-order thinking, and potential to impact student learning.
A Tour of Thomas Jefferson's Virginia Homes (Lisa Campbell and Kevin Layell; College of Arts and Sciences)
Augmenting Fashion Design (Kim Cashman and Samantha Pearce; College of Arts and Sciences)
Can You Understand Me Now? Interpreting Transmission Equipment for Future Interpreters (Andrew Milacci; College of Arts and Sciences)
Christian Alliance for Orphans Summit Service-Learning Opportunity (Cheryl Nitz; School of Behavioral Sciences)
Enhancing Practical Applications for Assurance and Attestation Learning for Accounting Students (Charlene Geisler; School of Business)
Excellence in Human Performance: Conversing With One of the World's Best Sports Performance Scholars and Practitioners (Andy Bosak, Jim Schoffstall, and Tate Fonville; School of Health Sciences and School of Engineering)
Floral Design Workshop (Chelsea Milks; College of Arts and Sciences)
History Through Experience: Historic Jamestown and Yorktown (Samuel Smith, Donna Donald, and Christopher Jones; College of Arts and Sciences)
Holocaust Education: Exposing Students to the Holocaust (David Snead; College of Arts and Sciences)
Intentional Engagement: Using Manipulatives and Cooperative Learning Tools in the Foreign Language Classroom (Alisha Castañeda and Stephanie Blankenship; College of Arts and Sciences)
Kingdom Advisors (Stacie Rhodes and Kurt Cornfield; School of Business)
LEARN 2 LEAD Through LUNCH & LEARN (Roger Mackey; College of Applied Studies and Academic Success)
Liberty University Apiary Project (Morgan Roth, Kyle Harris, and J. Thomas McClintock; School of Health Sciences)
Multidisciplinary Engineering Design: A Hands-on Robot Design (Howie Fang; School of Engineering)
Preparing for Excellence: A SHRM Body of Applied Skills and Knowledge Model Exploration (Tammy Brown; School of Business)
Social Welfare Policy: Social Work Field Trip to Richmond: Legislative Process and Cultural Education (Elke Cox and Aaron Wright; School of Behavioral Sciences)
UR LUved (Cindy Goodrich and Dana Woody; School of Nursing)
CTE Faculty Fellow Program
As part of its commitment to best practices, the Center for Teaching Excellence seeks Faculty Fellows to draw upon their talents. The CTE Faculty Fellow role is an exclusive opportunity for past President Award for Excellence in Teaching winners to become featured speakers at CTE's January Conference and during semester workshops. Additionally, Faculty Fellows are recognized at various events throughout the academic year. This program involves a competitive application process.
Meet our 2022-23 Faculty Fellow: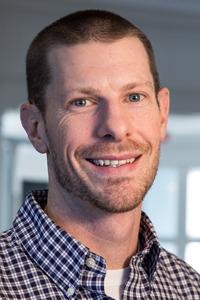 Dr. Travis Holt
Assistant Professor of English
College of Arts and Sciences
Travis Holt was a 2021 recipient of the President's Award for Excellence in Teaching. He earned his Ph.D. in English from Old Dominion University in 2022. He has served as an Assistant Professor of English in the College of Arts and Sciences since 2014. During this time, Holt has developed several courses, both on the undergraduate and graduate levels, including Basic Writing, Composition and Rhetoric, Classic Rhetoric, and Modern Rhetoric. He is the primary instructor for ENGL 101. Holt also serves as the Faculty Athletics Representative.
---
Center for Academic Development News
Visit the Faculty Workshops page for:
Workshop Calendar
Faith Integration Workshops
Faculty Book Studies
Helpful Links
How Can We Help?
Have questions about who we are or the services we provide? Contact us at CTE@liberty.edu.