The Center for Academic Development – Teaching Excellence serves as a central location for professional development and the collection and dissemination of information relevant to the promotion of excellence in teaching and learning at Liberty University. We offer a robust number of services for online and residential faculty.
Here's What's happening (Spring 2021):
Camp Canvas (Thursday, May 20, 2021):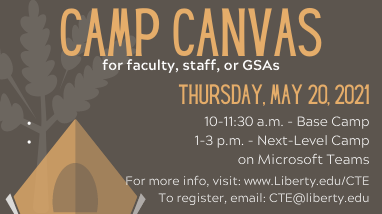 CAMP CANVAS is a faculty professional development event for residential faculty, staff who support faculty, and GSAs. The event will take place virtually on Microsoft Teams (meeting link will be sent to registered participants in advance) on Thursday, May 20.
"Base Camp" from 10-11:30 a.m. offers a refresher training, highlighting Canvas (a) navigation, (b) creating exams and assignments, and (c) gradebook management.
"Next-Level Camp" from 1-3 p.m. offers more focused training on topics such as (a) learning analytics, (b) grading functions, (c) and implementing resources and/or embedded content.
Please see the attached PDF for a more detailed schedule. .35 CEUs are available for those who stay for both camps. Register via the ProDev Portal (CTE Tab) or email: CTE@liberty.edu.
Teaching with Technology Bootcamp (June 1st – 4th):
Teaching with Technology Boot Camp is a four-day, on-campus, professional development experience for faculty (residential and online) aimed toward integrating technology into everyday teaching. Morning teaching sessions will be held in-person. Afternoon remote work sessions will be monitored and coached virtually. Throughout the experience, faculty will observe demonstrations and practice with tools that help: (a) present content, (b) communicate or collaborate, (c) schedule, organize, or capture, and (d) assess learning or provide feedback.
Application Deadline has been extended to May 14, 2021. To apply visit: https://tinyurl.com/TWTBootCamp.
Note: Accepted participants must agree to attend all four days of TWT Boot Camp.
Out-of-town faculty accepted are responsible for transportation and lodging.
Stipends and CEUs will be awarded to attendees.
Workshops:
The Center For Teaching Excellence regularly hosts workshops designed for our faculty and Graduate Student Assistants who wish to hone their pedagogy. The subject of these workshops can include the relationship between faith and education, storytelling in the classroom, use of technological resources (such as Canvas and Teams), and more. 
---
President's Award for Excellence in Teaching
About the President's Award for Excellence in Teaching: This award is celebrated as the university's most prestigious annual academic award. Its purpose is to recognize teachers who have promoted significant student learning- evidenced by creative and innovative approaches to teaching, the effective use of instructional technology, and exceptional pedagogical skill. Additionally, the recipient's impact on student faith, thought, and character fully realizes Dr. Falwell's vision of training Champions for Christ. The award process involves a formal peer nomination, dean support, faculty input, and student contribution. The Center for Teaching Excellence oversees the adjudication and process. Winners from each category are recommended by separate confidential Provost Selection Committees, comprised of select faculty, academic leadership, and past winners, and are affirmed by the Offices of the Provosts. The nomination deadline was February 21st, 2021.
Congratulations to the 2020-2021 Winners!
Liberty University Resident Undergraduate
Jared Barber, Department of Modern Languages, College of Arts and Sciences
Travis V. Holt, Department of English, College of Arts and Sciences
Liberty University Resident Graduate
Linda Mintle, College of Osteopathic Medicine
Liberty University Online Undergraduate
Cara L.T. Murphy, Rawlings School of Divinity
Liberty University Online Graduate
Samuel J. Smith, School of Education
CTE Faculty Fellow Program
As part of its commitment to best practices, the Center for Teaching Excellence seeks Faculty Fellows to draw upon their talents. The CTE Faculty Fellow role is an exclusive opportunity for past President Award for Excellence in Teaching winners to become featured speakers at CTE's January Conference and during semester workshops. Additionally, Faculty Fellows are recognized at various events throughout the academic year. This program involves a competitive application process.
Meet our 2020-21 Faculty Fellows: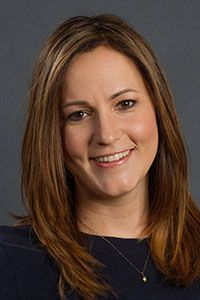 Dr. Brianne Friberg
Associate Professor of Psychology
School of Behavioral Sciences
Brianne is originally from Lynchburg, Va. She attended Mary Washington College, earning a B.S. in Psychology, as well as the University of Wisconsin at Madison, where she earned her M.S. and Ph.D. in Human Ecology – Human Development and Family Studies. While at the University of Wisconsin, she also received two years of advanced training through the ID-Train program at the Waisman Center for Excellence in Developmental Disabilities. In 2017, she was awarded both the President's Award for Excellence in Teaching and the Provost's Award for Research Mentorship. She loves creating memories and embarking on photographic adventures with her husband and son. Brianne attends Gospel Community Church, where her husband is the worship pastor, and enjoys volunteering with the Brookville community.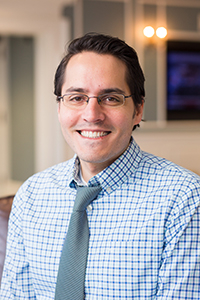 Dr. Andrew F. Milacci
Associate Professor of Spanish
College of Arts and Sciences, Department of Modern Languages
Andrew has a Ph.D. in Spanish Language and Literature from the University of Maryland.
He has spent nearly two years living abroad in Latin American countries and has taught a wide variety of classes, from K12 abroad to residential and online college and graduate courses, including Spanish grammar and conversation, composition, culture, literature, business Spanish, and translation. He is a co-winner of an Illuminate grant with which he co-created the LU Digital Museum of Hispanic Culture (online website), which has over 22,000 page views. His YouTube videos in Spanish and Portuguese have reached over 220,000 people around the world with knowledge of Spanish and Brazilian literature.
Andrew is married (nearly 10 years) to Joice, from Brazil, and has two children, Eleanor and Isaac. He serves as an interpreter at the Thomas Road en Español campus. As a hobby, he enjoys making furniture using traditional hand tools.
Edna Udobong, LL.M.
Associate Professor of Government
Helms School of Government
Edna taught international law, international human rights, immigration law, and adoption law as an Associate Professor of Law from 2010 to 2017 at Liberty University School of Law, and she currently teaches international relations and related courses at the Helms School of Government. She was a Visiting Lecturer at the University of Georgia and taught as Assistant Professor of Law, John Marshall Law School. She directed the Liberty Law Center for International Human Rights, served as Director, Helms School program evaluation and Senior Fellow at the Center for Statesmanship.
She initiated and established the partnership between the Fulbright program at Liberty University in 2011, and serves as the program advisor for the student program and the scholar Liaison for the scholar program. She is a two-time Fulbright U.S. Scholar grantee, the winner of the American Bar Association 2006-2007 Unsung Hero Award and the 2007 Special Achievement Award for contributions, ethics, and dedication to the rule of law mission of West Africa. In 2014, she received the Liberty University President's Award for Excellence in Teaching. She holds an LL.B., University of Lagos; B.L. Nigerian Law School; LL.M., University of Lagos; LL.M., Harvard Law School.  She is the recipient of the Harvard Law School Reginald Lewis Human Rights fellowship grant and served her fellowship at the Carter Center in Atlanta, Georgia. Her publications focus on international law, international human rights, environmental law, and corporate responsibility.
---
CTE Director's Award for Excellence in New Faculty Mentoring 
This award recognizes seasoned faculty mentors' extraordinary dedication to supporting new colleagues in the Koinonia Mentoring Program. Mentors meet monthly with their mentees, offering advice, support, and encouragement to new faculty members. Award recipients are selected based on mentee nominations and determined by a scoring committee.
---
Center for Academic Development News
Visit the Faculty Workshops page for:
Workshop Calendar
Faith Integration Workshops
Faculty Book Studies
Helpful Links
---
How Can We Help?
Have questions about who we are or the services we provide? Contact us at CTE@liberty.edu.