Completing Your Profile in Handshake
Continuing in the series on Handshake, in this article is a short walk you through for completing your Handshake profile.  If you have not already claimed your Handshake account, follow this link to the previous article along with a number of other resources.
Here are 3 ways to help get you started:
Privacy Settings
After agreeing to the Terms of Service and Privacy Policy, you are presented with Profile Visibility options.
There are three privacy options available:
Community: Your profile will be visible to employers, students, and alumni across all Handshake colleges and universities. You'll be able to message students and alumni who have similar interests or experiences.
Employers: Your profile will be visible to employers. You may receive messages about potential job opportunities.
Private: You'll be able to apply for jobs but won't get contacted by any employers.
We recommend setting your profile to Community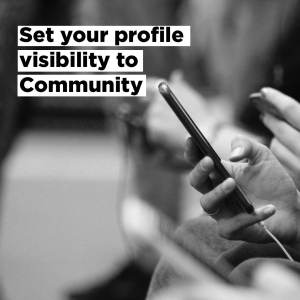 This allows the widest range of profile visibility and it will show up in searches when employer are recruiting for jobs and internships. Also, this allows you to connect with mentors and other students. Sharing your career journey could give them the support they need too.
Regardless of your account settings, Handshake does not show your profile to anyone without a Handshake account or to employers not approved by your school.
This profile privacy setting, along with all the other privacy and notifications settings, are able to be changed at any time if you decide later to update them in the profile menu.
If you are the type of person that would benefit from hands-on learning, consider joining one of our weekly Handshake workshops. Click here to find the next workshop.
Your Interests
Handshake also uses your job interests to recommend the best opportunities to you.  The job interests include:
Job type: Looking for an on-campus job, internship, part-time job, or full-time job? You can choose more than one.
Preferred location: Select the cities you would like to work in, and Handshake will show you jobs in that area.
Job role: Choose at least three positions you would like to explore, like "marketing associate" or "data analyst."
Beyond your personal job interests, employers want to know:
Previous work experience: Have you had a part-time job, internship, work study, research position and or volunteered? Employers like to see that you've taken on responsibility, and that these experiences have helped you develop valuable skills.
Skills: Add technical skills like SQL along with soft skills like communication. The more skills you list, the better your chances are of showing up in an employer search.
Clubs and organizations: These signal your specific interests, affinity groups, and participation and involvement on campus.
Profile Picture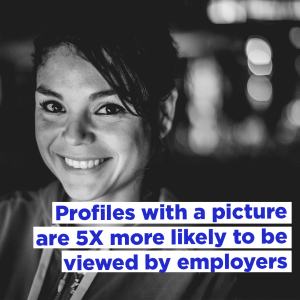 Did you know that recruiters are five times more likely to view profile and proactively reach out to you with job opportunities and event invitations if your profile is complete including a profile picture?
A professional profile picture sets the right tone and demeanor. Research shows that having a picture significantly increases how often a profile is viewed.
If you need a professional profile picture, Career Services offers quality headshots for free to students and alumni during career fairs and other select experience events.
Profile More Resources
Here are a few more resources if you have further question.
More about the Student Dashboard
Updating your Student Profile visibility
Understanding "Who's Viewed My Profile?"
Understanding Document Visibility
Do not forget Career Services is here for you. If you have any specific questions about this topic or others, reach out directly to Career Services at careers@liberty.edu or visit our website at https://liberty.edu/careerservices and we will help you discover ways to make the most of your career.