David Wayne Meyer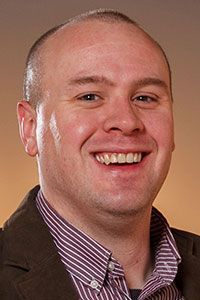 Associate Professor, SCA
Graphic Design
(434) 592-6324
dwmeyer@liberty.edu
Education
MFA in Graphic Design, Savannah College of Art and Design. Thesis Title: "Creating a More Viable Digital Ecosystem for Faith-Based Humanitarian Groups Operating in Kenya"
BS in Visual Communication Arts; Graphic Design
Biography
David Wayne Meyer serves as an Associate Professor and Faculty Administrative and Curriculum Committee Representative. He began his career in visual arts and has specialized in this area with a focus on Interactive Design & Human-Computer Interaction. He has since worked in the industry with clients such as NEEDTOBREATHE, Kodak, HCA Healthcare (Fortune 100), Source of Light Ministries, and developing web tools for businesses.
Professor Meyer transitioned as a faculty member at Liberty in the Studio and Digital Arts Department as an Associate Professor after working with a variety of clients. Today, Professor Meyer thrives in helping students find their niche in the field of visual arts, mentoring students to represent Christ in the industry, and fulfill the Great Commission.
Professional/Notable Memberships
Visiting Professor, The Centre for International Visual Arts and Cultures, Richmond University, London
Source of Light Ministries Board Member
Interactive Design Foundation (IDF)
Council for Undergraduate Research (CUR)
College Art Association (CAA)
Graphic Artist Guild (GAG)
American Institute of Graphic Artists (AIGA)
Edited Works
Y'all & Bro: Understanding Visual Stereotypes and Design Culture in America. Richmond University, London, 2018
Methods of Ideating: Conceptual Thinking in an Overloaded and Digitally Fatigued Society. Richmond University, London, 2018
Meyer, David. Wallapper. Computer software (iPhone App). Vers. 1.0. GraphicPeace LLC, Oct. 2015. Web.
Meyer, David. Droopy Dragon. Computer software (iPhone App). Vers. 1.2. GraphicPeace LLC, June 2015. Web.
NEEDTOBREATHE "Prove the Poets Wrong" Dir. Eric Ryan Anderson. Perf. NEEDTOBREATHE. Additional Camera David Meyer. YouTube. Atlantic Records, 17 Dec. 2013. Web.
NEEDTOBREATHE at Bonnaroo. Dir. David W. Meyer. Perf. NEEDTOBREATHE. YouTube. YouTube, 18 Oct. 2012. Web.
The Way We Hear It- NEEDTOBREATHE. Perf. NEEDTOBREATHE. YouTube. Logitech, 23 Apr. 2012. Web. Photography by David W. Meyer.
Billboard Magazine. "Taylor Swift: Woman of the Year" Design work appears on page 42. December 10, 2011. Print.
Research Interests
Human-Computer Interaction
User Experience
Interactive Design
eCommerce Solutions
Visual Culture
Courses Taught
Undergraduate 
Interactive Design I
Interactive Design II
Digital Imaging
Interactive Publication
Conceptual Photography
Graduate
Interactive Design
Interactive Publication
Conceptual Photography