Omicron Gamma Phi
Who We Are
Omicron Gamma Phi was established in March 1994 as a Christian honor society for Family and Consumer Sciences students. It is a young society seeking to recognize excellence on Christian campuses.
The Greek name is an acronym that is symbolic of the purpose of ΟΓΦ:
Omicron (Ο) represents the first letter in the Greek word Family.
Gamma (Γ) is the first letter in the word Science.
Phi (Φ) is the first letter in the word Light.
The purpose of the society is threefold. First, Omicron Gamma Phi encourages and recognizes excellence in scholastic achievement. Second, it seeks to maintain a uniquely Christian worldview through the integration of Biblical principles with academic content. Third, the society encourages service by membership.
---
Fall 2019 Meeting Dates
September 3, at 5 p.m. in DH 4116
October 1, at 5 p.m. in DH 4116
November 5, at 5 p.m. in DH 4116
December 3,  at 6 p.m. at Dr. Benoit's House
---
Eligibility
A student at Liberty University who has a declared major in FACS
GPA of 3.25
45 credit hours completed
Attendance at two or more meetings per semester, and participation in at least three volunteer activities per semester.
Upon acceptance into Omicron Gamma Phi, a $10 membership per semester will be required.
---
Apply
Honor Society Membership Application
Honor Society Officer Application
---
2019-2020 Officers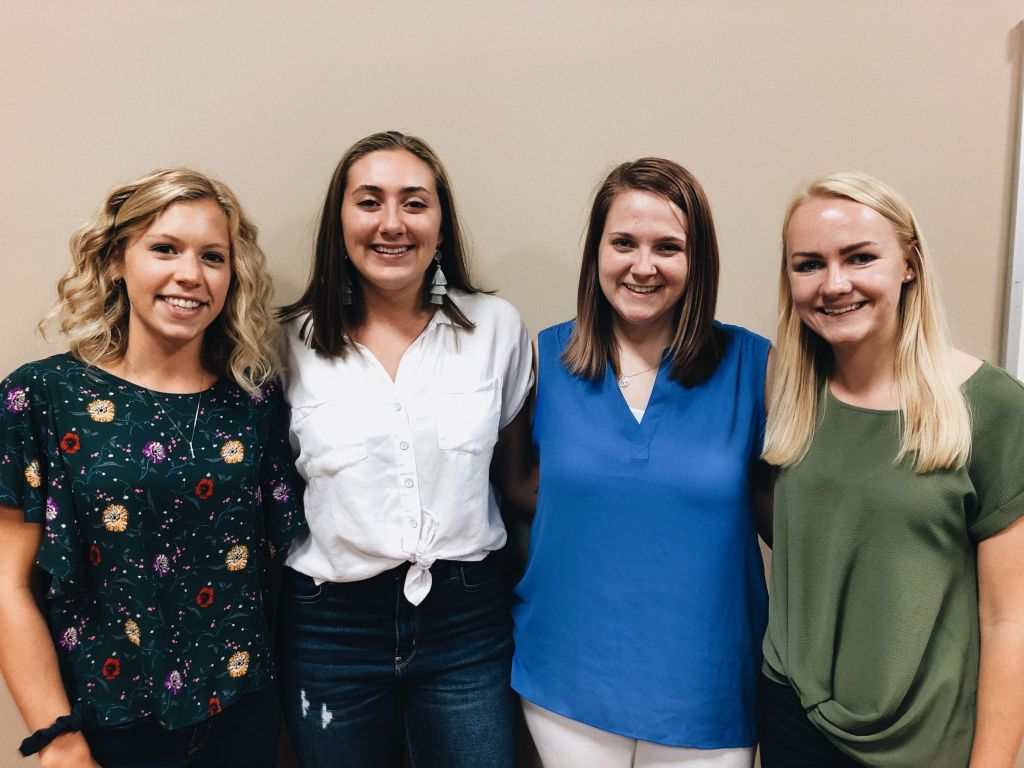 From Left to Right:
Brooke Fletcher (Treasurer)
Leah Pulliam (Public Relations)
Abby Hyre (Secretary)
Holly Nygren (President)