Find Harmony with a Master's Degree that Pairs Your Talent with Your Ministry Goals
Do you dream of a career where you can impact lives for Christ while using your musical abilities? If you have completed a bachelor's degree in music and are looking for a way to increase your marketability and further develop your talent, you may want to pursue graduate studies. At Liberty, we offer a Master of Arts in Music and Worship with a concentration in conducting that can help you turn your passions into a profession.
Train under professors with years of real-world industry experience. Study the same curriculum that allowed countless alumni of our program to go on to produce award-winning albums. We have seen many students achieve their career goals, from becoming a worship leader or songwriter for megachurches to playing in the United States Marine Corps Band.
Wherever you want your music degree to take you, we know our School of Music has the facilities and faculty to help you get there.
Award-Winning Campus
At Liberty, you'll find an affordable, high-quality education that equips students like you for the real world. Our commitment to excellence helped us rank among Niche.com's Top 3 college campuses in America. Earning your degree from a nonprofit university with state-of-the-art resources like ours can help set you apart from your peers.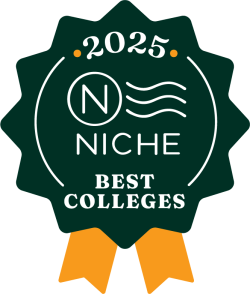 ---
Why Choose Liberty's Music and Worship Master's Degree in Conducting?
With over 1,000 students in our School of Music, Liberty is dedicated to equipping and training musicians to be Champions for Christ. Partner with us to develop core values in worship lifestyle and servant leadership, while exploring your own stylistic, artistic, and creative expression as you share Christ through your music.
Choosing Liberty gives you access to 45 full-time faculty who have received training from Liberty and some of the best music schools in the nation. From voice to violin, our professors have incredible talent that they love sharing with their students.
Speaking of our students, many alumni have gone on to produce award-winning albums and others have worked with world-renowned talents like Carrie Underwood and Lady Antebellum.
No matter what career or industry our students pursue, the most important value we try to instill through our music program is to honor the Lord through music. Earn a master's in music and worship from Liberty and receive more than a degree. Develop talent with integrity to prepare for all God has for you.
---
What Will You Learn in Our Master's of Music and Worship – Conducting Degree?
The core curriculum of our music and worship degree allows you to analyze the historical differences in music literature and practice, from the Old Testament through the modern period. You will also learn how to apply various melodic concepts and music forms to contemporary worship, including jazz and extended harmonies, as you study advanced music theory.
By pursuing our conducting concentration, you will complete various graduate ensemble courses where you will give presentations and participate in events that will build your professionalism and skill. You will receive training in advanced conducting skills for use across all major music contexts from the school and academic setting to church worship conducting.
View the Degree Completion Plan, and check out our featured courses below for more information.
Featured Courses
MUSC 560 – Ensemble Pedagogy
Here's what you'll learn:
Students study basic rehearsal techniques, synthesize rehearsal methodologies, and apply written and aural theory through large ensemble experience.
Students engage in score analysis detailing expected rehearsal problems with appropriate pedagogical solutions.
MUSC 589 – Graduate Ensemble
Here's what you'll learn:
This ensemble is open to all Liberty University graduate students by audition and offers the opportunity to experience and participate in various styles of music.
Special attention is given to the preparation and presentations of the Night of Worship (spring), Christmas on the Boulevard (fall), and other campus and area events.
WMUS 516 – Advanced Graduate Conducting 
WMUS 670 – Principles of Music and Worship Pedagogy
Here's what you'll learn:
This course is designed to examine the planning development, organization, implementation and evaluation of Worship Pedagogy for secondary, post-secondary, and college students.
Attention is given to historical concepts of pedagogy, current trends in curriculum organization, available resources for the teaching and training of worship leaders, and strengths and weaknesses of various worship pedagogy models.
Includes a graduate level

curriculum project.
Highlights of Our Master's in Music and Worship Degree
Our music degrees are accredited by the National Association of Schools of Music (NASM).
Our 141,000 square-foot Center for Worship has been voted "Best of the Best in Higher Education" six years in a row by Worship Leader Magazine.
Use our state-of-the-art, $2.2 million recording studio and Liberty Music Group (LMG) publishing company to bring your songs to life.
We are a designated "All Steinway" school.
Rated #1 Christian music school by Christian Universities Online.
We are currently the nation's seventh-largest school of music.
You will have access to 45 full-time faculty who hold degrees from Liberty University and other prestigious music schools in the nation.
Our students have produced albums that have been nominated for awards, with Liberty alumni going on to become Dove-award winning Christian artists and songwriters.
Music and Worship – Conducting Degree Information
Career Opportunities for Music and Worship in Conducting Graduates
Concert ministry program director
Director of worship and drama
Minister of music
Worship Leader or pastor
Admission Requirements for Graduate Degrees
Every application is reviewed on a case-by-case basis, and all applicants must submit the following documents and meet the minimum requirements for admission:
Admission application
Self-certification form (for students who are in the final term of their bachelor's degree)
Current Liberty undergraduate students seeking preliminary acceptance into a graduate program must complete a degree completion application through their ASIST account
Completion of an earned baccalaureate degree from an institution accredited by an agency recognized by the U.S. Department of Education in one of the following areas: bachelor's degree in music, music education, or music and worship
3.0 GPA for admission in good standing