Expand Your Ability to Help Others Reach Their Physical Limits
Are you passionate about fitness? Do you want to help others stay or become fit regardless of their current physical state or disability? By earning Liberty University's Master of Science in Human Performance with a focus in fitness and wellness, you can enhance your career opportunities in the health, wellness, and human performance fields while enhancing other's lives as you help them lead a richer, fitter life. You have the opportunity to complete this master's degree in a traditional two-year format or a one-year accelerated format. Our course material is based on concepts from the American College of Sports Medicine (ACSM) and the National Strength and Conditioning Association (NSCA).
Throughout this degree, you will increase your understanding of exercise science by taking advanced classes in exercise physiology and biomechanical analysis. You will learn to help athletes be their best and overcome disabilities and other physical limitations. Additionally, you will learn how to work with patients, clients, and your community to address the health and wellness needs of individuals.  By working one-on-one with professors and experts in the field, you'll learn how to accurately assess the health of your client through tests and consultation and then prescribe a proper exercise routine.
As one of the largest Christian universities in the nation, we have sports facilities and other resources that can help prepare you for a career directly upon graduating. You will be able to promote a healthy, Christian lifestyle and make positive changes that will greatly enhance others' lives.
---
Award-Winning Campus
At Liberty, you'll find an affordable, high-quality education that equips students like you for the real world. Our commitment to excellence helped us rank among Niche.com's Top 3 college campuses in America. Earning your degree from a nonprofit university with state-of-the-art resources like ours can help set you apart from your peers.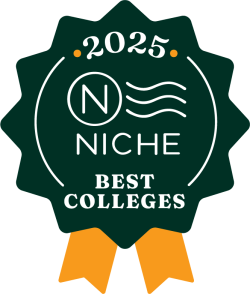 ---
Why Choose Liberty's Master of Science in Human Performance Degree?
Our state-of-the-art equipment and exercise science labs are two of the best things about this program. Throughout your time pursuing our fitness and wellness degree, you will work with the latest technology being used in the field in our Human Performance Lab, Functional Assessment Lab, Standardized Patient Center, and many other areas. You will learn how to use the equipment for functional assessment, strength training, and agility training.
The types of equipment you work with and the research you conduct will be invaluable for your career and resume. Your practical exams take place in a realistic clinical learning environment that simulate real-world conditions. In fact, one of the classrooms you will spend time in has an Astroturf floor to better simulate on-field evaluations.
---
What Will You Learn in Our Master of Science in Human Performance – Fitness and Wellness?
Throughout your time in the classroom and in labs, you will have opportunities for hands-on training that will develop your knowledge of all aspects of human performance, including public health. This graduate program will not only prepare you for working with athletes and casual exercisers but also to develop fitness and wellness plans for those who face physical disabilities.
Throughout this degree, you will also learn the latest methods for assessing the health of a patient or client and setting objectives and goals. Whether it is to improve cardiorespiratory fitness, muscular fitness, body weight, and body composition, or flexibility, you will learn how to develop an accurate exercise prescription based on tests conducted and consultation with your client.
We invite you to look at our featured courses for a preview of our life-changing human performance – fitness and wellness degree.
You can also review the Degree Completion Plan.
Featured Courses
EXSC 633 – Exercise & Phys. Activity for People with Disabilities
The background, opportunities, and challenges faced by people with disabilities as related to physical activity.
Physical activity program planning, implementation, and evaluation for various impairments will be examined.
EXSC 640 – Public Health and Physical Activity
The integration of public health and exercise science.
The techniques used to measure physical activity, the effects of physical activity on health, and strategies for physical activity promotion will be examined.
The scientific findings and applications that led to the emergence of the field of physical activity and public health are also examined.
EXSC 650 – Promoting Physical Activity in the Community
The promotion of physical activity in the community setting.
The techniques, theories, and strategies for physical activity promotion will be examined.
EXSC 660 – Fitness Assessment & Programming
The laboratory and field tests used for assessing physical fitness components as well as principles of exercise prescription.
Test results are used in developing individualized exercise prescriptions to improve cardiorespiratory fitness, muscular fitness, body weight and body composition, and flexibility.
Highlights of Our M.S. in Human Performance – Fitness and Wellness Degree
Career Opportunities for Human Performance – Fitness and Wellness Degree Graduates
Corporate, university, commercial, and resort fitness trainer
Human performance specialist
Strength and conditioning coach
Wellness coach
M.S. in Human Performance – Fitness and Wellness Degree Information
Admission Requirements for Graduate Degrees
Every application is reviewed on a case-by-case basis, and all applicants must submit the following documents and meet the minimum requirements for admission:
Admission application

Self-certification form (for students who are in the final term of their bachelor's degree)

Current Liberty undergraduate students seeking preliminary acceptance into a graduate program must complete a degree completion application through their ASIST account
A regionally or nationally accredited bachelor's degree with at least a 3.0 GPA for admission in good standing. 2.5 to 2.99 GPA may grant admission on caution