Icons – You Know You Want Them
Do you long for icons to adorn your pages when linking to social networks? Well, covet no more. The icons below are available for your use.
Benefits of Using These Icons on Liberty.edu
Users will get a better overall experience when browsing our site if the icons are standardized across all Liberty.edu department pages.
Icons are instantly recognizable.
Follow these simple steps to use the icons:
Check to see if the social media icon you need is already saved in your media library. If not, right click and choose "Save As" to download the icon you need.
Upload the icon to your media library.
Open the page you want to edit. Select "Add Media," choose the icon, and "insert into page." Make sure the size is set to "Full Size – 36 x 36"
To link the icon to your social media page, highlight the icon and click "Insert/Edit Link."
Paste the URL of your social media page and click the blue apply button to save
To link the icon to your social media page, highlight the icon and click "Insert/Edit Link."
Paste the URL of your social media page and click the blue apply button to save
*Optional: Add your tag next to the icon. For example, here at the Web Content Team we may insert our Twitter Icon followed by "@LUWebContent"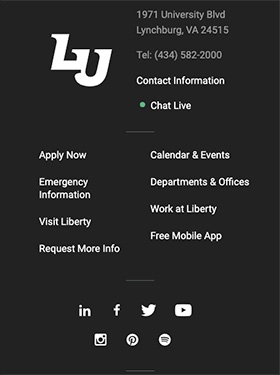 Social Media Icons
Facebook


Twitter

Instagram

YouTube

LinkedIn


Pinterest


Spotify

Foursquare

RSS