Gain the Medical Experience You'll Need with Our Master's in Human Performance – Clinical
Are you passionate about medicine and healthy living? Maybe you're already working in the medical field, and you're ready for advancement. Or maybe you've just completed your bachelor's, and you're excited to take the next step in your education. Either way, pursuing your Master of Science in Human Performance – Clinical degree with Liberty University is going to give you all the skills and knowledge you need to succeed in the field of health and wellness.
When you receive your clinical human performance degree, you'll be prepared for many positions within the medical field including clinical exercise physiologist, sports physiologist, cardiac rehabilitation specialist, or health care specialist. If you're not quite ready to enter your career field upon graduation, this degree will also prepare you to go into various medical programs to become a physician, chiropractor, physical therapist, or other related career paths.
So what are you waiting for? The medical world is waiting for someone like you who will promote health, fitness, wellness, and healing. With our degree, you're going to get all the training you need to move on to your next phase, whether that be a new career, position advancement, or continued education.
---
Award-Winning Campus
At Liberty, you'll find an affordable, high-quality education that equips students like you for the real world. Our commitment to excellence helped us rank among Niche.com's Top 3 college campuses in America. Earning your degree from a nonprofit university with state-of-the-art resources like ours can help set you apart from your peers.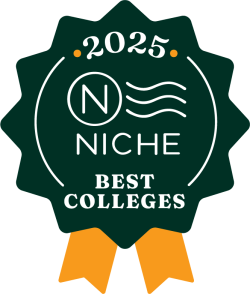 ---
Why Choose Liberty's M.S. in Human Performance – Clinical Degree?
The field of human performance is diverse and extensive. Many schools offer similar programs, so what's so special about ours? When you choose Liberty, you're receiving personalized teaching and mentorship, as well as the latest knowledge, resources, and technology.
One of our most appealing assets is our professors. These men and women are professionals in their field with real life experience and related degrees. They're excited about the opportunity to teach and guide you as you're studying with us. And they are here to personally support you throughout your academic journey.
Another great aspect of our human performance program is all of the hands-on experience you'll receive in our various labs. You'll have access to human performance, functional assessment, and athletic training laboratories. Additionally, you'll be able to practice your clinical skills in our Standardized Patient Facility.
---
What Will You Learn in Our M.S. in Human Performance – Clinical Degree?
With our human performance: clinical degree, you're going to get all the knowledge, lab work, and research experience you need to succeed in this field. We want you to be highly prepared to pursue your goals by graduate, whether that means entering the field for the first time, preparing for career advancement, or going on to another medical program. Completing this degree means getting prepared for your future.
With your human performance degree, you're going to receive training in various subjects and labs to ensure that you're ready for this career field. Some of the courses you'll take include topics like advanced exercise physiology, statistical analysis and research methods in exercise science, advanced biomechanical analysis, and performance nutrition for the physically active.
With your clinical focus, you're going to receive special knowledge in cardiology and physiology. Here are the courses you'll take:
Advanced Physiology and Pathophysiology
Cardiac and Pulmonary Disorders
Chronic Health Conditions
Graded Exercise Testing and Electrocardiography
View the Degree Completion Plan, and check out our featured courses below for more information!
Additionally, you will analyze human movement and learn the latest research in the field of biomechanics. You will also study performance nutrition for the physically active. Even the greatest engine in the world cannot run if it doesn't have the correct fuel. Learn how to fuel your client's body so they can get the most out of their training.
Featured Courses
EXSC 510 – Advanced Exercise Physiology
EXSC 520 – Statistical Analysis in Exercise Science
EXSC 550 – Advanced Biomechanical Analysis
EXCS 635 – Exercise Prescription for Special Populations: Cardiac and Pulmonary Disorders
Highlights of Our M.S. in Human Performance – Clinical Degree
Career Opportunities for M.S. in Human Performance – Clinical Graduates
Cardiac rehabilitation exercise specialist
Clinical exercise physiologist
Health care specialist
Sports physiologist
M.S. in Human Performance – Clinical Degree Information
Admission Requirements for M.S. in Human Performance Degrees
Every application is reviewed on a case-by-case basis, and all applicants must submit the following documents and meet the minimum requirements for admission:
Admission application

Self-certification form (for students who are in the final term of their bachelor's degree)

Current Liberty undergraduate students seeking preliminary acceptance into a graduate program must complete a degree completion application through their ASIST account
A regionally or nationally accredited bachelor's degree with at least a 3.0 GPA for admission in good standing. 2.5 to 2.99 GPA may grant admission on caution